A Google search result showed that Kannada is the 'ugliest language' in India as of June 3 afternoon.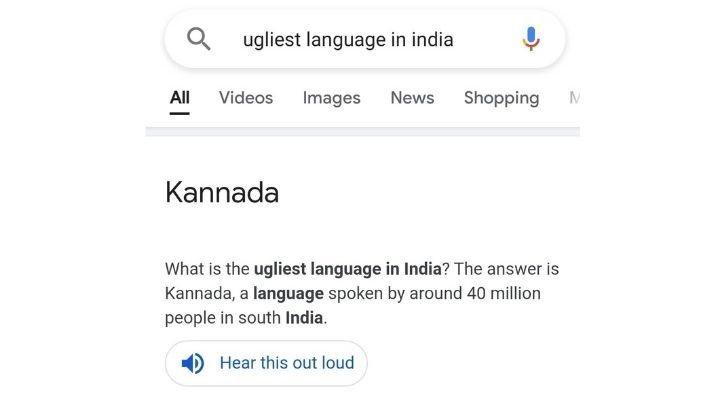 We are a multilingual country and this search result on Google caused widespread resentment among people, especially those from Karnataka.
They took to Twitter to express their dissent and asked Google to remove the result. Kannada language speakers pointed out that it's one of the oldest Indian languages. Not to forget it's also one of the national languages.
Home to the great Vijayanagara Empire, #Kannada language has a rich heritage, a glorious legacy and a unique culture. One of the world's oldest languages Kannada had great scholars who wrote epics much before Geoffrey Chaucer was born in the 14th century. Apologise @GoogleIndia. pic.twitter.com/Xie927D0mf

— P C Mohan (@PCMohanMP) June 3, 2021
History of Kannada dates back to Ramayana & Mahabharata.

The glory & legacy of Vijayanagara Empire, Sri Krishna Devaraya's Kingdom is being adored by d world even today.

How @Google can be so irresponsible to defame Kannada, which has 43M native speakers?#QueenOfAllLanguages pic.twitter.com/fQ2RrcUbIz

— Shobha Karandlaje (@ShobhaBJP) June 3, 2021
Dear @GoogleIndia,

Google search engine is all about crawling, indexing & serving search results.

But sometimes, Google ranking systems show wrong results.

Kindly remove this result as soon as possible. No language is ugly in India.

ಕನ್ನಡ ಒಂದು ಸುಂದರ ಭಾಷೆ pic.twitter.com/ikA2vtWmPE

— Anshul Saxena (@AskAnshul) June 3, 2021
One Language Infinite Reasons:
Kannada has got 2nd Highest number of Jnanpita Awards.
Kannada script and grammar is 100% logical and scientific.
Kannada is known as "Queen of World Scripts".
Kannada has 10 vowels and all the word in Kannada ends with vowels.#queenoflanguages

— Prabhanjan Sharma (@Prabhanjannnn) June 3, 2021
Soon after, Google modified the search results and issued an apology stating that 'search isn't always perfect'.
The search result shows this now.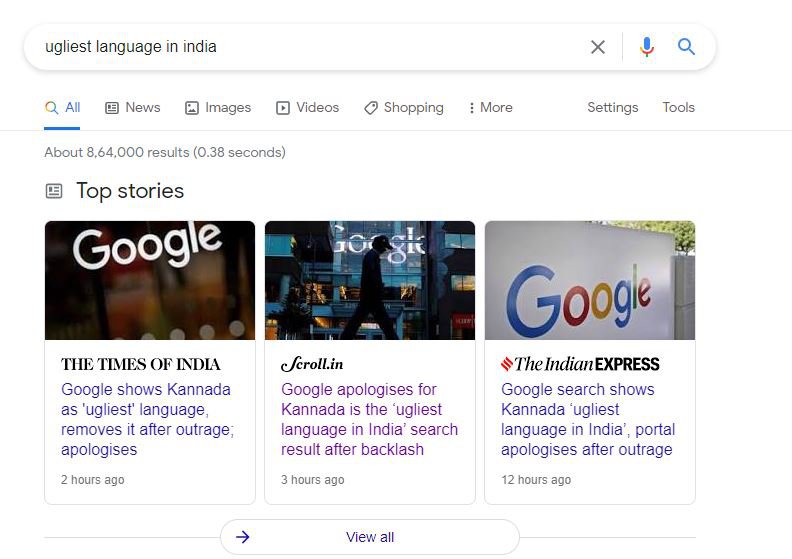 Meanwhile, Aravind Limbavali, Kannada & Culture minister said that a legal notice will be issued to Google.
If Kannada is now called ugliest language in India, it is merely an attempt by @Google to insult this pride of Kannadigas. Demand apology from @Google ASAP to Kannada, Kannadigas. Legal action will be taken against @Google for maligning the image of our beautiful language! 2/2

— Aravind Limbavali (@ArvindLBJP) June 3, 2021