New Delhi: More than a month after Tanzanian government seized passports of seven Indian officials following their failure to complete a water supply project on time, the repeated pleas of Indian employees to the respective Indian and Tanzanian governments have gone unheeded.  
"We are not slaves but employees. Yet, we have lost our freedom. We can't even travel within Tanzania. What if someone asks us for our passport? What will we show to them? Won't we land in jail?" 57-year-old Rajendra Kumar, who works as a General Manager with Mumbai-based infrastructure company Overseas Infrastructure Alliance (OIA), told ScoopWhoop News over phone from Tanzania.  
Kumar, who heads the water supply project in Tanzania, was among the seven officials – four engineers and three fitters – whose passports were confiscated on the orders of Tanzanian president John Magufuli on March 3. 
"The President… has ordered that the passport of… Rajendra Kumar, should be seized along with the travel documents of his assistants until they complete the water project. Magufuli has warned that if the project is not completed within four months, he will take more stringent measures against those supervising the construction work," a statement from Magufuli's office had said. 
The confiscation incident has been also captured in a video which shows the Tanzanian President, on inspection of the project site, ordering his staff to seize the passports of the Indian employees. 
According to Tanzanian President, the OIA was to complete the $13 million water supply line project in the Tanzania's southern town of Lindi by March 2015.
The Indian employees don't disagree with the President's statement on the completion of project's time. However, they cite various "bottlenecks" that emerged during the project and led to the delay in its completion on time.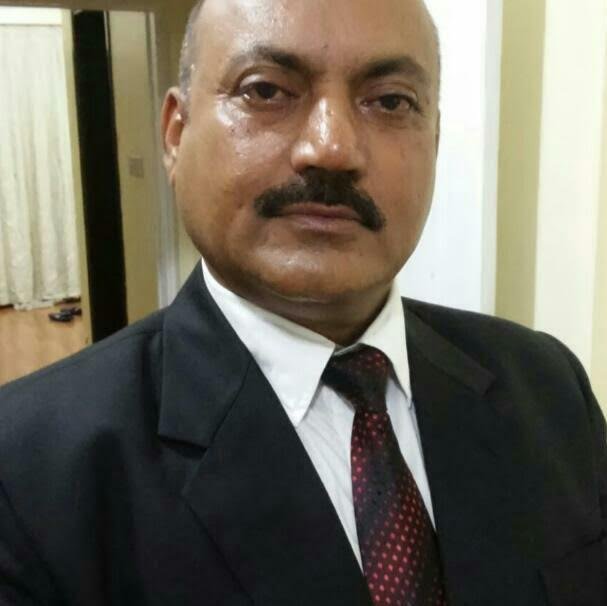 "It took us eight months to get the land allotted for the project. In all the construction projects, a single delay can have compounding effect and as a result other things get delayed as well. But every contract is governed by its own terms and conditions. Even if we failed to deliver, the Tanzanian government could have penalized the company or taken another action. There's no such rule which allows you to confiscate passports of employees," Kumar, who hails from Mumbai, said. 
Being the head of the Indian employees' team, Kumar said he took up the matter with every concerned official in Tanzania. He also approached Indian High Commission in Tanzania and contacted Minister of External Affairs, Sushma Swaraj and Minister of State for External Affairs, General V K Singh. Nothing happened. 
While Kumar along with six other employees have been waiting for the "issue to get resolved", he's faced with a pressing need to be with his family back home. 
"My younger sister was diagnosed with cancer recently and she's undergoing chemotherapy at the moment. My family needs me this time. There's also another engineer with me whose father is admitted in the hospital, but he too can't go home. We are being ignored," Kumar, whose contract with OIA ended on March 31, added. 
"I am no longer OIA's employee but I am struck. I have to survive on my own," Kumar explained. 
The officials of OIA, for which Kumar works, are tight-lipped over the issue.  
Despite repeated attempts since Friday, ScoopWhoop News couldn't get in touch with OIA's office in Mumbai, as the concerned official of the company was "not available for the comment." 
Back in Mumbai, Kumar's daughter Richa Shukla has been tweeting and tagging all the higher officials of Ministry of External Affairs. While some have responded, nothing concrete has happened till now. 
Shukla also alleged "non-seriousness" on the part of OIA to effectively raise the issue with higher officials of the respective governments.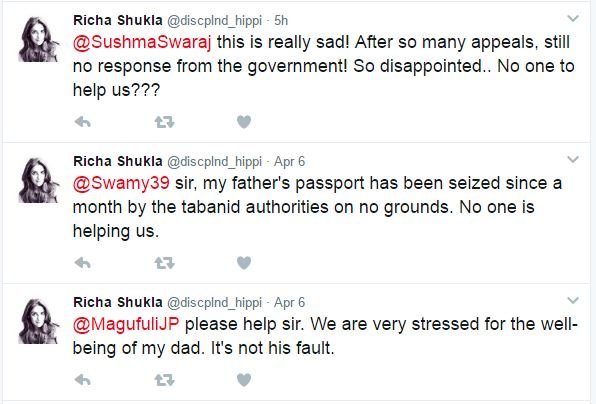 Which puts the case before Ministry of External Affairs, Government of India. 
Detailed queries from ScoopWhoop News to various top officials of Ministry of External Affairs, India were unanswered till this report was filed.