I really want to know bhai, kaun aa raha hai?
The latest internet trend of people going 'aa raha hai, aa raha hai, aa raha hai' has led to some really hilarious potshots that the internet is taking to get to the bottom of this craze. The nation wants to know – Who is coming and where?

We've seen some celebs talking about it…they've been sharing some melodious musical cards… 
And, we've also spotted few rib-tickling memes of the 'aa raha hai' trend that will leave you in splits…   
The suspense is getting too much but these hilarious guesses are making the wait totally worth it!
The purr-fect emotion!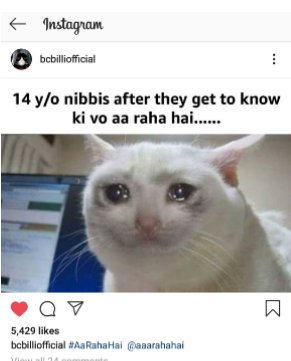 Some room freshner please!
I mean I could not find any missing piece to fit the puzzle and am still wondering about what's really coming! Is it a new movie? Or is there a new show for us to binge-watch? Oh, wait, maybe another star kid in the block?
But, but, but, I spotted the Amazon Prime Video logo in the musical cards that were posted by the influencers and I wonder if they are coming up with something exciting! Well, either way, I am going to go and dig out what it's about because the suspense is really getting to me now.     
Btw, have you made any guesses yet?