Delhi's Jawaharlal Nehru University (JNU) has been in the limelight the past few days for various issues. From sedition charges to student arrests, the university is seeing a spate of activity around it. 
But only one English daily has had the guts to call out the violence doing the rounds. The Telegraph's front page features a picture of rights activist and CPI supporter Ameeque Jamei as he braces for another blow from a group led by BJP legislator OP Sharma outside the Patiala House Courts complex on Monday.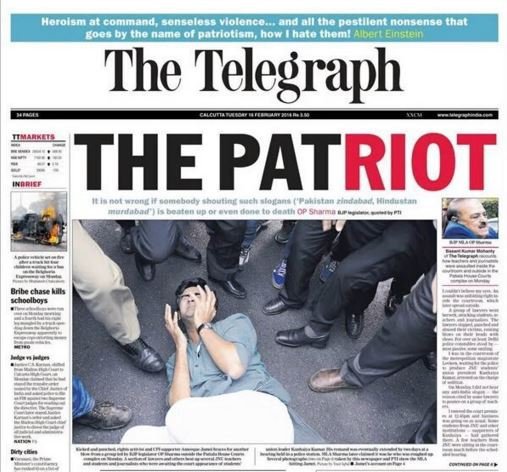 Of course the intelligent usage of the word 'Patriot' went viral on Twitter. Here are some tweets praising the front page:
Starting to think Telegraph is edited by Aaron Sorkin.

— Rohan (@mojorojo) February 16, 2016
This is The Telegraph.

The Telegraph has the guts to call out the hypocrisy.
And, here's the one tweet to inspire them all: