It was widely reported how farmers in Uttar Pradesh recently had a rude shock when they discovered that they have got farm loan waivers of a few paise or rupees. The move came even as the Yogi Adityanath government had announced earlier this year a waiver on loans up to Rs 1 lakh, reported NDTV.
Nearly 12 lakh farmers have received waiver certificates at functions organized at various districts in the state as part of the Rs 36,000-crore farm loan waiver scheme announced by the Yogi Adityanath government.
But many claim they got a shock after finding that their certificates mentioned only a few rupees, in some cases as low as Re 1.
Over 17,260 farmers in Uttar Pradesh have received loan waiver certificates for only ₹1,000 or less. As many as 4,814 got loan waivers between ₹1 and ₹100, while 6,895 received waivers of amounts between ₹100 and ₹500 and another 5,553 got waivers between ₹500 and ₹1,000, reported The Hindu.
Hailing from the state's Barabanki district, farmer Shambhu Nath who was promised a complete loan waiver amounting to his loan of Rs 28,812 received a loan waiver certificate of Rs 12, reported NDTV.
As per the reports by Hindustan Times, Munni Lal of Maudaha village was given a loan waiver certificate of Rs 215 against his loan of Rs 40,000.
In Hamirpur district loan waiver certificates of Rs, 10 and Rs 215 were allegedly given to farmers at a function.
Similar cases have been reported throughout the state where farmers received farm loan waivers ranging from Rs 10 Rs 215.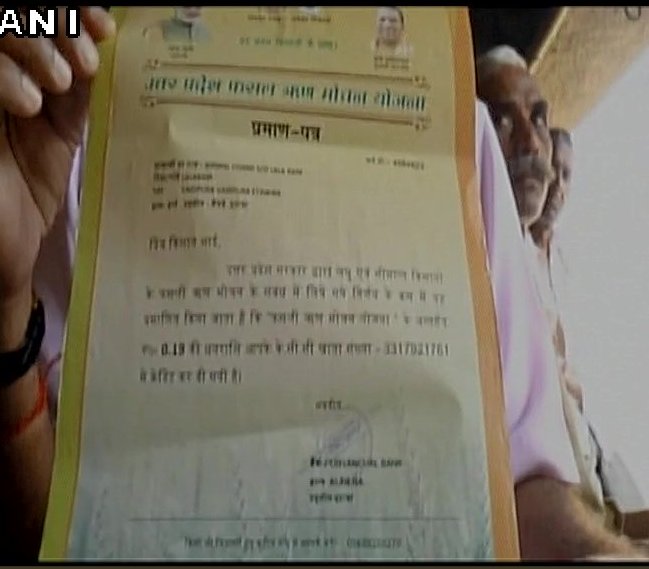 Here's what the officials are saying…
The payments were done electronically to prevent any fraud. In many cases, farmers had paid off their loans in the current year but the fraction of the amount payable was due.
Rajesh Gupta, the additional director of agriculture, told Hindustan Times:
"There are many farmers who paid their dues to banks in 2016-17, but some amount, which in many cases has been found to be less than Re 1, remained unpaid due to various reasons, including some mistake in interest calculation. Now we have waived only that amount and issued certificates accordingly."
A report in Gaon Connection that quotes a government bank official, explains: As per rules, only those loans are being waived off under the scheme that were taken until March 31, 2016. If a farmer had Rs. 51,050.9 in their loan account but paid off Rs. 51,050 till March 31, 2016, the balance 90 paisa was still showing as outstanding loan amount. So the government waived off that too.