You may never have heard of SN Channabasappa before, but the BJP leader from Karnataka is making headlines today thanks to his threat to behead Karnataka Chief Minister Siddaramaiah and "play football" with it. And it also resulted in him getting arrested.
"He (Siddaramaiah) has stated he would eat beef if he chooses to do so and nobody could stop him. Let him eat beef at Gopi Circle in Shivamogga. If he does so, he will be beheaded. We won't think twice about that," Channabasappa was quoted as saying in a Deccan Herald report .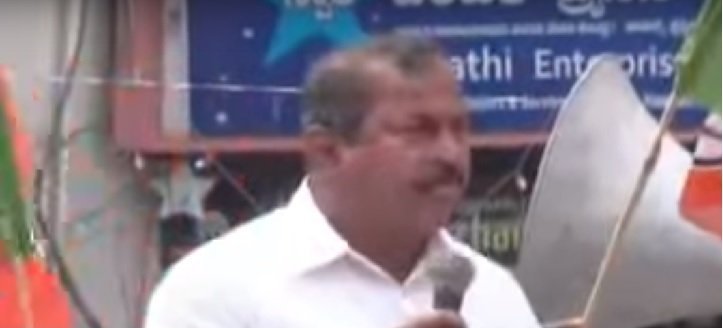 Channabasappa during the rally | Source: YouTube
The BJP leader, according to a Hindustan Times report, is close to former BJP chief minister BS Yeddyurappa and made the statement while at a protest rally organised to protest the Chief Minister's comments. Siddaramaiah had said earlier that he could eat beef if he wanted and no one could stop him.
While some BJP leaders reportedly attempted to play down the threat made by Channabasappa, the former district leader of the party wasn't about to back down.
"Let him (Siddaramaiah) kill a cow and show, we will separate his head from his body and play football with it," he told the Hindustan Times . However, he also told the newspaper that it was just a figure of speech and not really a threat to kill the Chief Minister.
The Congress isn't taking it too kindly though, and told The Newsminute that it will explore legal options against the BJP leader. Channabasappa was arrested late on Tuesday evening by the Karnataka Police and booked under sections related to making provocation to incite riots and criminal intimidation, ANI reported.