Remember the controversial incident where a Kashmiri man was tied to an Indian Army jeep and used as 'human shield' to dodge stone-pelting? Well, a Delhi-based online retail store is selling t-shirts dedicated to it. 
The store in question is T-Shirt Bhaiya, an online outlet recently launched by Tajinder Pal Singh Bagga, who is the spokesperson of Bharatiya Janata Party (Delhi unit). 
The outlet says that the t-shirts are 'dedicated to Major Leetul Gogoi', the army officer who took this extreme step of tying a civilian named Farooq Ahmad Dar to a military jeep in April this year citing emergency reasons.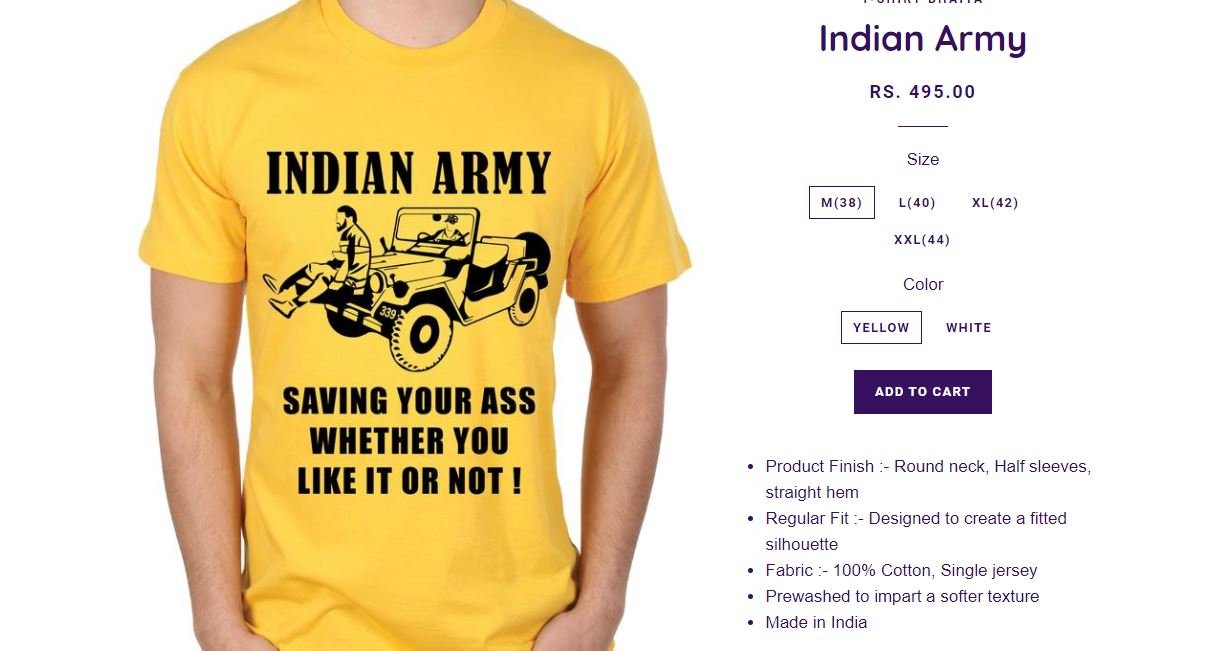 The t-shirt design launched on Thursday evening was met with heavy applause as well as outrage on social media. While the t-shirts sold like hot cakes as claimed, Ahmad Dar's lawyer now threatens to file defamation case again Bagga's company.
Firstly, here is what the outlet tweeted on Thursday:
And here are some of those who supported the unique idea of human shield t-shirts:
However, many found it extremely insensitive as well as dishonourable to the armed forces:
When contacted, Bagga said his 'idea' was appreciated by the public and the t-shirts were sold out within hours. The company has also promised that it will release fresh stock on Tuesday.
What the 'human-shield' thinks of the idea
The alleged "stone-pelter" Farooq Ahmad Dar who was tied to the jeep and paraded through dozens of villages, was unaware of this design till ScoopWhoop News got in touch with him. 
"I don't know about any such t-shirts. But if I see them, it will further aggravate my pain," said Dar, who is an artisan from Central Kashmir's Budgam district. He added that it is still very difficult for him to come out of the trauma he underwent some months ago.
Notably, Major Nitin Leetul Gogoi was not only given a clean chit by the army but was also awarded a 'Commendation Card' a month later. 
Unlike Dar, his lawyer Muhammad Ahsaan Untoo was furious with the news. He told ScoopWhoop News that he would file a a defamation case against the company.
"Those who are appreciating such t-shirts are the ones who want India's destruction. How can you support something which is against humanitarian laws," he said. 
He said that there is no police record against Dar to show that he was at fault. He blamed the media for misinterpreting information and making a villain out of Dar. "The role of the media is to fight for people's cause while questioning the state excesses. But in this case, the media, especially some TV channels, have acted like brokers," he said.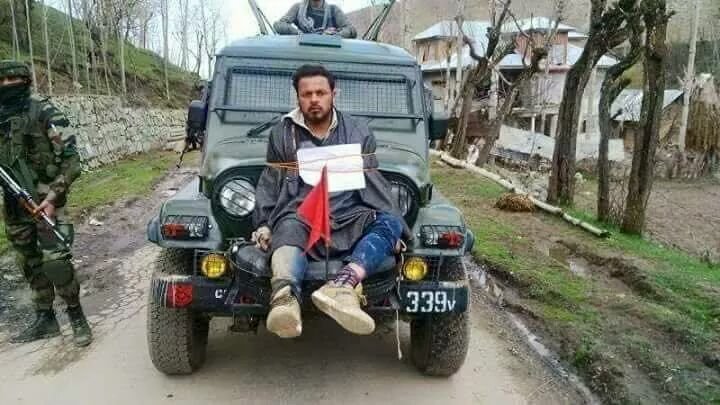 Untoo had taken the case to J&K State Human Rights Commission and then to the High Court as well as United Nations Commission on Human Rights. He said he would continue to fight for justice. 
"I will certainly file a defamation case against the company," he said.
When contacted, Tajinder Pal Singh Bagga was unfazed. He said, "Let them file whatever suits they want. For me, they were stone-pelters and were targeting our Army."