Anant Ambani has never chased the headlines. He's been content sitting outside the boundary ropes with mother Nita at the IPL or interacting with the team members during matches. But the man has always been the butt of jokes for Twitter trolls who have mocked him for his weight. 
Remember this photoshopped picture that was meant to be a joke?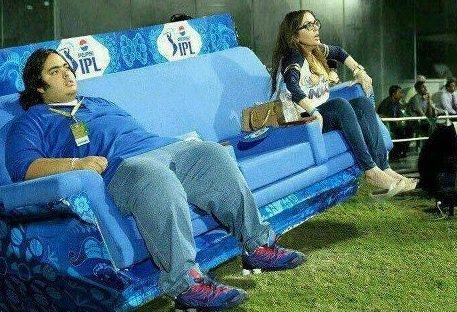 Well, he seems to have hit back at all the jokes with a weight loss that is probably an inspiration to everyone who has ever tried to do the same. The Times Of India put out this photo of the young Ambani scion today: 
While the exact details of how this transformation was achieved are still under wraps, the report says that it's all entirely due to some hardcore workouts. 
Ambani has reportedly lost a whopping 70 kilos to look the way he does presently and according to the report, has been working out with a trainer from the US to lose weight.
Though past photos have indicated that the Ambani scion has been losing weight, the photo of him having undergone a dramatic weight loss is perhaps the most stunning of them of them all. If nothing else, it might end the insensitive trolling during this IPL .  
And while there was the odd joke, most Twitterati were impressed: 
I want to be bffs with Anant Ambani 😁

— who the fuck (@ShaantAurat) March 20, 2016
Congratulations Anant Ambani. You just became the talk of the town again.

— Roshan (@zaxias) March 20, 2016
Anant Ambani got trolled, worked hard and lost 70kgs. The trolls continue to get fatter sitting on their seats, searching for another victim

— Priyanka Lahiri (@lahirip) March 20, 2016
(Feature image source: ScoopWhoop + Twitter | @timesofindia)