The catastrophic bush fires in Australia have already burned more than 2.5 million acres of Australia's east coast. But these fires have not only created havoc but have also affected the wildlife in the area severely.  
Among several other species, the threatened Koala bears were also severely affected. But a woman who saved a Koala from the bush fires has emerged out as a messiah.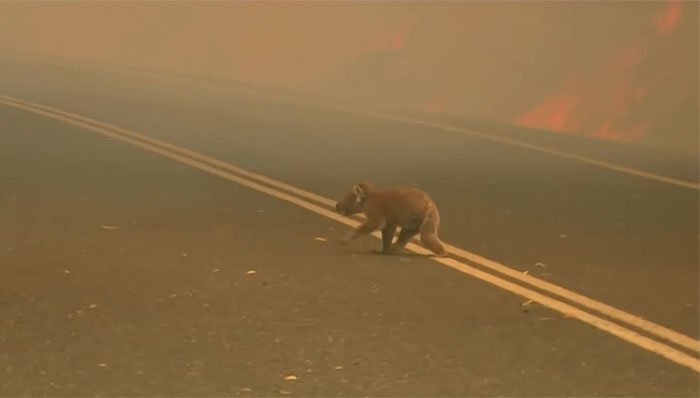 This woman is Toni Doherty. She helped a Koala escape the devastating fire by taking off her shirt, wrapping the koala in it and then pouring a bottle of water over it.  
Doherty mentioned, 
He just went straight into the flames, and I just jumped out of the car and went straight to him. 
The Koala Hospital Port Macquarie who took care of the Koala mentioned, 
This male koala who was so disorientated by the flames and unfortunately was burnt further as he headed back into active fire. He has been called Ellenborough Lewis (after her grandchild). He has been treated and is now in the five star accommodation at the Koala Hospital. 
Netizens termed this brave woman as a 'hero' and appreciated her for this courageous act. 
Thank you everyone: firefighters, first responders, humans with a gigantic heart and love of animals.

— Debra J. Kalish (@kalishdj) November 20, 2019
This is devastating.. That women is a hero.

— Hannah Knutson🍁 (@Hk_11_13) November 20, 2019
I'm crying. Thank you for rescuing that baby. You are an angel.

— AL (@Aquagenius) November 20, 2019
So sad!! Hope he makes it! Great woman!!

— FakeHousewife (@BarronDasso) November 20, 2019
It's very sad to hear that almost 350 koalas and 4 people have died due to this bushfire. My best greetings to this woman for saving this baby koalas. It's love for the nature ! . Thanks! .

— Gilberto Sosa (@moongasca) November 20, 2019
that place must be so hot and hard to breathe, also no equipment, guess mother instincts kicked in 💪

— Mesut Noyan (@mesut_noyan) November 20, 2019
Apparently, over 350 Koalas have died in these devastating bushfires.