There is no concrete evidence that the 39 Indians abducted from Mosul in Iraq have been killed and "I will not commit the sin" of declaring them dead without any evidence, External Affairs Minister Sushma Swaraj told the Lok Sabha amidst uproar on Wednesday.
While addressing the Lok Sabha on this issue, Sushma Swaraj in a moving speech that she will not give the search up unless she gets sufficient proof that those abducted are no more. 
"This file will not close till there is proof that the 39 Indians were dead. I will not commit the sin of declaring them dead without any evidence," Swaraj said, two days after holding talks with Iraqi foreign minister on the issue.
The external affairs minister also said she had never misled Parliament or the families of the abducted Indians. "I have never misled. I want to ask the opposition what benefit will I get by misleading. What benefit my government get by misleading the people on the issue," she said.
Swaraj confirmed that in 2014, she has had 6 sources telling her that the missing Indians are not dead. 
What is Iraq saying?
Three days back, Iraqi Foreign Minister Ibrahim al-Eshaiker al-Jafari said his government has no substantial evidence whether the 39 Indians who went missing in Mosul three years ago have been killed or are still alive.
"We don't know whether they are dead or alive. We are equally concerned. There is no substantial evidence whether they are alive or not. We are making the best efforts," he told reporters after meeting Oil Minister Dharmendra Pradhan.
Iraqi authorities have assured India of all cooperation in locating the missing Indians and also announced financial rewards for information regarding their whereabouts.
Indian government's claims
After Iraqi forces 'liberated' Mosul this month, General VK Singh rushed to Irbil and Baghdad to investigate any leads, reported Economic Times.
After he returned, external affairs minister Sushma Swaraj held a meeting with the families and told them that the missing Indians were probably lodged in a jail in Badush, which lies north-west of Mosul.
An official who quoted intelligence sources told Gen Singh that they (the Indians) were deployed for a hospital construction and then in a farm. From there, they were sent to a jail in Badush. "There has been no information since then," Swaraj told reporters after meeting the families of the abducted men.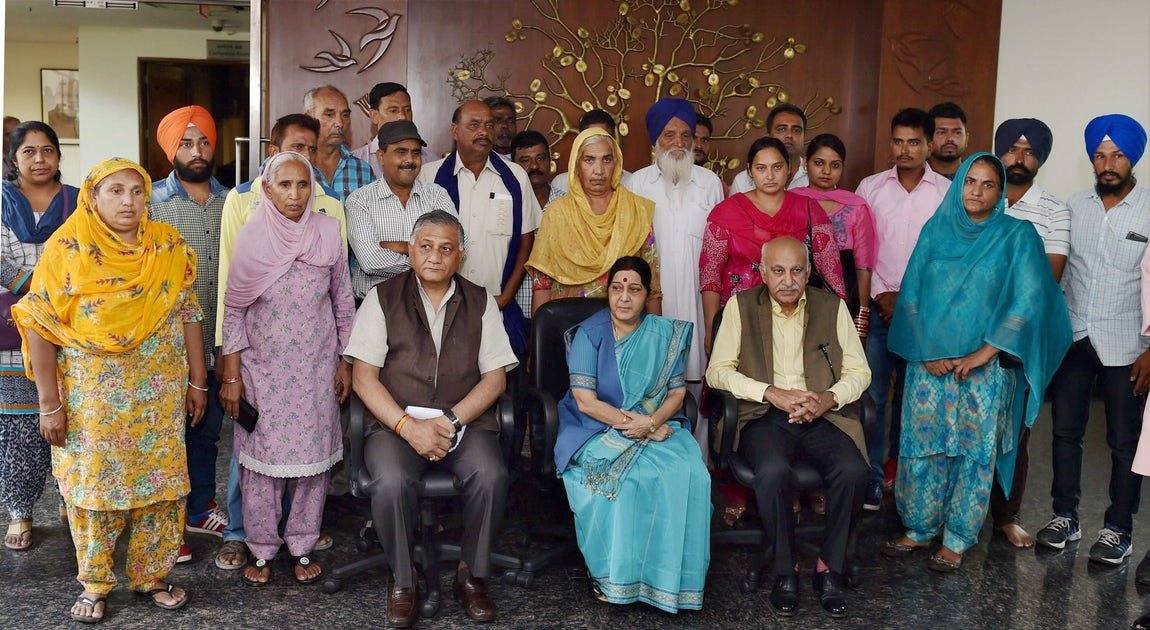 But the MEA's claims stand empty
However, after investigation, Hindustan Times reported last week that the prison in Badush has been completely abandoned and was demolished several months months ago.
Al-Jaafari, who had also served as Iraq's prime minister between 2005 and 2006, said that there was also no evidence to show that the 39 Indians had ever been in Badush jail.
"It is correct that Daesh [ISIS] had seized the prison of Badush for a while and that the prison was demolished. The question is whether the 39 Indian missing persons are under the rubble. There is no absolute proof that they were [ever] in there. Until the rubble is removed, we can only assume that they are alive and search is going to be continued," he said.
Is the govt really misleading us?
After 40 Indian labourers, were kidnapped in Mosul in 2014, there was a Harjit Masih who had managed to escape from clutches of ISIS.
Harjit Masih, has time and again, claimed that all 39 had been killed soon after being taken hostage by the Islamic State. 
According to Masih, four or five days after they were taken hostage on June 15 in 2014, the ISIS took them to a hilltop, ordered them to line up, and shot them from behind. Masih, who was hit in the right leg, said he dropped to the ground and feigned death. He lay there till the terrorists left, and then ran for cover. 
Many sources also claim that this might be the case. However, government has refuted Masih's claims and maintained that the hostages are 'alive and well'. 
(Feature image source: PTI)