The world's first face transplant recipient, Frenchwoman Isabelle Dinoire, died in April "after a long illness", a French hospital said on Tuesday. In 2005, at the age of 38, Dinoire received a graft comprising the nose, lips and chin of a brain-dead donor to replace parts of her face that had been mauled by her dog.
The hospital in Amiens, northern France, confirmed the death of "Mrs D., the first patient in the world to receive a face transplant in an operation carried out by Professor (Bernard) Devauchelle and his teams on November 27, 2005." 
The hospital said her death had been kept quiet to protect her family's privacy. Le Figaro newspaper reported that Dinoire's body had rejected the transplant last year "and she had lost part of the use of her lips".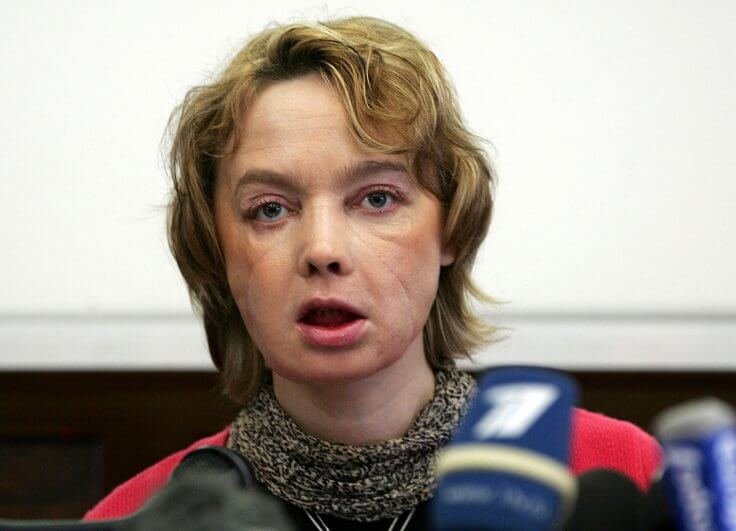 The drugs that she had to take to prevent her body from rejecting the transplant left her susceptible to cancer, and two cancers had developed, the report said. In a remarkable news conference in February 2006, just three months after the operation, the blonde, blue-eyed mother of two appeared before TV cameras wearing a black top and pink cardigan. She appeared to be wearing thick makeup to disguise the scars of the procedure.
Her lips were heavy and inflexible, and she spoke with a pronounced lisp but was otherwise comprehensible. She recounted how she had fainted after "taking medicines to forget" personal problems.

"When I woke up, I tried to light a cigarette and I couldn't understand why it didn't stay between my lips. Then I saw the pool of blood and the dog next to me," she said. "I went to look in the mirror and was horrified." But the ground-breaking operation gave her a new lease of life. "Since my operation I have a face, like everyone… I will be able to resume a normal life," the divorcee said.
The operation was led by Jean-Michel Dubernard, a world-renowned surgeon at Edouard Herriot hospital in the eastern city of Lyon, and Devauchelle, a professor of facial surgery. Dubernard had performed the world's first hand transplant in September 1998, followed by the first double hand and forearm transplant in January 2000. The transplant team came under fire from within the French medical profession for releasing post-operation pictures of the patient.
(Feature image source: AFP)