Eman Ahmed, one of the heaviest women in the world weighing 500 kg, on Saturday landed in Mumai for weight reduction treatment at a local hospital and was lifted, along with the bed on which she laid while travelling, with the help of a crane.
"Eman, who travelled to India in an EgyptAir plane, landed at Mumbai international airport shortly after 4 AM and reached the Saifee hospital around 6 AM. The special bed on which she laid during the journey was hoisted with the help of a crane," doctors said.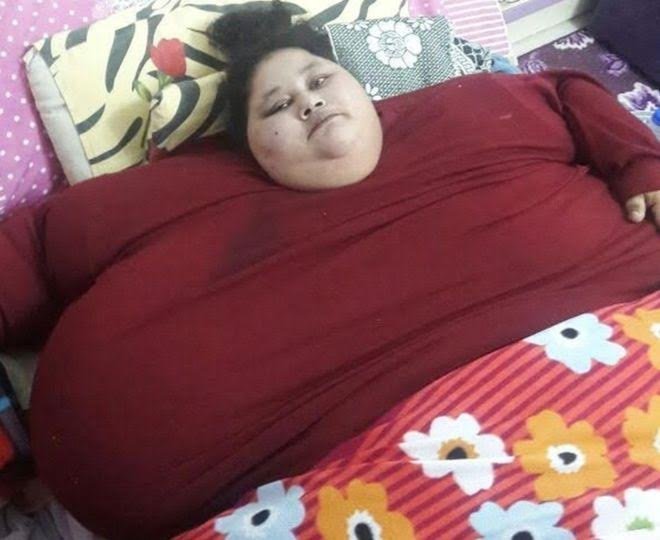 She was transported by a fully equipped truck, which was followed by an ambulance and a police escort, to Saifee Hospital where a special room has been built for her.
The 36-year-old woman, who has not moved out of her house for 25 years, would be under observation for about a month before she undergoes surgery, doctors said.
She is currently under the care of a city-based bariatric surgeon Muffazal Lakdawala and his team of doctors. They have been treating bed-bound Eman for almost three months and took all necessary precautions for her transportation from Egypt's Alexandria, an aide to Lakdawala said.
"Transporting Eman to Mumbai was a challenging task keeping in mind the complexities of her case as she is a high risk patient who has not been able to move or leave the house for the last 25 years," doctors said.
Eman was accompanied by Aparna Govil Bhasker, an Advanced Laparoscopic and Bariatric Surgeon at Centre of Obesity and Digestive Surgery and Head of Department of Bariatric surgery at Saifee Hospital and Kamlesh Bohra, Senior Intensivist, Department of Critical and Intensive Care at the hospital.
(Feature image source: Twitter/@HTMumbai)