The Sunday night at Mirpur was perfectly ripped off from a vintage clip. There was Mahendra Singh Dhoni – plonking his front foot forward, opening that massive shoulder and sending the ball moon miles into the stands. Up up and away. Another India win. Another Dhoni finish.
Too familiar. Yes. Cliched. No. In the next few weeks, we may see that scene all over again, perhaps more than once when India begin their campaign in the World T20. The last year or so might have been tough on Dhoni because Test matches are no longer in his remit, he will soon touch 35 and Virat Kohli has well and truly begun his march towards acquiring captaincy in all formats. He has already taken the mantle in Test cricket.
But then Dhoni has a remarkable sense of occasion. Eight years ago, it was a World T20 that began to shape Dhoni's legend. A long-haired youngster stood on the podium with silverware and a beaming smile at Johannesburg, and he never looked back ever from that moment. He soon stepped in as captain of India in all formats and unprecedented success followed.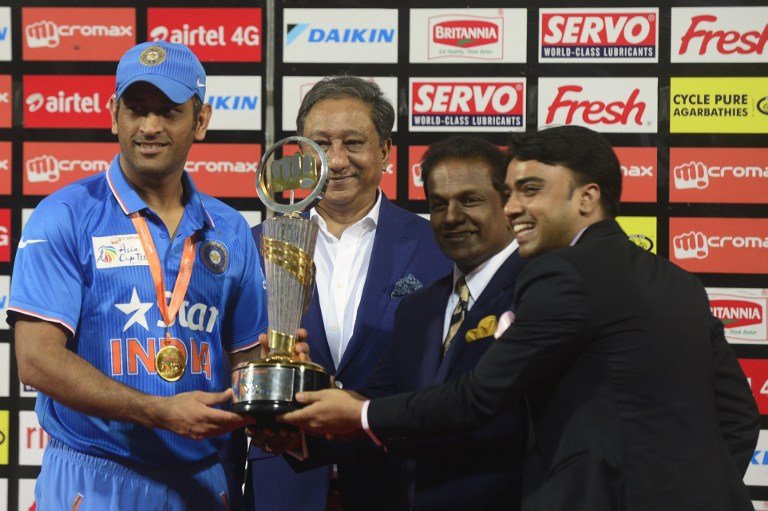 The heady days, except a few blips, lasted until India suffered a series of Test defeats abroad. The magic of Dhoni has waned, so spoke everyone. There was clamour to remove him from captaincy before the Jharkhand man quit Test leadership on his own terms. Now, Dhoni is closer to his final day as a professional cricketer than ever, and he would not like to move away meekly.
However, Dhoni will not be losing any sleep over it. Evidence can be traced in the words of his coaches like Stephen Fleming and Gary Kirsten, who had spoken in glowing terms about Dhoni's icy nerves even on the biggest stage and in the toughest of situations.
After their recent T20 efforts against Australia and the Asia Cup triumph, India are firm favourites to lift the World T20. They have several points to bank upon. Home Advantage. A gun-slinging batting line-up. A set of bowlers hitting the right notes. And a captain with a sea of experience. But the run won't be easy.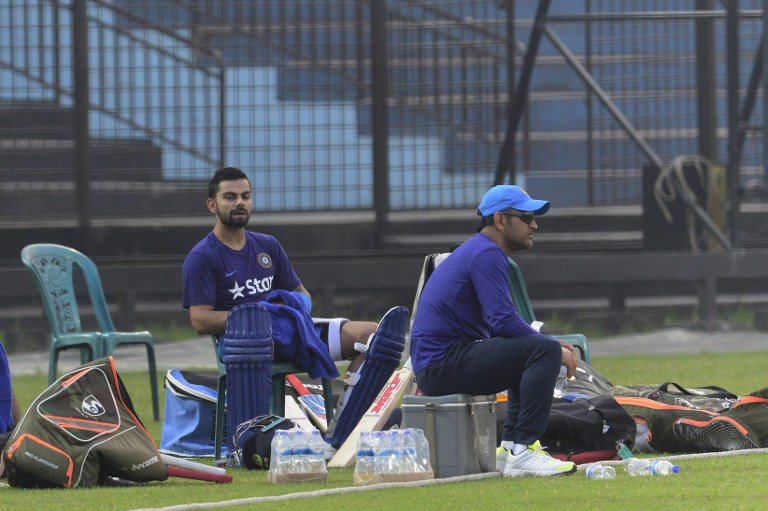 There will be contenders, strong enough to throw a spanner in India's works. India should be wary of Sri Lanka. They may be filled with greenhorns, but still have enough veterans in their ranks to deal a heavy blow on their day. Australia might not have decoded the T20 format fully yet. But a line-up that contains Steve Smith, David Warner, Glenn Maxwell and Shane Watson can never be written off.
England under Eoin Morgan could be a force to reckon with. They have some fine players too such as Jos Butler, Joe Root and Alex Hales. South Africa, if they contain their nerves, have the ability to go all the way. Then there are West Indies and Pakistan. Those two have not come up with any notable performances of late, but Pakistan has that legendary ability to lift the game when it matters, and the Windies have a clutch of players who have the IPL experience.
After all, it is T20 and it requires just a couple of blows or balls to change the course of the match.
All of these teams can override Dhoni's designs to add another trophy to his cabinet. But Dhoni has this astonishing to ability to drag the destiny to his side, shape his own course. He had done that a number of times in the past – handing over the ball to Amit Mishra at the fag end of the day to claim the crucial wicket of Michael Clarke at Mohali, giving the final over of the World T20 to Joginder Sharma. Images are plenty.
In the past, Dhoni dared to challenge the fate, dictated it and asked it to obey his whims. Often fate wilted against Dhoni's determination.
Now, Dhoni has to produce that act once more. And nothing out there seems really capable to prevent him from doing that.
Feature image source: AFP