A Pakistani university has forbidden its students from sitting "as a couple" in the campus. If a male and a female student want to sit and talk, they can do so only in a group of three or more!
This is the notice by the University of Sargodha issued for its Lahore campus which is going viral on the social media: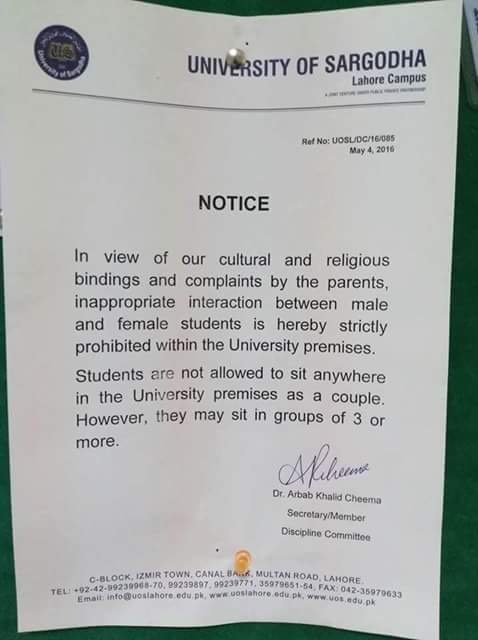 As the notice says, the decision has been taken "in view of out cultural and religious bindings and complaints by the parents". 
"Inappropriate interaction between male and female students is hereby strictly prohibited," it further says.
Pakistani newspaperThe Tribune reported that the university has also imposed a dress code for students, which is displayed on its website.
Men can wear dress shirts, T-shirts (only with collars), formal pants, jeans, shoes, joggers and shalwar-kameez (on Friday or by special permission).
Women can wear shalwar-kameez, scarf/dupatta, pants/trousers with long shirts, modest make-up and jewellery. They CANNOT wear sleeveless, offensive or "obscene" shirts, patchy, tattered, baggy or shabby looking jeans and chappals.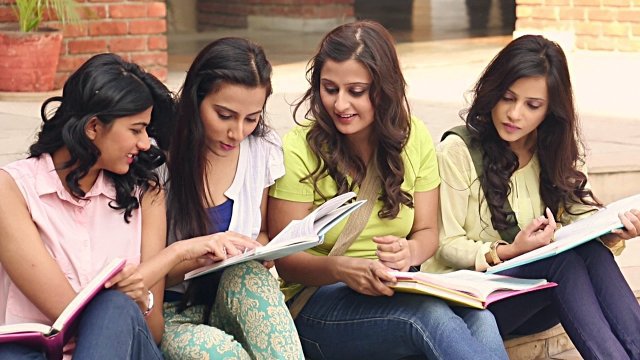 Not surprisingly, the announcement is drawing flak…
Hashim bin Rashid, a lecturer at Lahore-based Beaconhouse National University told Tribune that the move promotes gender segregation and shows the divide in the Pakistani society.
Not that I ever would, but remind me to never go to the University of Sargodha.

— Baneen (@baneenz) May 15, 2016
…and some major trolling
Since the notice doesn't specify if it's talking about male and female students, it also became a subject of trolling on the social media
Since gender not mentioned in the notice, curious if it applies to two young men sitting together, or two yng women? https://t.co/P3NYCzXAwz

— Baijayant Jay Panda (@PandaJay) May 16, 2016
It's not the first time a university in Pakistan is indulging in such moral-policing, says this Daily Pakistanreport.
Three years ago, the National University of Sciences and Technology created an uproar after it banned female students from wearing 'indecent' dress such as jeans and tights on campus.
Last year, the Punjab University College of Information Technology, besides issuing a long list on what not to wear, made dupattas mandatory for women students.
Earlier this year, the University of Swat banned students from sitting or walking with members of the opposite sex. Both on and off campus!
Feature image source: Twitter/@HassaanKahn and @DailyPakistan