As Indian media breathlessly reported yesterday, and the day before that, a lady IPS officer is fighting Bodo militants (and rather successfully at that) in Assam. Sanjukta Parashar's life is one of service to her country. She left her rather comfortable DU, JNU student life to go back to Assam and serve her people. Major props to her.
Here are some headlines we came across about her. Notice something in common?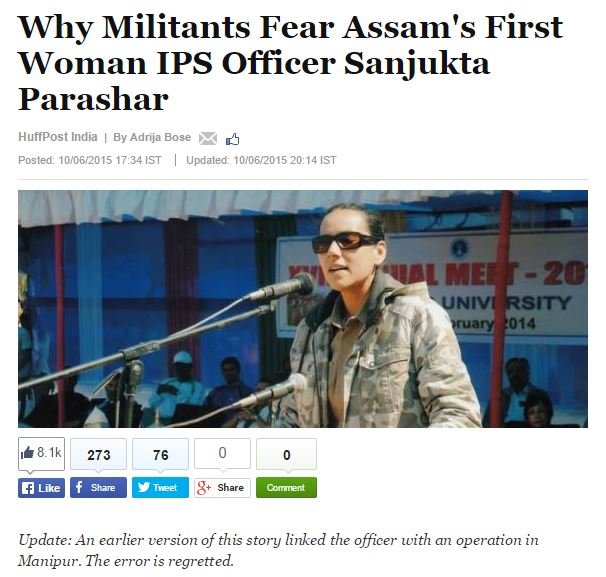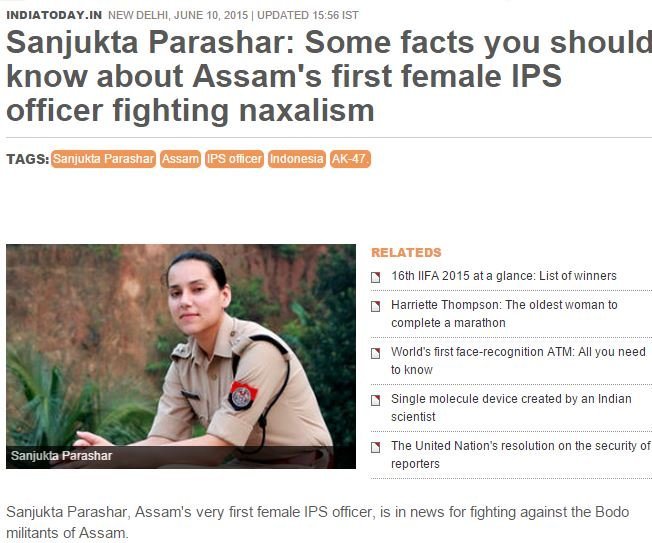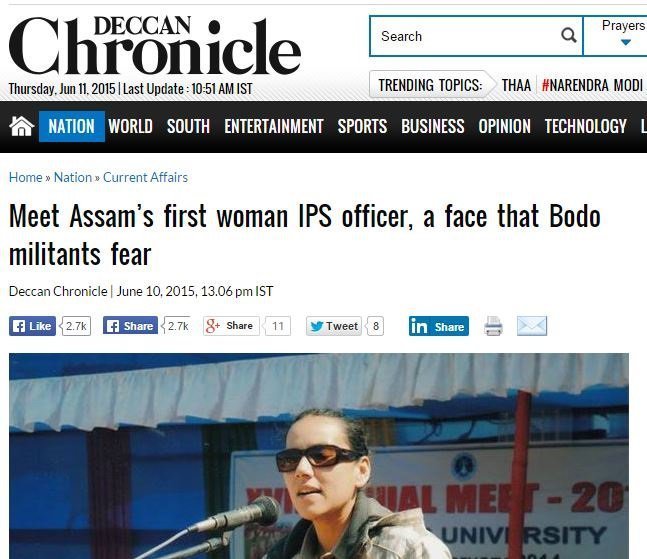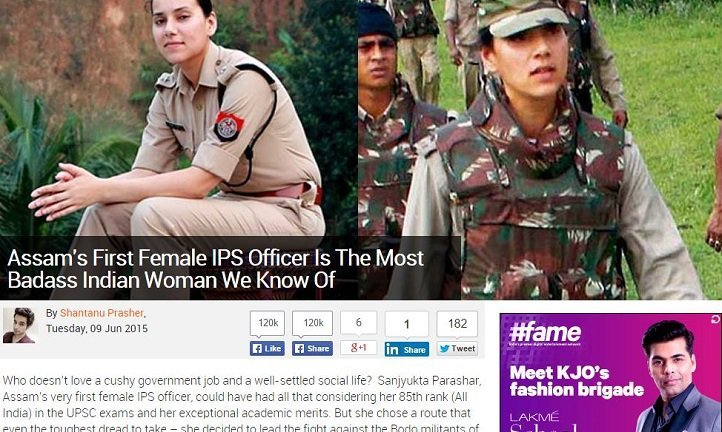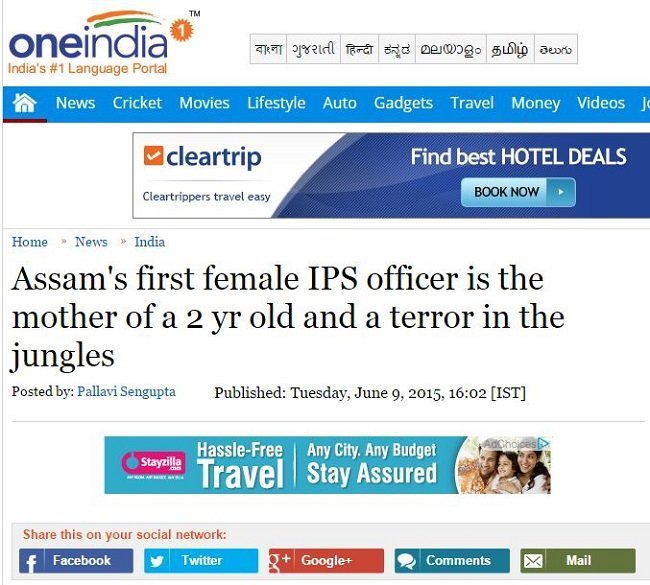 That's right. While celebrating Sanjukta's success, India media chose to add a 'fact' to her indisputably stellar achievements — of being the first woman IPS officer from Assam. Now, that's a problem. Because, you see, the first woman IPS officer from Assam died in 1999.
Here's a small report about Yamin Hazarika's death seen in a newsletter from July 1999 called Assam Online.

Yes, the extra 's' in her name is a spelling error as further Google search verified. Here's an Independent UK article from 1992 titled 'Another kerb crawler collared: Special police units in New Delhi are using strong-arm tactics to combat sexual harassment, or 'Eve teasing ' where Hazarika has been quoted extensively.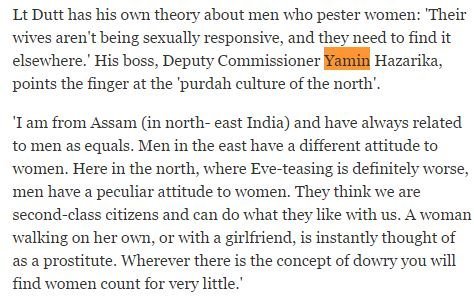 Interestingly, according to this witness report , Hazarika was the ACP of Chanakyapuri Police Station during 1984 anti-Sikh riots in Delhi.
The report states, "Madam Yamin Hazarika was the ACP of Chanakayapuri [sic] Police Station. She is also not alive. I refer to file No.XXV/70/85 and say that it contains a report sent by ACP, Chanakayapuri to Principal, Police Training School. The report states the sequence of events which took place in the jurisdiction of Chanakayapuri Police Station between 31.10.84 and 2.11.1984. The report was sent on 15.12.84. ( and the same is Exhibit No.W69/2). I refer to file No.XXV/73 of 85 and say that it contains information relating to the incidents which took place within the jurisdiction of Chanakayapuri Police Station."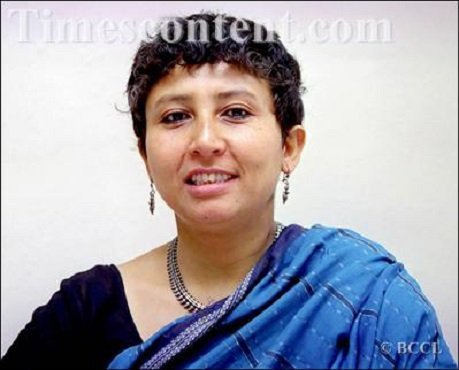 In 1998, a year before her death, we gather that Hazarika was posted to Bosnia, and was part of the UN peace-keeping force. Here's a news brief from the Nena Newsletter (July 22 – Aug 6 issue) that reaffirms it.
"Deputy Commissioner of Police in Delhi Police's crime against women cell, died of blood cancer. She was 43. She leaves behind her husband and two children. Ms Hazarika, who was suffering from blood cancer since last year, was admitted to the AIIMS two weeks back. A police officer of repute, Hazarika was part of the UN peace-keeping force posted in Bosnia last year. She could not complete the full term as she was detected of having blood cancer ."
In 2002, a curious incident occurred in her house in Assam. This was reported in a story titled 'Unsafe Guwahati: Crime goes up in city' in The Times of India.

"Parashar is the first and only Assamese lady IPS officer to be posted in Assam ," the interview with Sanjukta reads.
Did the media suddenly find this interview and assume that she is the first and only Assamese lady IPS at large? While we understand how quick the online media space is, did no one for a second wonder why Assam got her first lady IPS so late?
What's even more fascinating is that Parashar isn't even the second woman IPS to emerge from the state. While Yamin comes from the DANIPS batch of 1977 , D Rani Doley Barman was a part of the 1986 IPS batch, who now serves as the Director, North East Police Academy.
Here's some proof.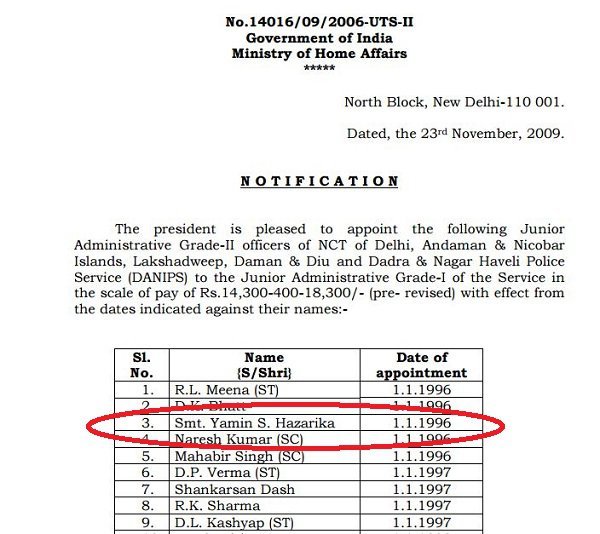 Her college, too, remembers Yamin as an IPS (co-incidentally both Yamin and Sanjukta went to IP College, Delhi University).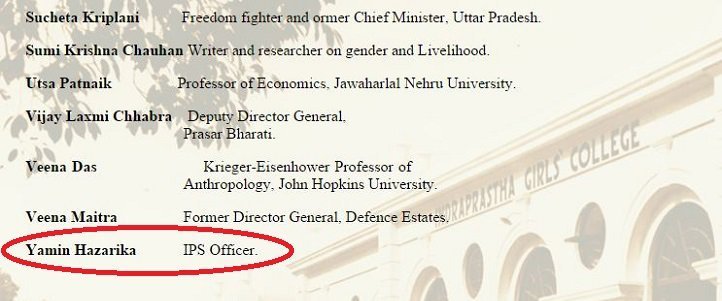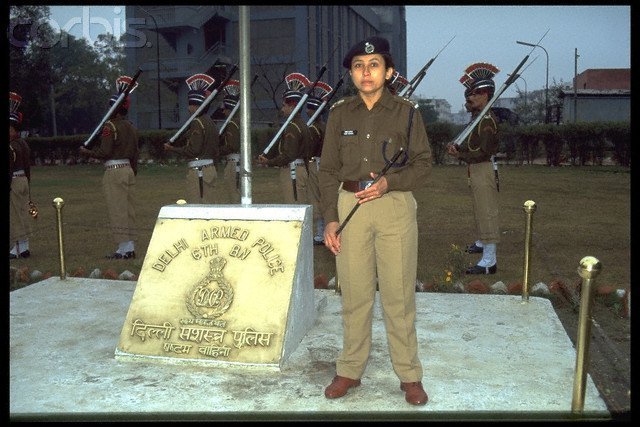 Before it is assumed that this is a personal attack of some sort on Sanjukta Parashar, let me clarify, it IS indeed a personal attack, but on the lack of research within journalism.
Parashar deserves all the applause she has received from each one of us. Her fight against Bodo militants, her 85th rank at the UPSC, her PhD in International Relations from JNU, are more than commendable — and more than enough to make a great article.
Let's try and research more please?