"All those who are above the age of 75 were declared brain dead on May 26, 2014," senior BJP leader Yashwant Sinha has said, taking a swipe at Prime Minister Narendra Modi for setting the cut off age of 75 years for induction of ministers. The caustic take from Sinha, who held finance and external affairs portfolios in the Atal Bihari Vajpayee and Chandra Shekhar governments, on the neglect of BJP veterans came at an industry event on Tuesday, June 23 where he was asked about the difference between the Narendra Modi and Manmohan Singh dispensations.
Sinha also targeted Modi over his pet 'Make in India' initiative, saying "make India first" and the rest will follow. "I am among those brain dead," Sinha, whose son Jayant is Union Minister of State for Finance, said.
The octogenarian leader from Jharkhand is among top BJP leaders like L K Advani and Murli Manohar Joshi, who have been sulking after not being inducted into the Modi government. Advani and Joshi have been made members of BJP's 'Margdarshak Mandal" to mentor the party.
Joshi had recently targeted Modi's 'Namami Gange' project for cleaning the Ganga, claiming it will never be successful.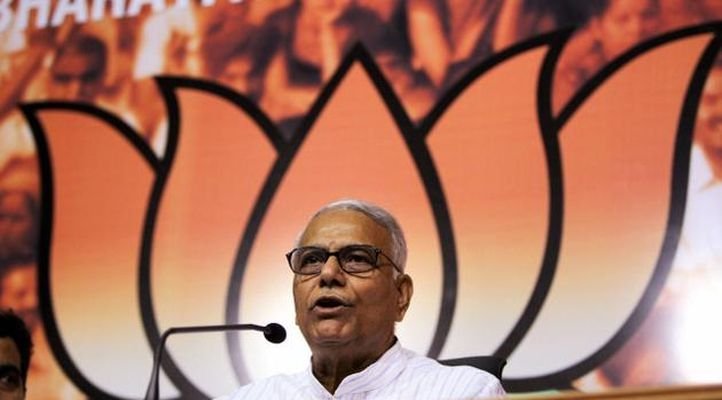 Recalling his days as Finance Minister to take a swipe at the 'Make in India' initiative, Sinha said he had lowered duty on heavy equipment used for building roads. That, he said, accelerated construction of highways and helped the economy.
"Make India and 'Make in India' will follow," he said. Before Yashwant Sinha, Modi had come in for criticism for fixing the cut off age for ministers from another party senior — actor-turned-politician Shatrughan Sinha.
Shatrughan Sinha, who had also served as Union minister under Vajpayee, insisted on "merit and mental alertness" being the criteria for choosing ministers. "Instead of age, the criteria shall be mental alertness and health.
Even at an age of 87 L K Advani has a sharp memory and energy like a 40-year-old man. Who can question the mental alertness and physical activities of Advani or Murli Manohar Joshi?" Shatrughan, who calls Advani his "guru", had said some time back.