(Any opinions expressed here are those of the author and not necessarily of ScoopWhoop)
Prime Minister Narendra Modi's 'doors are always open for the Muslims' even in the dead of the night. Because this is what he recently told a group of Muslim leaders. But no one knows if these doors are open for everyone or only for those who perform yoga and surya namaskar .
If we take the remarks of Modi's other party colleagues and his other cabinet ministers seriously, then there is no place for those people in India who oppose Yoga. So, we wonder, how will the doors of Modi be open for them?
"Those opposing yoga and surya namaskar should either leave India or drown themselves in the ocean," said Bharatiya Janata Party (BJP) parliamentarian Yogi Adityanath recently .
To ensure that he is abiding by all the formalities required to remain in Modi's cabinet, one of BJP's most prominent Muslim leaders Mukhtar Abbas Naqvi took no time to post a picture of himself ardently performing surya namaskar .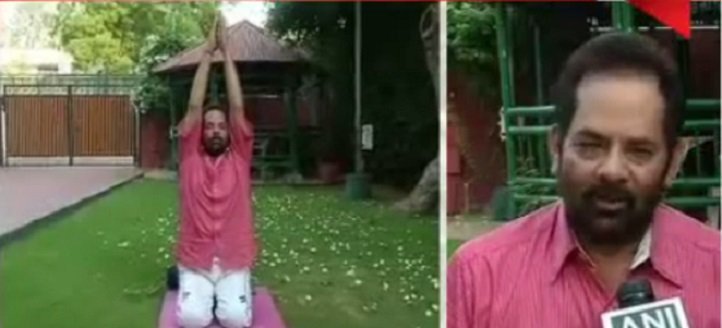 Naqvi also went on to say that beef eating people should go to Pakistan.
It seems yoga might soon be mandatory, as the government has already issued an order to hold yoga classes for central government employees.
Whatever is happening in India is really being enjoyed by the neighbours. Well-known Pakistan journalist, Raza Rumi, took to Twitter to poke fun at such remarks unfolding in India.
But the yoga debate doesn't end there. Government continues to promote yoga and make it a 'brand across the globe'. The government is investing around Rs 30 crore to make International Yoga Day on June 21 a grand success. It is all happening in a country where people still don't have access to public toilets and hundreds of farmers commit suicides every year.
According to reports , the government has applied to the Guinness World Records Limited both for help in organising the largest Yoga class — a class entails the presence of an instructor — and also for the presence of people from most nationalities in one yoga class.

Source: sikhdharma.org
Jamie Clarke, press officer of the Guinness World Records Limited, has confirmed to Indian Express that the Government of India has applied to the company for a shot at two records.
All India Muslim Personal Law Board (AIMPLB) continues to oppose and have even threatened to organise a nation-wide campaign.
"The committee will also find ways to make Muslim community aware of their constitutional rights. During the campaign, we will put forth our view on Surya Namaskar and Yoga and explain as to why it was against our religious beliefs and should not be forced on our children," AIMPLB member Maulana Khalid Rashid Farangi Mahali said .
Maybe it is time to uphold secular ethos.
Feature image source: India Samvad