Gautam Gambhir and Mahendra Singh Dhoni. The men who won India two World Cups — 2007 and 2011.  Two of the most successful captains in the IPL with two titles each. They are also, as grapevine has it, two leaders who don't really see eye-to-eye anymore these days,. 
Well, only metaphorically. Because when Dhoni came out to bat on Saturday, with his team struggling yet again, this is the field Gambhir had set: two slips, a short leg and a silly point in a T20!
And can you spot who is the fielder at silly point, right underneath Dhoni's face? Gambhir, of course. 
And so much for Dhoni being the most feared hitter of this generation!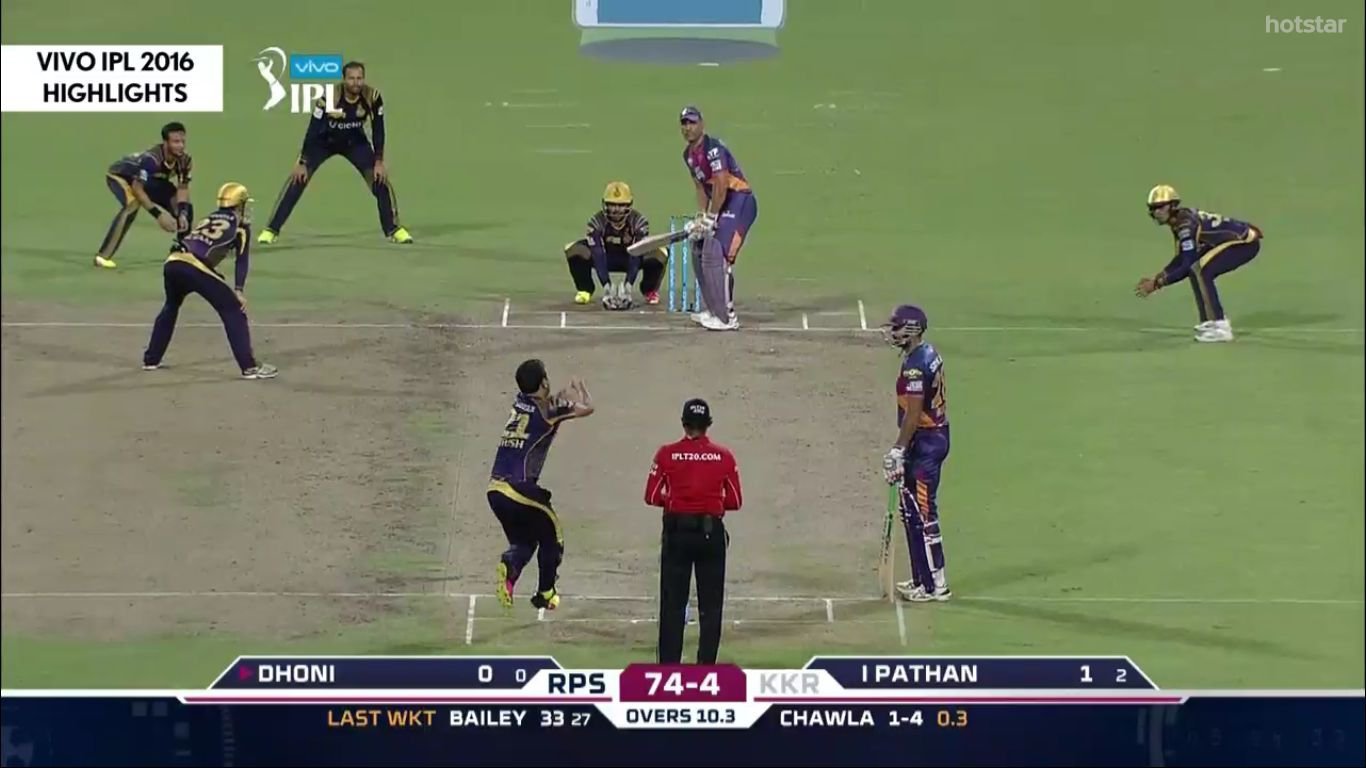 (As a side note, oh how the KKR fans would have loved Gambhir reminding them of how Ganguly used to do this to other captains in his playing days!)
You think this is a one-off because Pune were struggling on the given day? Well, think again. 
This happened in Pune's first match against Kolkata this season as well. And in the 18th over, no less! 
Well, two times is not really a trend, we can hear you say. You are right. It is not. 
How about this?
Yes, Gambhir's fascination for setting Test match fields to Dhoni is not a new thing. It happened earlier this year in the Syed Mushtaq Ali T20 tournament as well, apparently, when Jharkand was taking on Gambhir's Delhi. (Also the match when the infamous handshake incident happened)
Maybe like a few users pointed out, Gambhir just does not want Dhoni to feel he's missing out on playing Test cricket?
According to ESPNCricinfo, Knight Riders coach Jacques Kallis who was doing an interview by the sidelines at the time said that it was a plan to knock Dhoni over early and apply more pressure on Supergiants.
"Yeah, right. There is nothing to more to it than that," will be the collective response of the Indian fans to that.
Like we had written earlier this year, Gambhir's history with Dhoni is well-documented and perhaps, despite his good batting form, this is why Gambhir will never make a comeback to the Indian team as long as Dhoni is around.
Two leaders who, were once friends but now tread different paths – a path they each think is the righteous one. Dhoni and Gambhir are India's very own Charles 'Professor X' Xavier and Erik 'Magneto' Lehnsherr. 
Fascinating rivalry. Truly.