This is Rahul Gandhi during a heated debate in the Lok Sabha on Wednesday. The issue is one that has paralysed an entire state – the thrashing of Dalit men by gau rakshaks (cow protectors) in Gujarat who skinned a dead cow.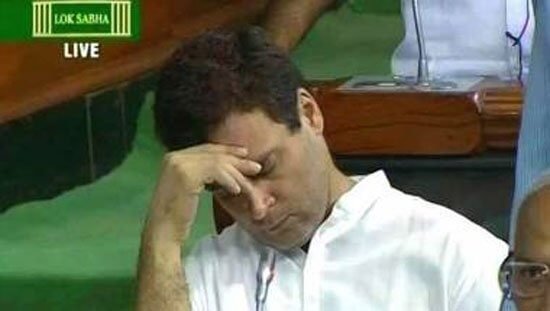 Lying low, his eyes closed, hand on his forehead and head tilted to the side – does it seem like Rahul was sleeping?
While it did to many – well, to most – it certainly didn't to the Congress-wallahs and Rahul's strong supporters. They came out in full fury to defend their leader. Only that the explanations weren't coordinated and so it was left to individual imagination to come up with a sound explanation.
This is the hilarity that followed:
Rahul was soothing his eyes with some moisture
Congress leader Renuka Chaudhary said, "This is not sleeping-veeping. How can anyone sleep in so much noise? It's so hot outside and when we go in, our burning eyes get some relief and so we close our eyes. So that some moisture soothes the eyes."
RT ANI_news: WATCH: Congress leader Renuka Chowdhury's clarification on Rahul Gandhi appearing to be dozing off in… https://t.co/wH5cknvrCv

— Aunty National (@national_aunty) July 20, 2016
Rahul was doing Vipassana
Should serial petitioner Tehseen Poonawalla get the award for the best explanation?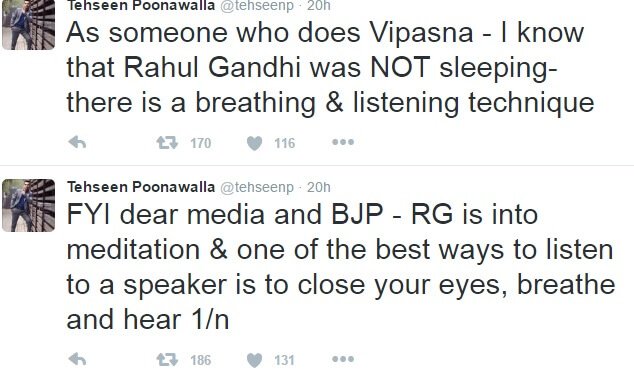 How this Twitter troll reacted is how we pretty much did too
But then, there were takers for Poonawalla's theory. This is what advocate Sanjay Hegde who often defends the Congress on TV debates, commented on the post:
As someone who has 40 winks in court when matter is not on, I see no harm in a Parliamentary nap if ur turn not on. https://t.co/7uV5iOXx78

— SANJAY HEGDE (@sanjayuvacha) July 20, 2016
Rahul works very hard so he was tired
Congress leader Oscar Fernandes said,"Rahul Gandhi works day and night for poor people. He was tired and was relaxing. It wasn't deliberate."
Rahul Gandhi works day & night for people. If MP is tired,he would like to relax:Oscar Fernandes, Cong #SnoozingRaGa https://t.co/0l4OjGxEcw

— TIMES NOW (@TimesNow) July 20, 2016
Rahul was thinking about Dalits
Political Analyst Alimuddin Khan – we honestly don't know who he is – put up this defense during a debate on Times Now. Yes, a moment of silence for the channel for actually doing a prime time debate on this! 
He (Rahul Gandhi) was not sleeping, he must be just thinking about Dalits: Alimuddin Khan, Political Analyst #SnoozingRaGa

— TIMES NOW (@TimesNow) July 20, 2016
Rahul was fiddling with his cellphone
Congress leader Abhishek Manu Singhvi said Rahul was just checking his phone.
Seeing a cell phone inside the Parliament isn't a crime, even Modi ji was once relaxing but we never made an issue out of it: AM Singhvi

— ANI (@ANI_news) July 20, 2016
He also taunted Modi for doing something similar last year
Well, dear Congress, Rahul certainly isn't the first to be caught like this in the parliament. But sometimes, gracefully accepting the faux pas, or letting the person in question offer an explanation himself, is better than embarrassing self like this.