Even before the hoopla surrounding the historic Best Picture Oscars dies down, another Oscar-related controversy has probably found its way to your social media timeline. It's about Casey Affleck receiving the Best Actor Award for his performance in Manchester By The Sea, and there is no innocent mistake about this one.
Popular women's issue website, Jezebel, had this to say about Affleck's win.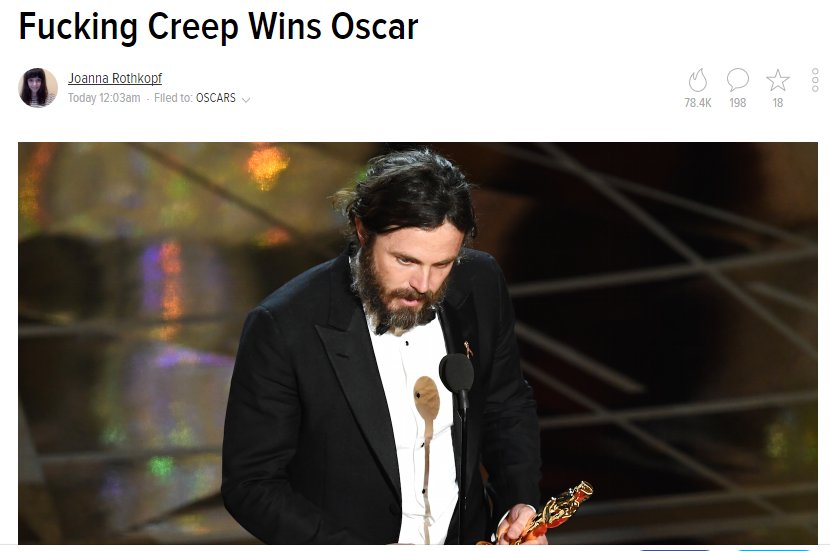 What exactly did Affleck do?
According to Guardian, two female colleagues who worked with Affleck on I'm Still Here, a 2010 mockumentary which he directed, sued him for sexual misconduct.
They alleged that Affleck verbally and sexually harassed them: he allegedly bragging about sexual exploits, propositioned and grabbed one of them, slid into one of the complainant's bed uninvited and created a hostile climate by, among other things, instructing a crew member to display his penis.
Each woman sought $2 million dollars. Affleck denied wrongdoing, and settled both claims in 2010.
But Affleck's not the first to be accused of sexual misconduct & win an Oscar
This is not the first time the Academy has faced flak for honouring a person accused of sexual misconduct. In March 1977, film director Roman Polanski was arrested and charged in Los Angeles for rape by use of drugs, perversion, sodomy, lewd and lascivious act upon a child under 14, and furnishing a controlled substance to a minor. Initially, Polanski pleaded not guilty to all charges but later accepted a plea bargain whose terms included dismissal of the five initial charges in exchange for a guilty plea to the lesser charge of engaging in unlawful sexual intercourse.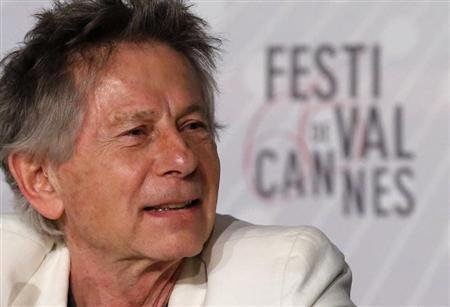 Polanski, who fled the US for France hours before he was to be sentenced, was nominated twice after the controversy. For Best Director for Tess (1981) and The Pianist (2003). He won the award for The Pianist in 2003, which he accepted in absentia.
Another Hollywood legend, Woody Allen, who has over 20 Oscar nominations and four wins, was accused of sexually abusing a daughter adopted by his ex-wife,Mia Farrow, which he has denied in 1992. In the same year, his seven-year-old daughter allegedly told Mia Farrow that Allen had molested her during one of his visits. Farrow filed a complaint with the police.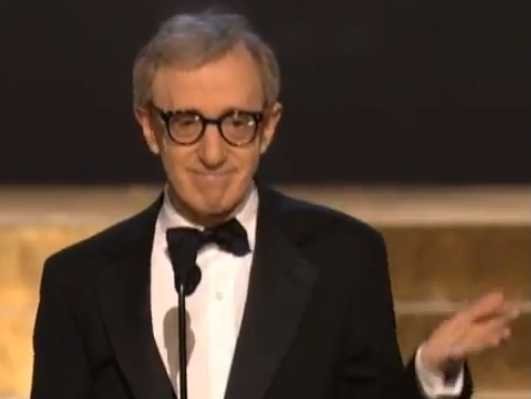 The case was closed fourteen months later, after a police-appointed medical team concluded that the complainant had not been molested. In 2014, the complainant wrote an open letter to The New York Times, again claiming that she was sexually abused by Allen.
This controversy had no bearings on Allen's Oscar prospects whatsoever. He was nominated for eight Oscars after the controversy first broke out, and won one, that for Best Original Screenplay for Midnight At Paris, in 2012.
Should the Academy have banned Affleck ?
A more valid question will be, is the onus on the Academy to ban artistes for their alleged misconduct? Remember, Affleck has not been convicted for the alleged crime.
In the past few years, many instances of sexual misconduct by reputed Hollywood legends have surfaced. Recently, actress Tippi Hedren revealed in her memoir about reputed filmmaker, Alfred Hitchcock, being "predatory" with her during the filming of the much-acclaimed The Birds.
There was considerable uproar around Oscar-winning filmmaker, Bernardo Bertolucci's recent confession about conspiring with another Oscar-winning legend, Marlon Brando, to film a rape scene in Last Tango in Paris (1972)without revealing all the details in advance to the then 19-year-old actor Maria Schneider.
These controversies have had little or no bearings on their Oscar prospects either. An Academy Award is recognition of a performance or a creative endeavour. It cannot be seen as a character badge.
How does one haul up bigots and sex offenders then ?
Instead of blaming Academy for honouring Affleck's performance, we need to ask a more difficult question. How did Affleck end up getting to be a part of a film at all? If there was evidence a person is a sex offender, despite him not being convicted for his or her alleged crimes, it was up to the industry to ensure that the said person doesn't get to be a part of creative endeavours.
After all, Hollywood has shown spine when it came to banning Mel Gibson, after the director-actor was exposed to be an anti-Semite in a drunken rant in 2006. His career nose-dived after the incident as no filmmaker worth his or her salt chose to work with him after that and no studio funded any films directed by him.
That is how a bigot should be treated.
To turn to the Academy Awards committee for deliverance is just taking the easy way out.
Disclaimer : The information, ideas or opinions appearing in this article are those of the author and do not reflect the views of ScoopWhoop. ScoopWhoop does not assume any responsibility or liability for the same. If the article carries photographs or images, we do not vouch for their authenticity.