Sometimes the greatest adventure of your life can lie in the simplest conversation with a total stranger. If you're willing to listen, everyone has a story to tell. Stories of grit and perseverance which may not be written in books, but teach us something significant howbeit. 
Now I love online shopping because it gives us the opportunity to discover so many unique and interesting items sitting at home. For the longest time, I had been wondering how these online sellers play an integral part in delivering our pacakges full of happiness at our doorsteps. What is their story? I wanted to know, so I interacted with three sellers who have been successfully conducting their business online with Flipkart and this is what I learnt. 
1. Rahul Kumawat, KC Arts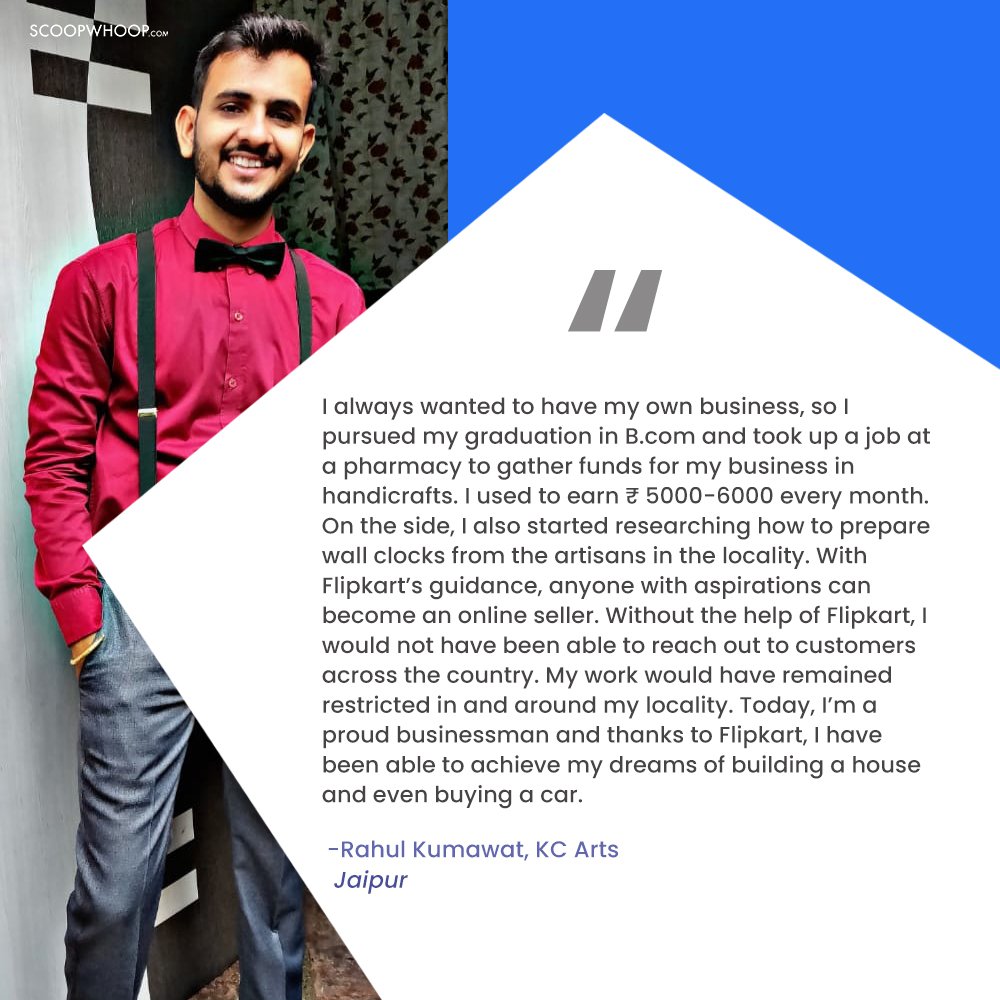 Like in any other Indian middle-class family, Rahul Kumawat's parents also wanted him to complete his education and settle down with a government job. But he wanted to do something on his own. So he took a leap of faith. And once he joined Flipkart, there was no looking back. 
When he started his journey as an online seller of wall clocks, he realised that there was scope for him to do more. Today he has 7 categories of products on Flipkart ranging from wall-clocks, key-holders, photo frames, photo albums, scrapbooks, show-pieces, wind-chimes, and various other wall décor items. During the festive seasons, he gets close to 1000-1200 orders daily. Doing business on Flipkart has also helped Rahul give job opportunities to talented artisans, and today their hard work is loved and widely appreciated across the country. You can check out some of the authentic Rajasthani artworks at KC Arts on Flipkart like the Decorative showpieces, Wooden photo frame and Engraved albums. 
2. Dhawal, Navrang Handicrafts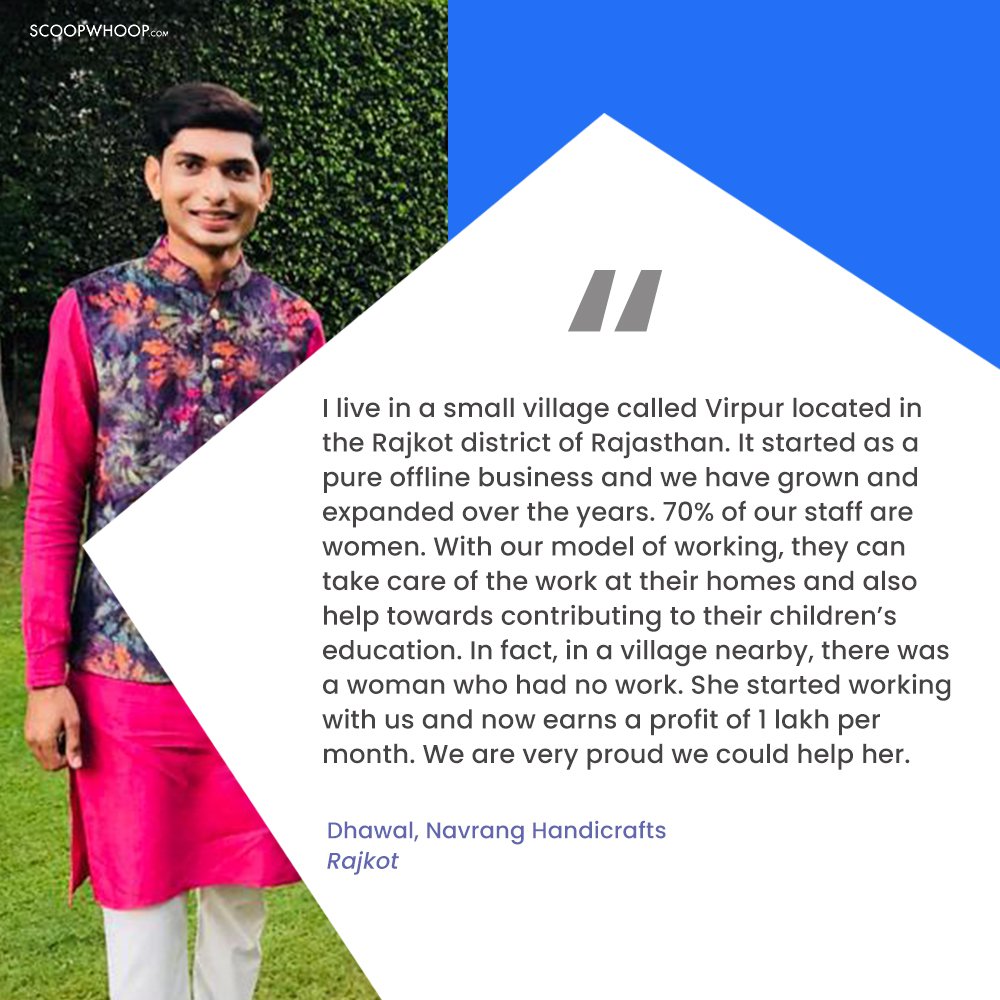 Now who would have thought, that we could buy beautiful artworks from a small village situated in the Rajkot district of Rajasthan sitting on our couch? Six years back, when Dhawal completed his studies, he decided to run his own business of indigenous handiworks. He took some help from his uncle to set up an offline business, which thanks to Flipkart has now expanded immensely. 
Not just the village, but today Dhawal receives orders from customers all across India. Even though he doesn't have an immediate plan in mind, but Dhawal dreams of meeting a target of ₹500 crores someday, so that he could go beyond handicrafts, while also hiring more people and helping them stand on their feet. Navrang Handicrafts has some gorgeous handmade traditional décor pieces like 
sinhasans for deities
, 
jewellery boxes
, and 
serving tray
s. Go check them out. 
3. Dhanna Lal, Khatu Crafts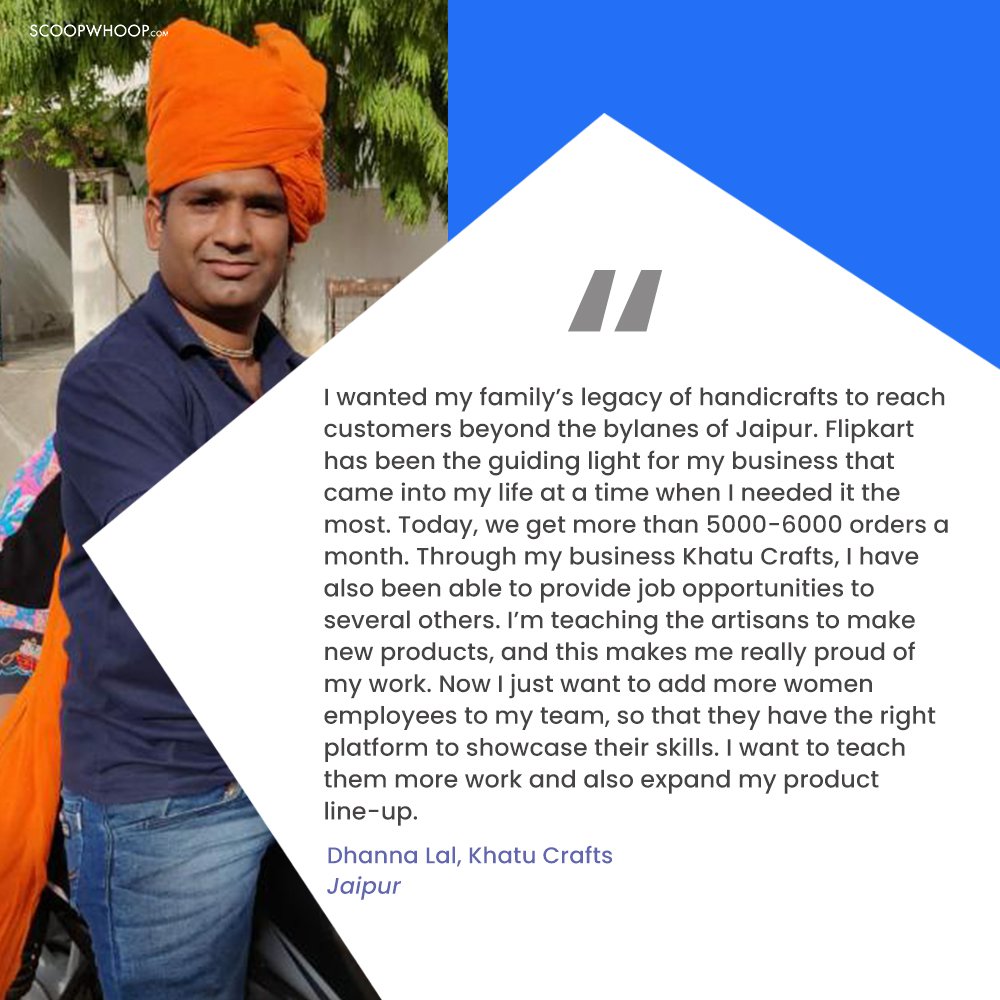 Dhanna Lal just had one ambition in life, and that was to take his family's legacy of handicrafts to reach customers beyond the bylanes of Jaipur. Little did he know, that in just a matter of 6 years, his business would expand to be recognised countrywide. With limited knowledge, Dhanna Lal started by selling his products at famous fairs and exhibitions like at Pragati Maidan in Delhi, Suraj Kund Mela to exhibitions even in Mumbai and Hyderabad.  
When he came across Flipkart, Dhanna Lal couldn't believe that businesses could be conducted so conveniently. With over 5000-6000 orders a month, today Khatu crafts in Jaipur has finally been able to capture the interest of the audience that these valuable handmade products deserve, while also providing job opportunities to several talented craftsmen. These decorative items from Khatu crafts like the  Analog Wall Clocks are reflective of our country's rich and vibrant culture. All these pieces are available on Flipkart. Check it out now.
Flipkart is giving these sellers from smaller towns and corners of our country a trustworthy platform to showcase their culture to us and make something big out of it. And it's stories such as these, that fill our hearts with so much happiness and positivity. Flipkart is doing its bit, now it's time for us to do ours. 
So visit the Flipkart Samarth storepage and explore the beauty of these traditional artworks and support the sellers.  
In association with
Flipkart