India's prominent yoga guru Baba Ramdev seems to enjoy an excellent rapport with Prime Minister Narendra Modi, given how he has always publicly supported the PM's policies. And thanks to their cordial connection, PM Modi was kind enough to be his chief guest at inauguration function of Ramdev's research institute.
Uttarakhand: PM Modi inaugurated Patanjali Research Institute at Patanjali Yogpeeth in Haridwar pic.twitter.com/GveTKTu7zp

— ANI (@ANI_news) May 3, 2017
But what kept the social media abuzz was an advertisement put out by Patanjali ahead of the launch in national newspapers. The ad refers to PM Modi as a 'Rashtra Rishi'. In case you are wondering what that even means, the ad helps with an explainer in brackets - 'The Saint Dedicated to the country'.
Here is the advertisement: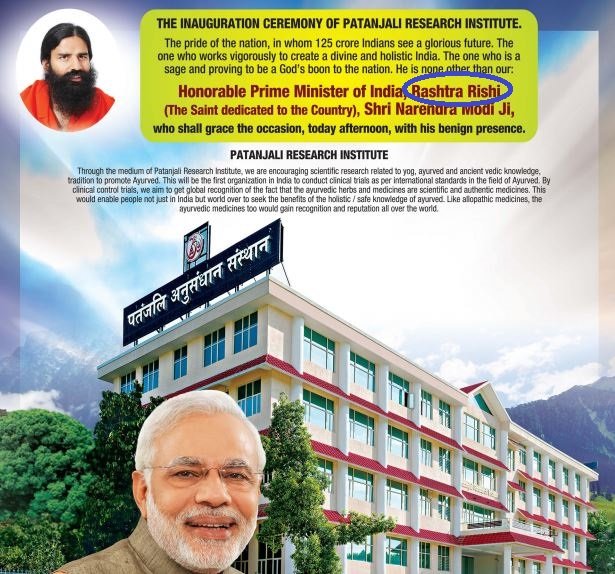 The strange title bestowed on PM Modi, expectedly, invited strong reactions on Twitter:
'Rashtra rishi'!?😢 Psychophancy is devaluing standard terminology. Rishi is a big word. The soul of the Sanatan dharm will be very upset.

— Sakshi Mandloi (@Sakshi_Mandloi) May 3, 2017
Calling PM Modi a rashtra rishi is going overboard. He is a politician with a vision and that is about it.

— Shoonyam (@sinezero) May 3, 2017
@SaffronWatch A Hindu Rashtra needs a Sage and #Patanjali has just anointed a Rashtra Rishi pic.twitter.com/mTGkGTv2hs

— JayEnAar (@GorwayGlobal) May 3, 2017
Surely, a research institute dedicated to proving a theory is valid is automatically biased and against good science? Can't get over this pic.twitter.com/I8u30iCSUr

— Nandita Jayaraj (@nandita_j) May 3, 2017
Also, our PM is now Rashtra Rishi apparently! What next - a temple? https://t.co/2wXPlnsdNG

— Arun Anantharaman (@birdonthewire) May 3, 2017
And the deification begins! With "Rashtra Rishi" no less! Definitely more than a VIP! Wonder what's next? pic.twitter.com/Es8NgG7bZk

— Kailashnath Koppikar (@koppik) May 3, 2017
@tijarawala @yogrishiramdev @narendramodi hope Baba learns from 'rashtra rishi' d trick/skill 2 survive on 3.5 hrs of sleep day after day 4 decades at this function@Ach_Balkrishna

— 'Little Boy' (@YogiAshishK) May 3, 2017
@sardesairajdeep @narendramodi SO WHAT IS THE MEANING OF "RASHTRA RISHI"PM&HEIGHT OF APPEASEMENT&COUNTRY MUST KNOW WHAT RESEARCH HE'S DONE! pic.twitter.com/ElSchKzOPt

— SWAPAN BHADRA (@bhadraswapan) May 3, 2017
I'm not really a Modi hater but 'Rashtra rishi' is way too much. Illogical.👎

— Sakshi Mandloi (@Sakshi_Mandloi) May 3, 2017