Without a doubt, Congress vice-president Rahul Gandhi is the meme generation's favorite muse and one of the most trolled politicians of India.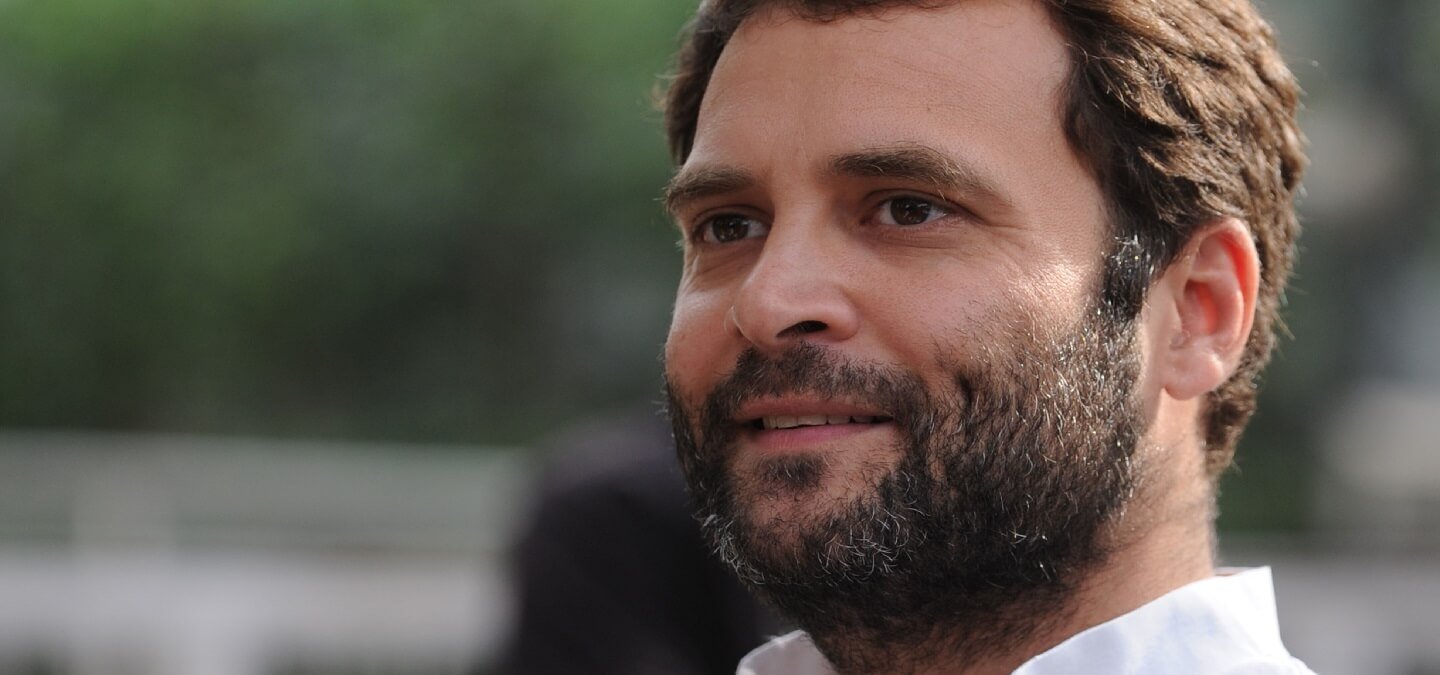 Trust the Internet to take his case whenever he speaks anything. We mean ANYTHING. He is the 'Pappu' of the web world and has been heavily mocked for his (frequent) gaffes in his speeches or momentary slip-of-tongue moments. 
But contrary to popular belief, he is not all that dumb as he is made out to be. At least not on Twitter. 
That someone else might be doing his job – a theory supported by the fact that his twitter handle is called 'Office of RG' – is another story.
Here is a look at some of his tweets which made the Internet sit up and notice
1. When he ridiculed the govt over 3-year 'celebrations'
Rahul Gandhi today asked the government what it was celebrating after three years in power, as all it had to show for this time were "broken promises"
Youth are struggling to find jobs, farmers are committing suicide & soldiers are dying at the border. What exactly is the Govt celebrating? pic.twitter.com/327xm48Wgs

— Office of RG (@OfficeOfRG) May 16, 2017
The PM Narendra Modi-led government will complete three years in power on May 26.
2. When he went philosophical while mocking Delhi CM Kejriwal 
Just after Kapil Mishra, the ousted AAP minister, alleged that Satyendra Jain had given Rs 2 crore to Kejriwal, Rahul Gandhi mocked the Delhi CM in a philosophical tweet which won the Internet
3. When he took a smart swipe at the PM
Last month, Prime Minister Narendra Modi told his bureaucrats not to use social media for self-promotion or spend too much time online. 
Gandhi took a smart dig clearly aimed at the PM's presence on the internet, saying he was not in a position to lead by example on his counsel against self-promotion.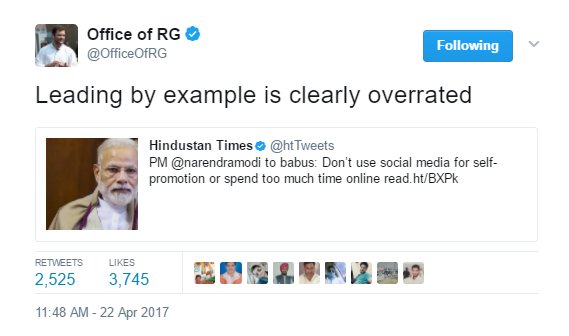 4. When he fired a Ghalib couplet to counter Modi's earthquake taunt
When PM Modi taunted him for his 'earthquake" remark, Rahul was quick enough to shoot back with nothing else than one of Mirza Ghalib's 'sher'. This witty comeback surely impressed folks on the internet
5. When he compared the government with a 'confused' traffic signal
Being quite vocal in his opposition to the demonetisation drive, Rahul Gandhi tweeted a picture of a huge traffic signal showing red, yellow, blue and a few other colours at the same time. 
With this picture, which went all viral, Rahul was actually trying to take a dig at Modi government which was behaving like a "confused" traffic signal vis-a-vis the changes in the rules regarding deposit of old currency notes in banks.
6. When he called demonetization a 'Modi-made' disaster
This time, he again trashed demonetisation of high-value currency notes as a "Modi-made disaster" and charged that he had attacked the economic system of the country to benefit the one per cent "super rich."
7. When he took on his haters in style
On November 30 last year, Gandhi's Twitter account was hacked and flooded with profanities. Taking it in the right spirit, he thanked all his haters with this sarcastic salvo
To every one of you haters out there. I love all of you. You're beautiful. Your hatred just doesn't let you see it yet

— Office of RG (@OfficeOfRG) December 1, 2016
8. When he hit back at Rajnath Singh
In December last year, Home Minister of India, Rajnath Singh accused Pakistan of conspiring to divide India on the basis of religion. 
Hitting back, Rahul targeted both Rajnath Singh and PM Modi for doing the same that Pakistan is doing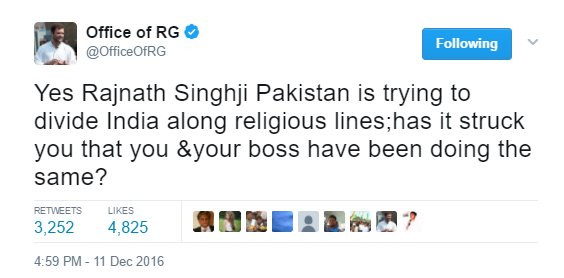 9. When he trolled PM Modi for addressing the Coldplay concert 
When PM Modi appeared in a video address at the Coldplay concert in November, Rahul Gandhi wondered how does he finds time to address rock concerts but not Parliament over demonetisation. 
Playing around with name of the rockband 'Coldplay', he tweeted this
10. When he made fun of PM Modi's 'expensive' suit
While sharing a news report about the Modi suit making a world record as the most expensive suit, Rahul took potshots at the PM and tweeted this
The suit was reportedly (claims were never verified) prepared at a cost of Rs 10 lakh and was auctioned at a base price of Rs 11 lakh. This gave Rahul enough reason to latch on it to accuse Modi of heading a "suit-boot ki sarkar" which worked only for the rich.
11. When he summed up PM Modi's speeches with this 
Taking a dig at the PM as always, Rahul Gandhi posted two videos of the latter's speech and mocked him for turning emotional during his speech in Goa
12. When he taunted Modi on his '56-inch chest'
While he was addressing an election rally in Uttar Pradesh in March this year, the Congress vice-president ridiculed Modi for his '56-inch chest' reference and his promise of giving employment to the youth. 
मोदीजी ने कहा था कि अगर मुझे प्रधानमंत्री बना दिया तो यह 56 इंच की छाती हर साल 2 करोड़ युवाओं को रोज़गार देगी,इस वायदे का क्या हुआ?महाराजगंज pic.twitter.com/8Dm7yVIWaV

— Office of RG (@OfficeOfRG) March 2, 2017
13. When he had the perfect retort to Modi's 'raincoat' jibe
Taking a stinging swipe at Narendra Modi for his "raincoat in bathroom" barb at Manmohan Singh, Rahul Gandhi said the Prime Minister was more interested in "peeping into bathrooms of people".
मोदीजी को जन्मपत्री पढ़ना, Google करना और लोगों के Bathroom में झांकना अच्छा लगता है, यह सब वो अपने फ्री टाइम में करें

— Office of RG (@OfficeOfRG) February 11, 2017