At least 15 Hindu temples in Bangladesh have been vandalised over allegations of disrespect shown to Islam on Facebook, triggering panic among the minority community in the Muslim-majority nation.
Brahmmanberia in Bangladesh near Agartala,300 Hindu houses attacked &10 temple destroyed

Bt media will nt show this.becoz of they r Hindus pic.twitter.com/Wq2GABLkWA

— Sourish Mukherjee (@me_sourish) October 30, 2016
Temples in Brahmanbarhia districts Nasirnagar were vandalised yesterday besides over 100 houses of Hindus in the area have also been looted.
After the mayhem for hours, two temples in adjacent Habiganjs Madhabpur also came under attack, police and witnesses said.
Six persons were arrested for their alleged involvement in the attack.
Paramilitary Border Guards Bangladesh (BGB) have been deployed in Nasirnagar and Madhabpur Upazila headquarters along with the Rapid Action Battalion, police and Armed Police Battalion, bdnews24.com reported.
The districts Deputy Commissioner Rezwanur Rahman and Superintendent of Police Mizanur Rahman inspected the area later in the afternoon.
But the leaders of the local Hindu community say the panic that has gripped them is not going away.
Yesterdays attack was carried out in a style followed by the attackers of Buddhist community in Coxs Bazar in 2012 on a similar allegation of disrespect towards Islam through a Facebook post.
15 temple vandalised, 100s houses destroyed & looted, 300 men & women injured in Bangladesh for being Hindu. Trust me, we are secular! Shame pic.twitter.com/xM3hQOEaZ5

— Dr. Imran H Sarker (@ImranHSarker) October 30, 2016
Locals said Nasirnagar incident started with a Facebook post by one Rasraj Das from Harinberh village under Haripur Union Parishad.
Police detained Rasraj on Friday immediately after the allegation of blasphemy had surfaced against him. He was sent to jail following a court order, SP Mizanur said.
Protests against Rasrajs post were called under the banner of Ahle Sunnat Wal Jamaat in Habiganj district headquarters and Nasirnagar. Demonstrations were also announced in Habiganjs Madhabpur.
A group of madrasa students demonstrated on the premises of Brahmanbarhia Press Club while hundreds of people blocked Sarail-Nasirnagar-Lakhai road by torching tyres yesterday.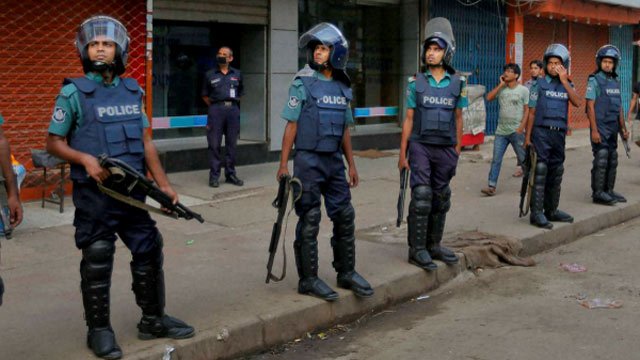 SP Mizanur, quoting witnesses, said a group of the demonstrators, armed with local weapons, vandalised the temples at Duttubarhi, Namashudraparha and Ghoshparha, and Jagannath Temple and Goura Temple.
They also vandalised and looted the houses of the Hindu families. Several priests were injured in the attack, he said.
Feature Image Source: Twitter