Ruling Samajwadi Party appeared to be headed for a split on Sunday as Chief Minister Akhilesh Yadav and his party supremo and father Mulayam Singh were engaged in an open face-off, sacking each other's loyalists Shivpal Yadav and Ramgopal Yadav.
While Akhilesh sacked Shivpal, his uncle and party's state unit chief, along with three other "pro-Amar Singh" ministers from his Cabinet, his father hit back by dismissing Ramgopal, pro-CM cousin and SP's national general secretary, from the party for six years.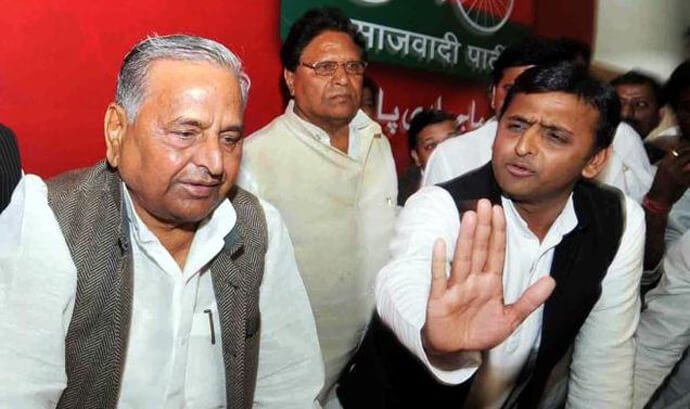 The fast-paced developments unfolded Sunday morning when Akhilesh held a meeting of party legislators, a day ahead of a mega meeting of party MPs, MLAs, MLCs and ministers called by Mulayam where some more tough decisions were likely to be taken.
After the meeting, the Chief Minister recommended to Governor Ram Naik that Shivpal, Narad Rai and Om Prakash Singh (all Cabinet ministers) and Sayeda Shadab Fatima (MoS – Independent charge) be sacked from his ministry. This was accepted immediately.
While the meeting was underway, hundreds of Akhilesh's supporters collected outside his residence, raising slogans in his favour.
Significantly, before Akhilesh announced the sacking of Shivpal and three other ministers, Ramgopal issued a letter written to party workers, expressing support to the Chief Minister and warning those opposing him.
"Those who oppose Akhilesh won't be able to show their faces in the legislative assembly. Where Akhilesh is, victory follows," he said in the letter.
After his sacking, Shivpal met Mulayam at his residence, which is just nearby that of the CM's bungalow.
Hours later, he announced that the SP chief had expelled Ramgopal from the party for six years.
Shivpal told mediapersons that Ramgopal was colluding with BJP and had thrice met a senior leader of the saffron party to save himself and his son from a CBI probe in connection with alleged involvement in the Yadav Singh Noida scam probe.
He said he was not worried about being dropped from the government and declared that the state Assembly elections would be fought under leadership of Mulayam.
Launching a scathing attack on Ramgopal, Shivpal said he was tarnishing the image of SP by dabbling in corruption, colluding with BJP and weakening Mulayam's leadership.
(Feature image source: PTI)