In the last ten days, 200 – 500 cows have reportedly died in a government-owned cow shelter in Rajasthan. The raging debate over the mass deaths of cattle has compelled Chief Minister Vasundhara Raje to take action against the responsible parties. 
The pictues of hordes of cows stuck in muck, starving to death, have gone viral in the media, causing further embarrassment for the Raje government.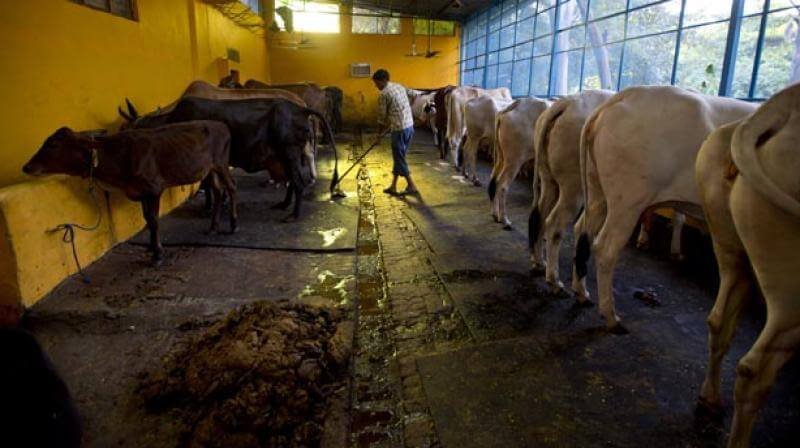 The Opposition has been quick to point fingers, with the Congress claiming the number of deaths to be 200, though VHP maintains that the real number is close to 500, according to a report in The Times Of India. 
Congress claims negligence on part of the ruling party, saying the that the mass deaths have been the result of 'mismanagement and lack of facilities'.
It all started last month when the workers at the Hingonia gou-shala (cow-shelter) went on a strike to demand their pay, and stopped cleaning out the stables and sheds, or even feeding the animals. 
The workers' payments had been blocked since May this year following a dispute between the agency through which the workers were hired and the Jaipur Municipal Corporation.
Bhagwat Singh Dewal, the Chairman of the shelter told NDTV:
"The main reason is that workers here have not been paid since May and with no labour how do you expect me to sort out thr problem?"
CM Raje held a meeting with the animal husbandry ministers, and other ministers including the Mayor of Jaipur, which resulted in the ousting of two high-level centre officials, the centre's incharge and the deputy superintendent, for not informing higher authorities about the problems. 
This is what Raje had to say about the situation.
Strict action has been taken against responsible officials for negligence of duty. Shall visit the Hingonia Gaushala myself upon return.

— Vasundhara Raje (@VasundharaBJP) August 6, 2016
Discussed in detail the situation of Hingonia Gaushala with the Officials after recieving a report on the current conditions.

— Vasundhara Raje (@VasundharaBJP) August 6, 2016
Though there is no official count, volunteers helping to clear out the rotting bodies from the mud and muck, and cleaning the stables, confirm that at least 90 bodies have been cleared out in the past two days alone. 
This is not the first time Jaipur has been in the news for cow deaths. In 2014, reports claimed that almost 90 cows died in Rajasthan, the only state in India with a cow ministry. 
Feature Image Source: Twitter/@BhanupratapsTOI