Tamil Nadu politics took a sudden twist of events on Tuesday when the AIADMK faction led by VK Sasikala decided to keep her and her nephew TTV Dinakaran away from "the party" while burying the hatchet with Panneerselvam's camp. 
An influential section of Sasikala loyalists led by Chief Minister E K Palaniswami on Tuesday revolted against the AIADMK general secretary, resolving to "delink" the party and the government from her family, and extending a hand of friendship to the rival O Panneerselvam camp.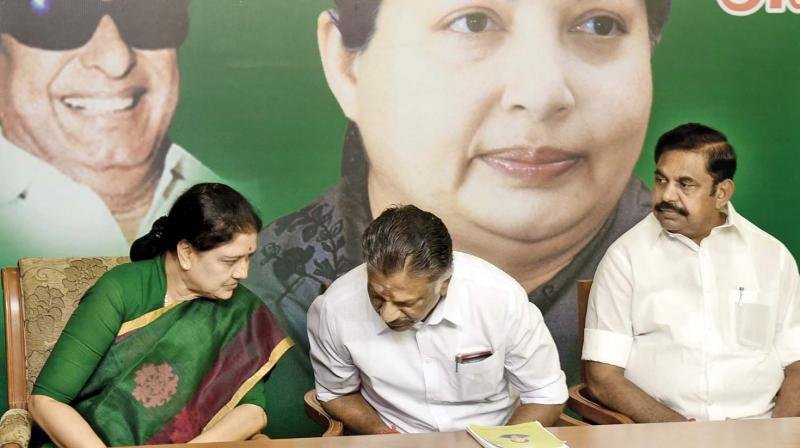 "There was a consensus to delink the government and the party from TTV Dhinakaran and the family he belongs to. This is the view of the basic partymen, district secretaries, MLAs and Ministers," Finance Minister D Jayakumar told reporters after a "consultative" meeting chaired by Palaniswami and attended by several ministers. 
The development came on a day when Panneerselvam, a staunch loyalist of the late Chief Minister J Jayalalithaa and leader of the rival AIADMK faction, made merger talks between the two camps conditional to the ouster of V K Sasikala and her nephew Dinakaran, who is standing-in for his jailed aunt as her deputy.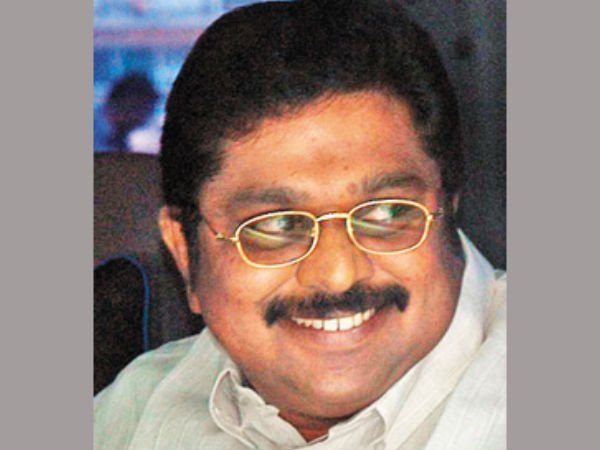 Though Panneerselvam commanded the support of just about 12 of the party's 134 MLAs, there has been public anger among the AIADMK supporters who hold Sasikala responsible for Jayalalithaa's conviction in a disproportionate assets case. 
She hitherto had the backing of the majority in both the party organisation and among the legislators. The dramatic announcement by Jayakumar is likely to trigger another round of political uncertainty in the state, with some MLAs vowing allegiance to Dinakaran while questioning the Ministers' decision.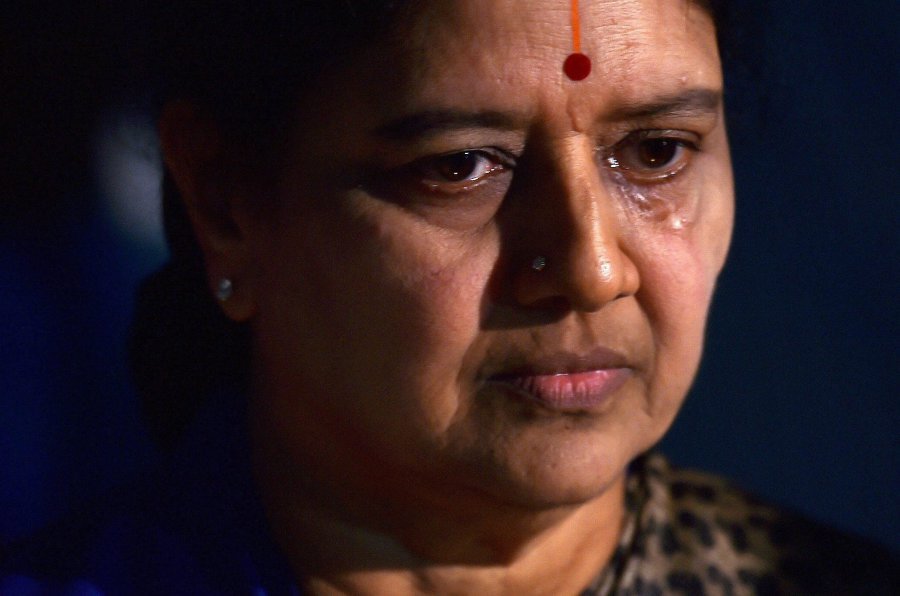 With Tuesday's announcement, there are three factions in Tamil Nadu headed by Palaniswami, Panneerselvam and Dhinakaran, who is filling in for Sasikala, jailed in connection with the DA case in which Jayalalithaa was the main accused. 
"To put it directly, it is the desire of people and party workers that TTV Dhinakaran and his family should be sidelined," Jayakumar said. It has been decided to lead the party and government sans Dhinakaran and his family, and on Tuesday "the aspirations of people and party workers have been fulfilled and we are announcing this to them," he added.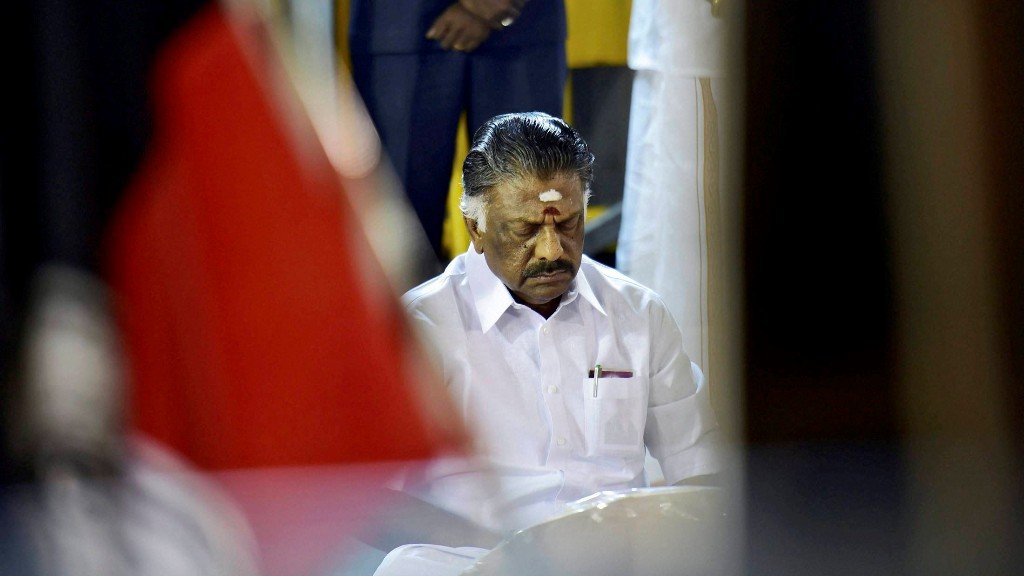 A committee will be formed soon to run the day-to-day affairs of the party, he said. However, Sattur MLA S G Subramanian, told reporters that Dhinakaran was their leader and the party deputy general secretary. The legislators were bound only by his directions, he said. Earlier in the day, two other MLAs P Vetrivel and Andipatti legislator Thanga Tamil Selvan had voiced support for Dhinakaran. 
When asked about Vetrivel questioning the decision of the Palaniswami camp to dump Sasikala and her family, Jayakumar said, "His view should be rejected, we cannot accept it." "It is the desire of 1.5 crore party workers and people that the party and government should be free from interference of a single family." 
When persistently asked about their strength in the Assembly, Jayakumar said "Everyone including Chief Minister are on board." In the Tamil Nadu assembly, Sasikala faction earlier enjoyed the support of 122 MLAs and Panneerselvam 12.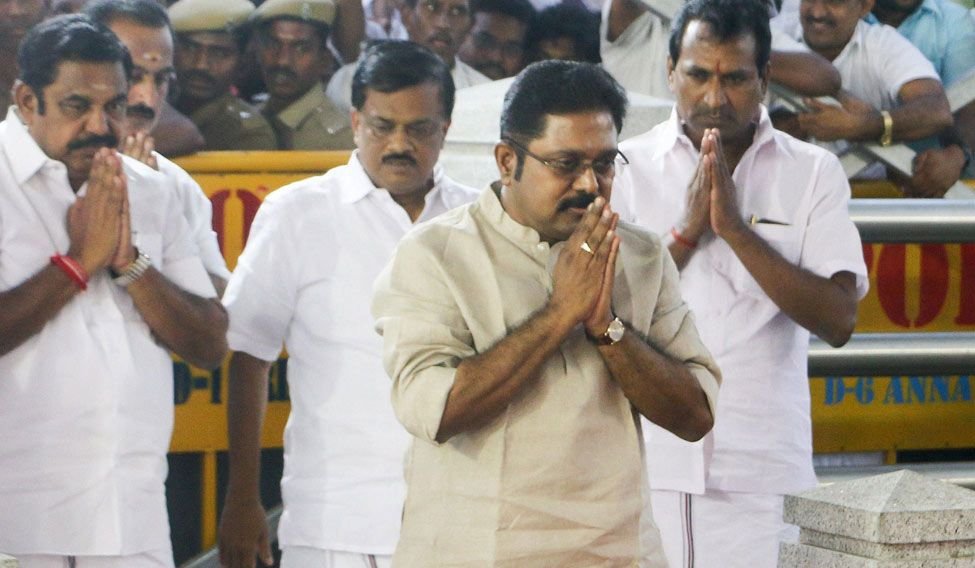 However, the present tally is not clear. Responding to a question about joining hands with Panneerselvam, he said, "It is a separate issue and we desire to be united and retrieve the two-leaves symbol." 
The two-leaves symbol frozen by the Election Commission following a split in the AIADMK is seen as a sign of Jayalalithaa's enduring legacy. Minister C Ve Shanmugam said, "We are ready to sit and talk with OPS and during discussions whatever demands they make we will deliberate and decide." Senior Ministers including Dindigul C Srinivasan, S P Velumani, RB Udayakumar, Thangamani, C Ve Shanmugam Rajya Sabha MP V Vaithilingam were present.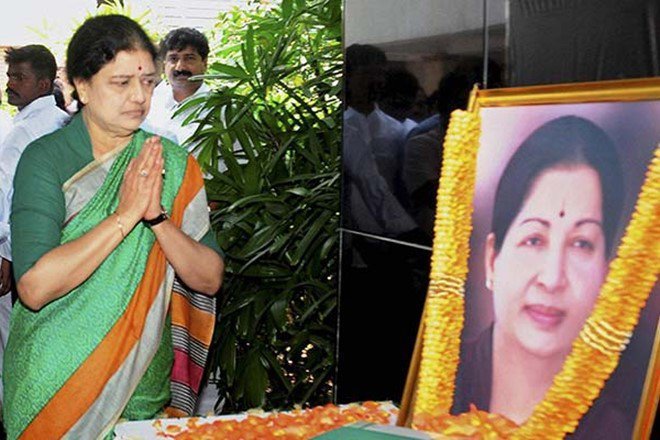 On a day of fast-paced developments, the efforts for merger of Palaniswami and Pannerselvam camps had earlier appeared to have hit a hurdle with the former Chief Minister insisting on the ouster of Sasikala and Dhinakaran for talks to begin. 
The way for talks have been paved after his key demand was met by the Palaniswami camp. Some of the ministers who earlier pledged loyalty to Sasikala, saying there cannot be riders for talks, later changed tone. 
Dinakaran, who returned to the city early this morning from Bengaluru, is yet to express his view on the revolt against him or on merger talks. He was apprised of the developments by senior Ministers K A Sengottaiyan and Dindigul C Srinivasan. Political lobbies in the state capital were abuzz with speculation for the last few days about a possible pact between Palaniswami and Panneerselvam under which both Sasikala and Dinakaran could be dumped.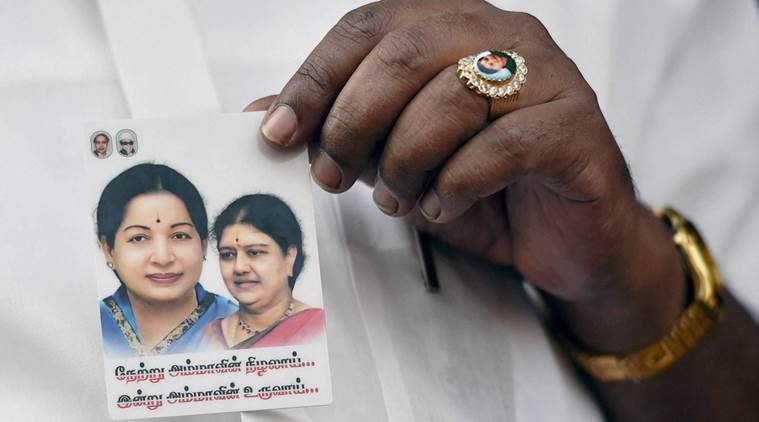 Unconfirmed reports had it that under the arrangement Palaniswami would continue as Chief Minister while Panneerselvam would occupy the coveted post of AIADMK general secretary, which was held by J Jayalalithaa till her death. 
Disquiet was brewing in Tamil Nadu's ruling party ever since Income Tax officials raided Health Minister Vijayabaskar's premises and seized evidence of bribing voters for the bypoll to R K Nagar assembly seat. 
The poll, scheduled for April 12, was countermanded by the Election Commission on April 9 amid allegations of rampant inducement and bribing of voters. Dhinakaran, a former MP, was the candidate of AIADMK (Amma) faction for the seat. He has two FERA cases pending against him.