Lashing out at Congress, BJP President Amit Shah on Saturday charged that the country has not witnessed any progress since Independence as "one family" held the reins for 60 years and asserted that BJP alone could usher in development. 
With an eye on the Uttar Pradesh Assembly polls due next year, Shah said if the country is to progress, the development of the state is essential. "It has been 70 years since we gained Independence. But there has been no development in the country as one family was in power for 60 years," he said.
Shah slammed the erstwhile Congress governments for "absence of development" in the country. "I feel sad to say that it has been 70 years since we have won freedom and for 60 years, Congress was in saddle and the result is for everyone to see," he said. 
Shah was speaking at a 'Tiranga Yatra' as part of 'Yaad Karo Qurbani' programme to commemorate the sacrifices of freedom fighters ahead of Independence Day. 
Asserting that BJP alone can usher in development in the country, he said if SP or BSP came to power in Uttar Pradesh, they will work for the development of only one community. 
"BJP alone can ensure all round development in the state. BJP believes in 'sab ka saath, sab ka vikas'," Shah said at the event held on the outskirts of Lucknow. 
"Without the development of Uttar Pradesh, the country cannot march ahead," he said.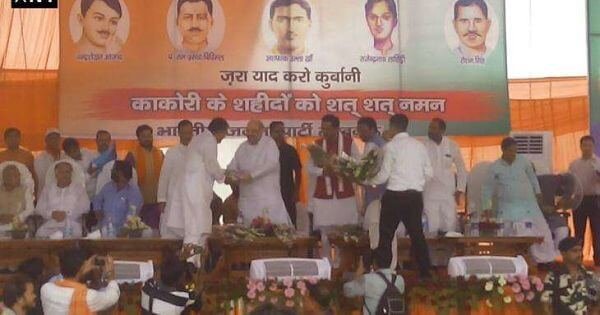 The programme was held at Kakori town which had shot into prominence due to Kakori train robbery when some Indian revolutionaries looted British government's treasury from a train on August 9, 1925.
The BJP president assured the people of the area that he would pass on the message of converting Kakori memorial into a tourist place. 
The Tiranga Yatras will be held till August 23 in which 75 ministers will visit 150 places associated with the freedom struggle and seven women ministers will visit the country's borders to tie rakhis on soldiers deployed there. 
(Feature Image Source: Twitter/@ANI)