He's mostly in the country, but does spend considerable time abroad on work. But he's always in touch with what's taking place in the country, regularly tweeting about the issues that matter the most to him. He's unafraid of controversy, of being accused of being an opportunist, or of taking on foes for Bharat Mata. He's well respected in India and abroad thanks to his work but he's always striving to achieve more. 
And he's also the winner of our Bhakt of the Year Award. Ladies and gentlemen, we present:
Kher isn't your average bhakt who has always been part of the government's supporters and defended it viciously from May 26, 2014. Oh no, he spent the first year of the Modi government in silence wanting to "do what Oprah did" and make a life changing show by getting celebrities to talk about themselves. He also was a devoted husband to wife Kirron Kher, who had become a BJP MP. 
However, by 2015, he perhaps realised that it was going nowhere. Nobody had secrets that hadn't spilled over koffee with Karan and they didn't even seem to laugh as much with him. No one's life was changing. Then he discovered his own voice. 
Initially Kher inadvertently took on the very government his wife is part of. He went after Gajendra Singh (better known as Yudhishthira in Mahabharata) for being appointed the chairman of the Film and Television Institute of India. On live television he established his Thug Life credentials by telling the Chauhan this:
But he wasn't a liberal as the liberals believed, on no, not Anupam Kher. Their applause for him died as quickly as authors were returning their Sahitya Akademi awards to protest against the rising intolerance in the country. 
When called upon by his country government to stand up for the right thing, Kher did it. And also very convincingly dispelled any doubts that he was doing it purely for neutral reasons. 
"Many say my wife is in BJP so I am critical about academics returning awards, I'm independent in my views," he said, defending his stance.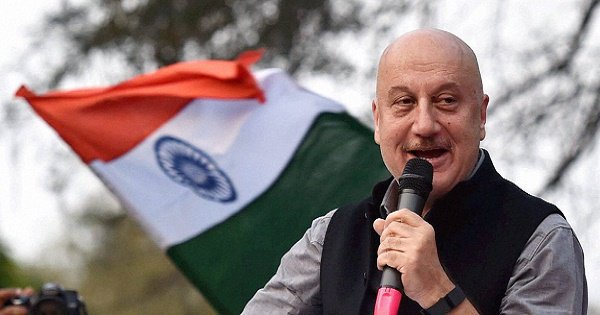 He has led from the front, organising a 'March for India' against intolerance. There was the minor issue of some participants showing little tolerance for a journalist present at the event by abusing and shoving her around. But Kher apologised and moved on just as quickly as he marched to Rashtrapati Bhavan. 
It must be admitted he was a little slow off the blocks when it came to the anti-nationalism in Jawaharlal Nehru University. But it couldn't be helped. How could you heckle someone like Kanhaiya Kumar on Twitter when he wasn't there at all. So instead Kher had to engage in 140-character spats with the likes of journalist Rajdeep Sardesai and Prashant Bhushan instead of the students. 
But then in a moment that put  all the anti-nationals to shame, Kher did this: 
Oh how gloriously the flag fluttered behind him. How the anti-nationals ran and hid. And how he managed to push the cause of Buddha In A Traffic Jam, getting hundreds of students and other innocent viewers to see a film none of them might have paid to see in a theatre. 
He's been called a joker by members of the Pandit community, but he continues to bat for them on Twitter and in powerful ads. Kher has been accused of duplicity best exemplified by politicians when he criticised Aamir Khan of talking about intolerance, but defended Shah Rukh Khan over his statements. He has constantly plugged his acting school, but has also been a friend in need to the underprivileged and other social causes. In short, he manages to do a mixture of good and contentious things to keep everyone guessing what he'll do next. 
Unlike the Prime Minister who's had a bout of extreme correctness since his election, that has resulted in extended silences on everything contentious, Kher has no such problem. Either through a tweet, a speech or a soundbite he hits back, and always hard. There's really nowhere to escape from Kher now for anyone who is against this government.  
He has received the Padma Bhushan, which he has accepted without any hesitation despite having mocked the institution earlier. He narrowly missed out on the Rajya Sabha despite his name being suggested. But given Kher's doing much better at taking on the opponents of this government better than most ministers, the Bhakt Of The Year award is surely just a step towards much greater things.