Two weeks after the Income Tax department conducted raids on Aam Aadmi Party (AAP) MLA Kartar Singh Tanwar on charges of alleged tax evasion, the agency has now claimed that they have recovered unaccounted money worth Rs 130 crore.
The I-T department had raided the residences and offices of the Chattarpur MLA who is a property dealer by profession. It was found that he owns large farmhouses and benami or proxy-owned properties through his associates. He had failed to explain how much he paid for his 2.6 acre farmhouse in South Delhi, reports NDTV.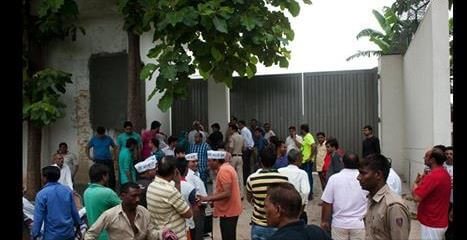 A team of I-T officials along with 20 policemen had carried out the raids. They also conducted searches at the residences of Tanwar's brother and his domestic help. An Indian Express report says that the raids were so meticulously planned that the tax sleuths didn't even spare a pile of buffalo dung.
The Aam Aadmi Party (AAP) had termed the development as "political vendetta" by the Centre against AAP MLAs. Reacting to the development, Deputy Chief Minister Manish Sisoida said, "Modi ji you deploy the CBI, Delhi Police, IB, ED and Income Tax, but we will keep on with our work." 
AAP supremo and Delhi Chief Minister Arvind Kejriwal had also accused Prime Minister Narendra Modi of practicing a witch hunt against its leaders.
(With inputs from PTI)
(Feature image source: Twitter| Dr Vineet Aggarwal)