Rabindranath Tagore is dead, as is Satyajit Ray. The Tata Nano factory is not coming back. And no matter what those tourism brochures say, your chances of seeing a Bengal tiger in the wild or a sunrise on the Kanchenjunga are slim.
But here is something Bengal can guarantee.
Booze.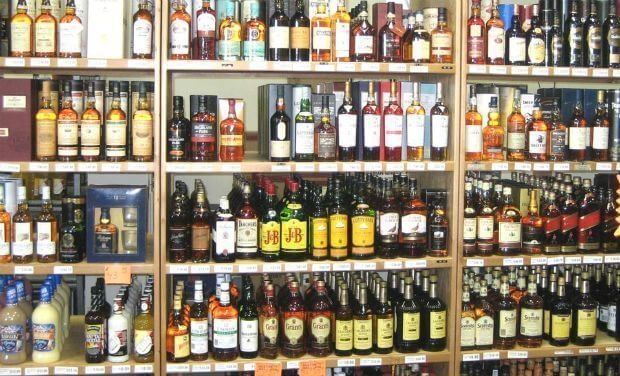 The West Bengal government has declared that all bars in three-star hotels (and above) and clubs can serve alcohol 365 days a year. 
It has also hacked the Dry Days list from 12 to 4.5! Now you can go to your local booze shop and buy your Officer's Choice on Mahavir Jayanti. The pruned Dry Day list also shows a communal even-handedness. Dol Jatra (the Bengali version of Holi) is dry (until 2 pm), as is the tenth day of Muharram. The other dry days are non-religious – Independence Day, Republic Day and Gandhi Jayanti.
This is amazing, especially for a government that's accused of taking impulsive decisions without thinking through the consequences. After a young woman was picked up at a bar in Kolkata and brutally gang-raped, Didi's solution was to make the last call for drinks earlier in bars. Now it seems the government has done quite the U-turn, which is a masterstroke on many pegs.
It's the economy, stupid.
The state government has long been complaining that the Communist left it with empty coffers and that the Centre is a stepmother worthy of a Bengali soap. Finally, Bengal could see an uptick in excise revenues. A city-based economist tells The Telegraph that in states like Maharashtra, 20 per cent of the state's revenues come from excise collection. In Bengal the number languishes below 10 per cent.
The state's finance minister has projected it at about 9 per cent or Rs 4698 crore for the current financial year, but even there, actual collection is lagging behind projections. Lag no more, Didi is saying. Drinking is not good for your health? No matter. This is the state where Didi had slapped a 10% tax on cigarettes to create a relief fund for those defrauded in the Saradha chit fund scam and urged her citizens to smoke more in order to help the scam victims more. Now you can literally drink to the state's health as well.  
Slogan: Welcome to Bengal where you can smoke and drink AND feel good about it.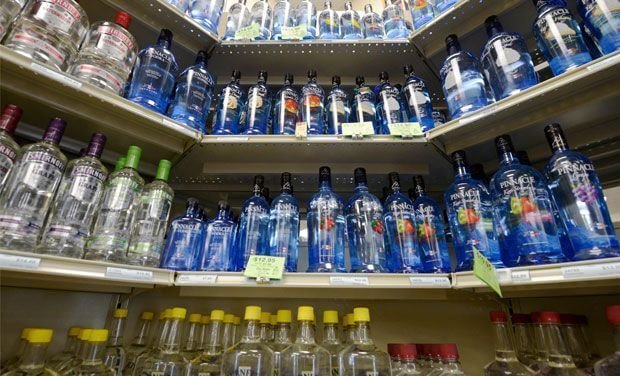 At least we are not Bihar.
As Bengal's fortunes sank, the Bengali babu clutched onto one last parameter of imagined respectability – at least we are better than Bihar. It was the last refuge of the incorrigible snob. And then to snooty Bengal's chagrin, Bihar started cleaning up its act. Swapan Dasgupta writes in The Times of India that there are lessons Bihar can teach Bengal because "(i)f the Nitish Kumar government can combine security, education and decent roads with adequate power supply and a measure of streamlined decision-making , Bihar has the potential to make a worthwhile contribution to the larger India story." 
While the newly inaugurated much-ballyhooed Ma flyover in Kolkata has sprung potholes even before its first monsoon is over, at least we can say we have something Bihar does not have – booze. Bihar is taking a draconian approach to prohibition ,warning it will prosecute all adult family members if alcohol is found on the premises – and as Shivam Vij reports in Huffington Post, threatening to jail family members of the dead to understate hooch death numbers. While Nitish Kumar wants women's votes, it's a woman who is leading the charge of the chhota peg next door.
Slogan: Welcome to Bengal: Where Dins are Acche and the Raats are even Better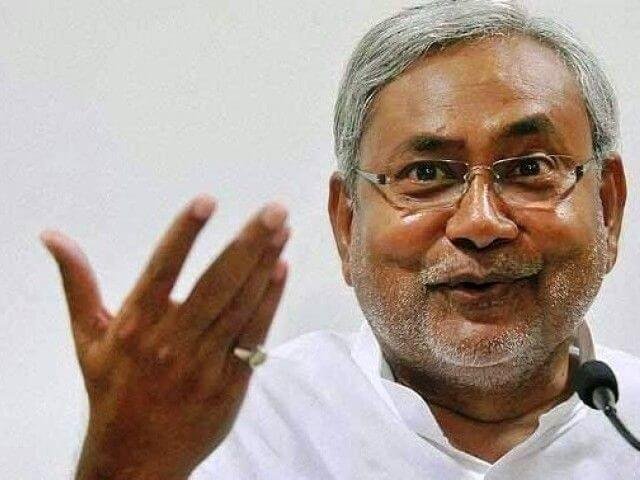 One Peg Fits All.
Poor Mamata Banerjee is constantly accused of pandering to vote banks. Why, ask her BJP opponents, does she want to give stipends to imams and muezzins and not to poor Brahmin priests? She is accused of turning a blind eye to terror outfits setting up shop in Bengal from neighbouring Bangladesh. Here, finally, is a decision that cannot be given any communal colour. It affects everyone across class and caste. This will please the babus who go to Calcutta Club and the auto-driver who gets his nip at the corner store.
The pre-dry day desperate rush will be sharply reduced. The only ones displeased will be the local illicit hooch dealer. Mamata, much under fire for abetting syndicates, can claim this is her first step in taking on the underground economy.
Even better, since Bengal does not have enough distilleries this could be a fillip to bringing new industry to the state, an old poll promise finally kept. The new fancy Biswa Bangla stores that sell the state's handicrafts and delicacies like sor bhaja from Krishnanagar and lengchas from Shaktigarh could now have a special shelf for Bangla Brewed in Bengal.
Slogan: Welcome to Bengal – Building Amaar Shonar Bangla one Peg at a Time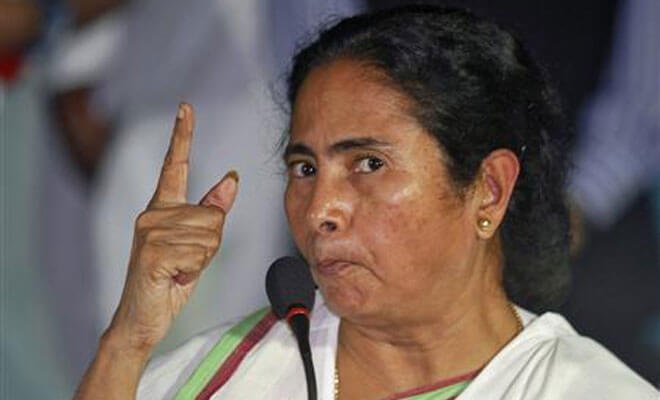 The Didi State is not the Nanny State.
At a time when all over India there seems to be a resurgence of nanny states telling us what to eat and what to drink, Bengal has gone ekla chalo re in a different direction. Who would have thought that Bengal which once made news for jailing a man who had forwarded a cartoon mocking the Chief Minister, could suddenly become an oasis of liberalism?
This is quite revolutionary in a country where as The Hindu laments, "there has been a populist competition between political parties in moving towards liquor bans" which might seem "politically attractive" but "is fraught with practical consequences: fall in revenue, a rise in contraband movement, the formation of mafias and a spike in corruption." It's not just about booze. It's also beef. Now in a time of gau-rakshaks she has indicated Bengal might be the destination of civil-liberty rakshaks. 
"If I have goat meat, there is no problem but if someone else has cow meat, it is a problem… Who are you to decide what people will wear and eat?" The next all-India civil liberties conference in Kolkata? Cocktails afterwards. Pick your date. Any date. 
Slogan: Welcome to Bengal, where its bars are open for business everyday whether or not its businesses are.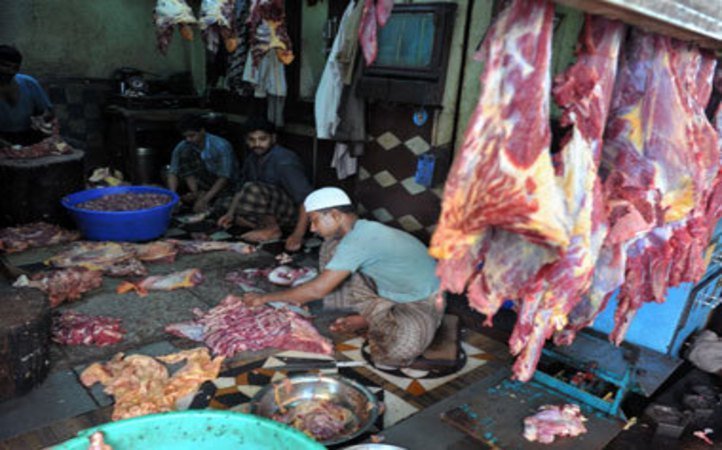 The Khushboo of Bengal.
Bengal's tourism industry is beset with problems galore. Many of its historical attractions are in towns in Murshidabad and Malda with iffy facilities and three-star hotels that are distinctly un-starry. It has no Taj Mahal to guarantee a steady visitor supply. (No, the Victoria Memorial does not quite measure up). Over the years, it's steadily lost out on international flights to Kolkata. Now the erstwhile First City of the British Empire has no direct flight to London or for that matter anywhere in Europe.
Imagine the utter despondency of the tourist who braves all this to come to Kolkata for Durga Puja and finds he can only have a fresh lime soda at the splendid bar of the Oberoi Grand because it's Maha Ashtami, and what's worse, it will be dry again the next day after 3 pm for Maha Navami and the day after for Maha Dashami. Now litfests won't have to organise their dates around dry dates for what's worse than insecure authors and a dry bar?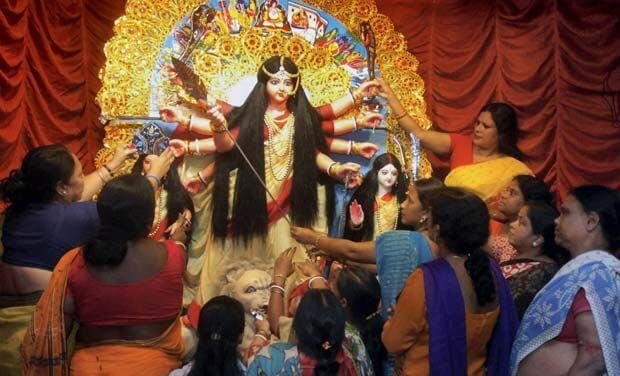 This will surely be a tourism bonanza and not just bringing busloads from Bihar for daily "survey" trips (with free breath freshener chewing gum on the way back). Those thousands of Bengalis who have left the state for greener pastures now have one more reason to come back.
Slogan: Welcome to Bengal – land of maa, maati, manush and martini.
Remember those ads where Amitabh Bachchan exhorted us to stop and smell the khushboo of Gujarat? Now we can have Bengal's brand ambassador Shah Rukh Khan telling us to come to Bengal, and smell the booze and the beef. If it works, I can imagine the next step in this New and Improved Bengal. Special safe zones where poor Ramya can come and speak her mind about the hospitality of Pakistan.
Remember that old adage – what Bengal thinks today, India thinks tomorrow. Don't deny it, there are a lot of you out there secretly hoping that still holds true. But jokes aside, in this day and age, a state government that thinks of its citizens as mature adults? I'll drink to that any day. And now I can.
(Feature image source: PTI)