The author is National Joint Secretary – Organisation Building, Aam Aadmi Party
While the city was drowning on the morning of Saturday, July 30, Deputy Chief Minister Manish Sisodia was zipping across the city visiting government schools to observe the city's first-ever Mega Parent Teacher Meeting (PTM). PTMs are supposed to be conducted across Delhi's government schools, but they are only conducted on paper. Schools and parents both never bother with them. 
According to the Directorate, even if they did happen in rare cases they were because of unusually proactive Principals, but we checked with the Directorate, it's very rare. This was the first such large-scale event where all schools were encouraged to hold PTMs together, the Ministry sanctioned special funds for this and spent money on publicity and outreach so parents realised the importance of Parent-Teacher Meetings and the necessity to attend them.
According to the Omlata Singh, Principal of Rajendra Prasad Sarvoday Bal Vidyalaya, President Estate, PTMs are supposed to happen in government schools routinely. According to Singh, "I had tried to reach out to parents last year. This time when we called a common parents meet to discuss 'Chunauti 2018', which is a new policy of the government, less than 10% parents turned up."
The reasons for parents of Delhi's government schools not making regular trips to the school are varied. A majority of families with children enrolled in these schools are from a lower economic strata. Parents are more often than not employed as daily wage earners. For them, attending a meeting comes at the cost of a day's wages.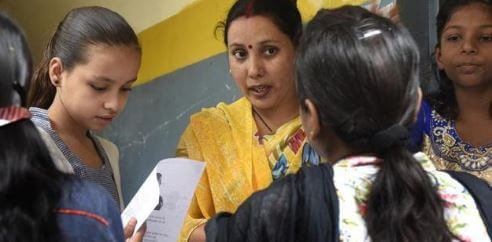 A large section of students in Delhi's government schools also happen to be the first in their family to attend school. Illiteracy or the lack of an academic experience makes many parents averse to taking interest in their children's activities at school. They're also unable to supplement any school learning as a result.
What then was different this time? Why did lakhs of parents decide to make their way to school when they rarely did so in the past? "We received SMSes from the government as well as the school Principal inviting us to our child's school on July 30. First we were worried, then I heard the Deputy CM's radio message. He said this meeting was being organised all over Delhi for our benefit, to open the doors of the school for us," said a mother of two girls, both of whom study in the same Sarvodaya school.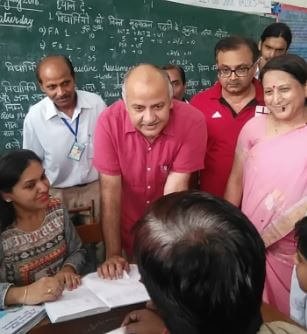 This was her first time in her daughters' school. For a Saturday, the lobby area of the school was buzzing with excited parents and children. A team of teachers and student volunteers were dispensing soft drinks and offering biscuits to parents. One of the senior teachers was the centre of attention as it was her last working day before retirement. She has been teaching in the school for 35 years and had taught over two generations of residents in the area.
According to Ms Sethi, "I am meeting my ex-students along with their children who I am meeting on the last day of my teaching career." It was also heartening to see a young girl on a wheelchair being pushed by her twin sister, accompanied by their mother.
According to the mother, "I have to come every day to drop her off. I always leave her at the gate, and her sister takes her to class. Today is the first time I am entering this building to meet her teachers.They said she is a bright girl. Her sister, on the other hand, is very weak, so l will have to get her to study harder now". 
It must be mentioned that the fact that a government school is disabled-friendly, is commendable.
It was also apparent that the wall between parents – typically from economically weaker backgrounds -and teachers – mostly middle class – was lowered totally by this interaction. There is much to appreciate in these interactions which many of us who have not studied in government schools, take for granted.
For parents to interact with their children's teachers and be told how their children are faring in school, and for children to have their education discussed with their parents – is both necessary as well as welcome. This is the first step to ensure that teachers, parents and children realise the importance of education and open communication channels to encourage more children complete their education.