The farmer's protest in Madhya Pradesh has brought to the fore the abysmal condition of farmers in the state. 5 of the farmers were killed during the agitation on Tuesday, aggravating the situation further. While the state government denies that any shots were fired by the police, activists and other eye witnesses have allegedly suffered bullet wounds. 
Here's all you need to know about the protest:
Why are the farmers protesting?
The farmers started a protest on June 1, demanding that the government puts a minimum support price for the farm produce and also demanded that their loans be waived off like that of the farmers in Uttar Pradesh, which is also governed by BJP.
In agitation, the farmers threw onion on the road as their prices had dipped to as low as Re 1 to Re 2 per kg in some markets.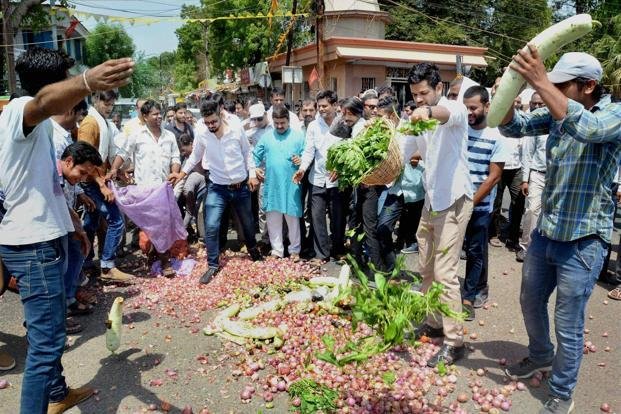 The western part of Madhya Pradesh, which adjoins Maharashtra, is holding similar demonstrations.
The violence
Violent incidents were reported from Neemuch, Ratlam, Dhar, Jhabua and Dewas districts of western Madhya Pradesh on Sunday.
At Neemuch, farmers staged a road blockade at Bhadbhadiya Four Lane square. Protesters pelted stones and damaged several two-wheelers as the police used physical force to disperse them. Effigies of Prime Minister Narendra Modi and chief minister Chouhan were burnt.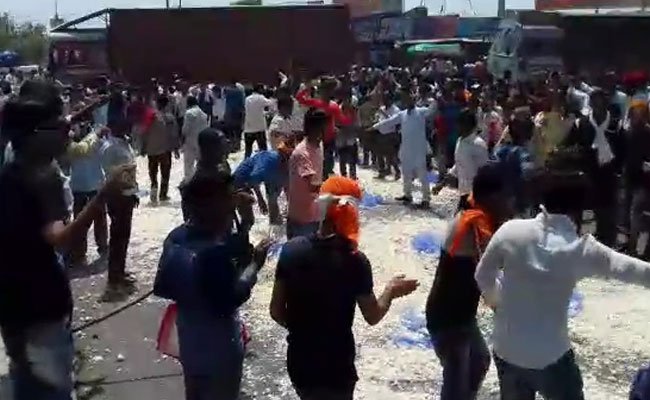 Protesting farmers damaged some shops after an altercation with vendors at Karwad village of Jhabua district, said Petlawad police station in-charge Lokendra Singh Thakur.
Meanwhile, Tarun Baheti, a farmer leader, said the police used lathi-charge against peaceful protesters for no reason.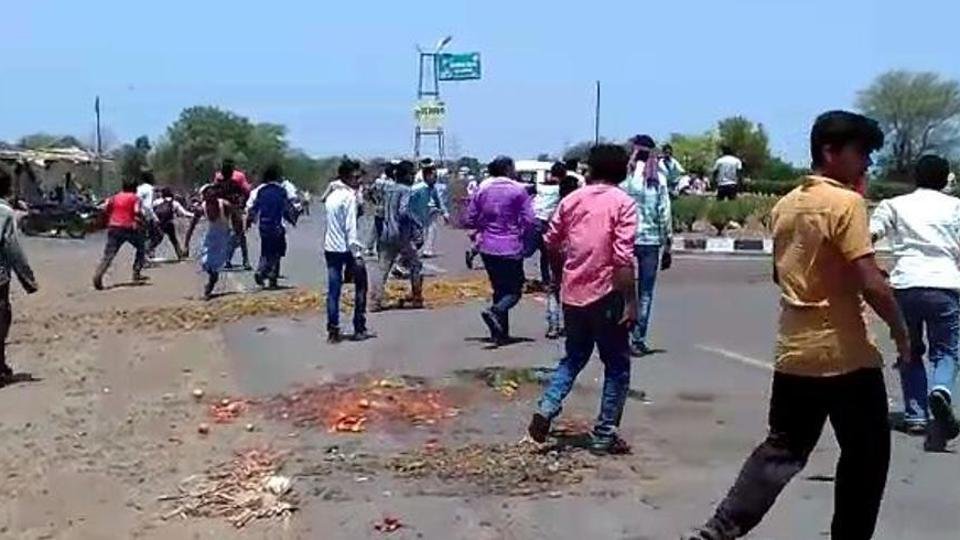 In Dhar, protesting farmers emptied 12,000 litres of milk on road from a tanker at Borali toll naka on Mhow-Neemuch road
Protesters pelted stones in Kshipra area of Dewas to force vendors to shut their outlets. 
Farmers also burnt an effigy of Shivkant Dixit, leader of RSS-affiliated Bharatiya Kisan Sangh (BKS), who had on Sunday announced the end of the agitation, at Mankund,in the Dewas district. Calling off the agitation, the BKS said that since the government had accepted most of its demands, it is better to cease the protest. Meanwhile, the Bharatiya Kisan Union,  a lesser-known organization that is believed to be behind the stir, refused to call off the agitation. 
What does MP Chief Minister Shivraj Singh Chouhan have to say?
Chief Minister Chouhan met the protesting farmers on Monday and told them the government is taking all the necessary steps to address their issues.
"This government is farmers' government. All necessary steps have been initiated to address farmers' concerns," Chouhan said at a hurriedly-convened press conference. 
A price stabilization fund of Rs 1,000 crore would be set up to purchase the farm produce at the minimum support price (MSP), he said.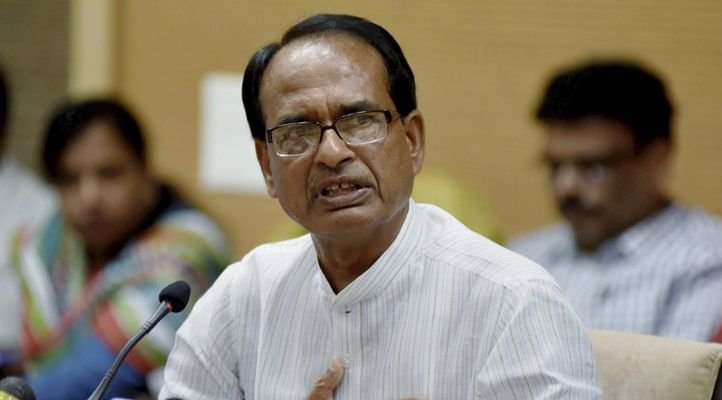 He assured the farmers that the government would buy onion at the Minimum Support Price of Rs 8 per kg, he said, adding that "we have already started buying onion in Indore, Ujjain and Mandsaur districts". Procurement will continue till June 30, he said. 
He also said that "a few people" were giving "a wrong direction to the farmers' protest". "If this does not stop, such people will face consequences."
Death of the 5 farmers
Violence broke out on Tuesday yet again during the protest in Mandsaur following which curfew was clamped on Tuesday in Pipalya Mandi area and prohibitory orders imposed in other parts of the district, officials said.
Five farmers were killed after police opened fire on violent protesters in Bhai Parshnath area but Mandsaur Collector SK Singh continued to deny it.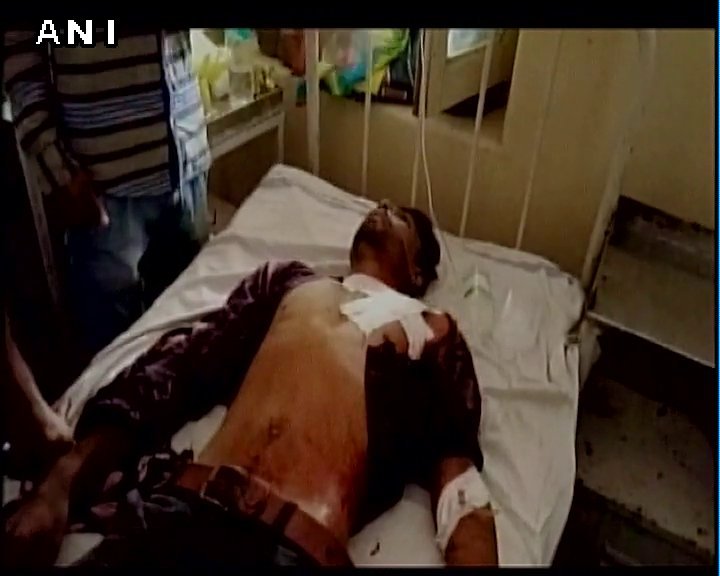 Hindustan Times reports that many farmers were angry at how the government was dealing with the situation and in retaliation torched several vehicles. Some of them even ransacked and set fire to a police outpost.  
Home Minister Bhupendra Singh told NDTV that the police did not shoot at the crowd during the protests, while some of those present there  claim to have suffered bullet wounds. 
"There was no firing by the police, an investigation has been launched," he said, adding that bullets were shot by "anti-social elements." 
However, Ujjain Division Commissioner OM Jha, while refuting Singh's claims told IANS that "around 2 pm, in order to control the agitated farmers, the police had to open fire in which two farmers died and several others were injured."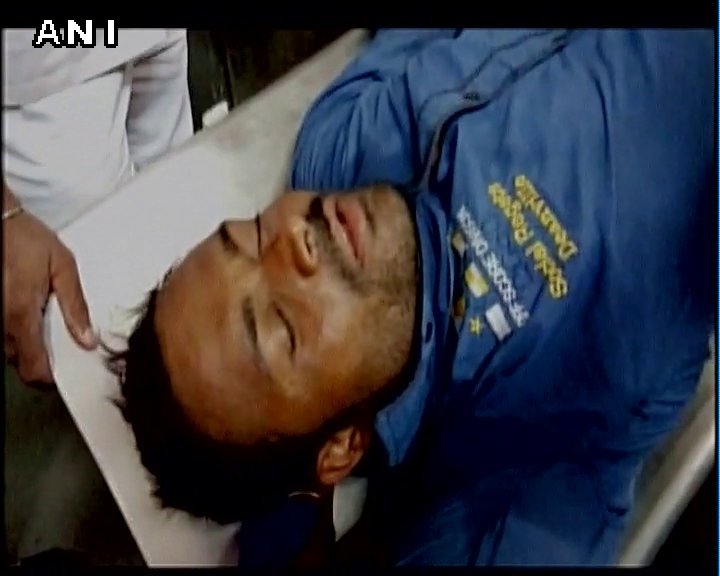 "Police started firing to disperse the crowd. Farmers were not carrying any weapons," said Gajendra Tokas of the Rashtriya Kisan Mazdoor Sangh, or National Farm Workers' Union, which has also called a state-wide strike on Wednesday.
The deceased were identified as Kanhaiyalal Patidar, Bablu Patidar, Chain Singh Patidar, Abhishek Patidar and Satynarayan. Mobile services were suspended in Mandsaur, Ratlam and Neemuch districts.
Chief minister Shivraj Singh Chouhan ordered a judicial inquiry and said that anti-social elements, not farmers, were involved in the violence. He announced compensation of Rs 1 crore for the kin of the dead and Rs 5 lakh to those injured. 
#WATCH: CM Shivraj Chouhan appeals farmers to be peaceful, announces Rs 1 cr for families of deceased, 5 lakh for those injured in Mandsaur pic.twitter.com/kfBxrFrw4m

— ANI (@ANI_news) June 6, 2017
Political uproar
Condemning the violence, Congress Vice President Rahul Gandhi tweeted that the BJP "government was at war with the farmers." 
Congress official Twitter handle, on the other hand, tweeted, "Those who give us food, the Govt is feeding them bullets."
MP Chief Minister Chouhan, however, called the incident a Congress conspiracy. "Government is sensitive and stands with farmers but Congress party, through conspiracy tried to fuel violence, many Congress leaders did so."
(Feature image source: PTI)