When Bill Clinton moved into the White House in 1993, the Clintons tried to shield their daughter from the media glare. They wanted her to have as normal a childhood as possible and asked the media to limit their coverage to public events. The media, more or less, obliged and have continued to do so for the young families of the Clintons' successors as well. That's not a rule, but standard etiquette of sorts, an ethical line.
Perhaps it's time the Indian media kept that same distance when it comes to the Prime Minister's 96-year-old mother. Hiraben Modi does not live with her son. She does not show up at state visits. She is not a Dowager Empress behind the throne. She is not news. And she should not be made into news by a media scrum.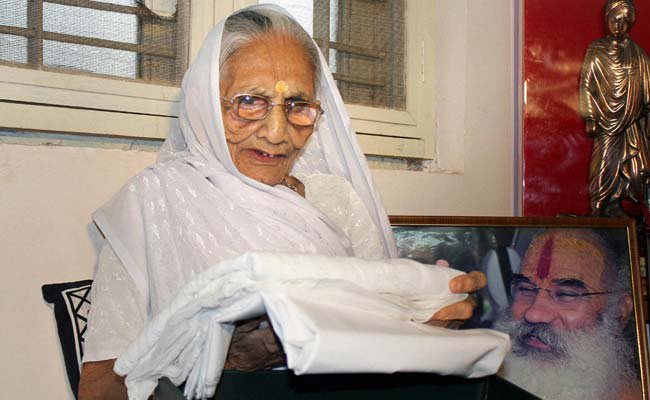 Hiraben Modi went to the bank to change her old currency notes. And it caused a media storm as politicians try to spin the optics of that image to their own benefit. Politicians, rarely known for overflowing with the milk of human kindness, are competing with each other to be Beta No. 1.
"I am very sad. No good son ever wants that his 97-year-old mother has to (face such a situation) and they boast of a 56-inch chest," says Kapil Sibal.
"Had I known that prime minister's mother is going to stand in a line to withdraw money in this age I would have done anything but would have not let her struggle like this," says Azam Khan of the Samajwadi Party. "This was an unnecessary step, this was not pleasant, this shows that how hollow is the BJP and the Centre."
"Modiji ne rajneeti ke liye maa ko line me laga theek nahi kiya. Kabhi line me lagna ho to main khud line me lagunga, maa ko line me nahi lagaunga (It wasn't right of PM Modi to make his mother stand in a line for political means. If I ever have to stand in a line I will do so myself, and not make my mother do so)," tweets Arvind Kejriwal. He did not furnish proof that Modi-ji had in fact made his mother stand in line or had anything to do with it all.
"My way is different from Narendra Modiji. I will not say anything about Narendra Modiji's mother," says Rahul Gandhi, pointedly trying to take the higher ground while sneaking in a dig at "Narendra Modiji" instead.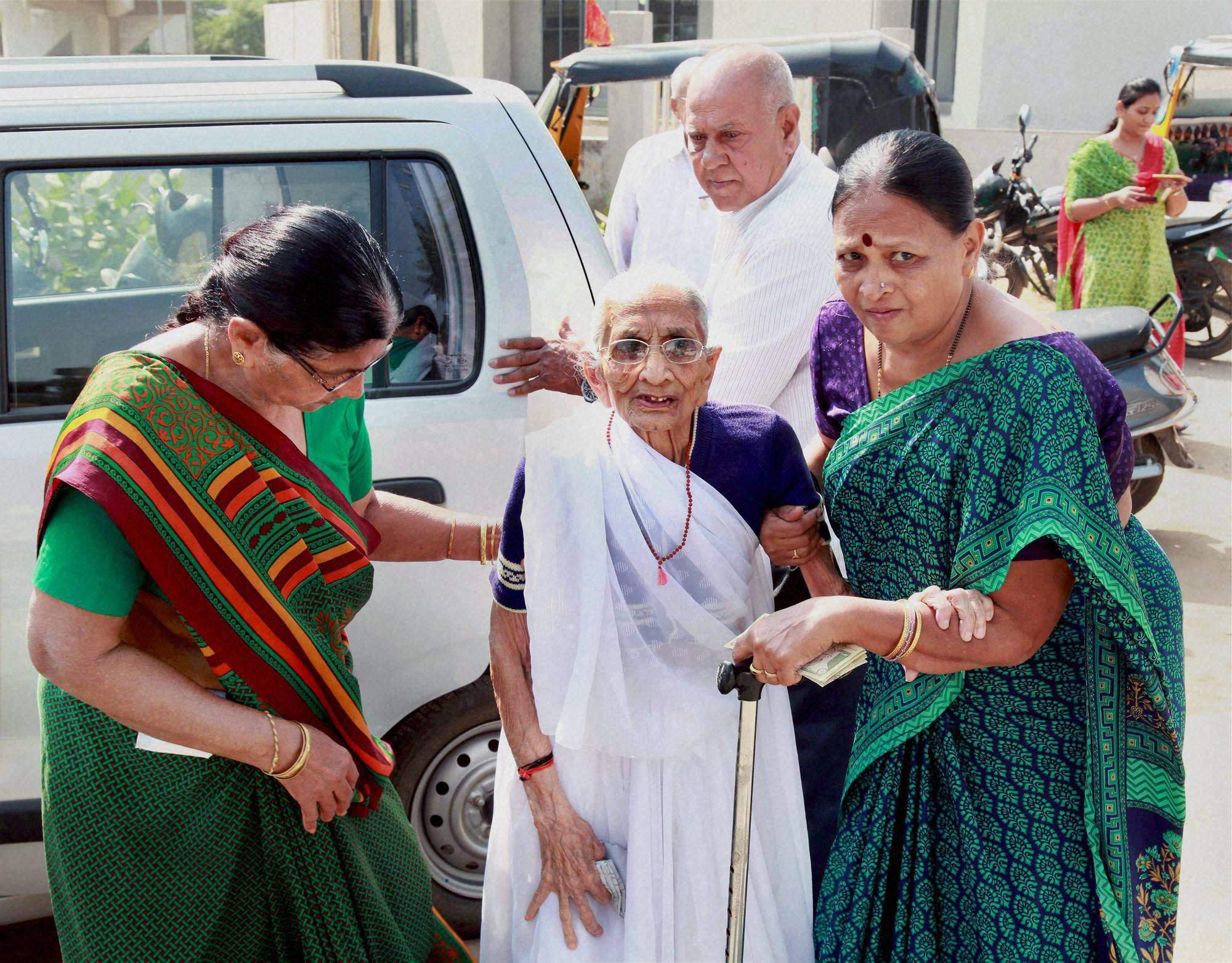 BJP spokesperson Bharat Pandya, on the other hand, says it sent out a "positive message" to the country. Priti Gandhi has rallied to the mother's defence tweeting, "First Kejriwal, now Sibal attacking PM Modi's 97yr old mother. For what? For going to the bank & standing in line like an ordinary citizen." And anyway, it's not like Hiraben Modi cannot have a mind of her own. ""I'm sure my mother insisted on the bank visit – that's how she is," her elder son Somabhai Modi tells The Telegraph. 
Journalist Kanchan Gupta agrees on his Facebook page saying "She's a strongwilled woman who would not do this just because her son, the Prime Minister of India, told her to do it."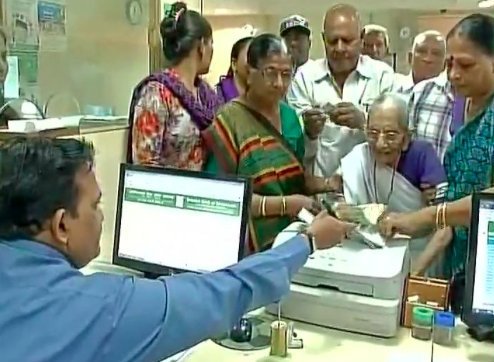 Whatever the truth, whatever your ideology, strong-willed matriarch or helpless pawn, it's rather unseemly to watch political scores being settled using an old woman in a wheelchair.
Let's not be naïve and pretend politicians do not use their families as props and photo-ops, or that a mother is so sainted a figure that she is out of bounds. When Louisiana Senator David Vitter admitted his involvement with an escort service and sought the voters' forgiveness, he made sure his wife was standing right there to convey that right note of forgiveness. David Cameron used family holiday photo calls to appeal to Middle England family values and give his image a touch of softness. Paul Ryan dragged his family out to a soup kitchen to be photographed cleaning pots and pans and then landed in a soup of his own making when the director of the charity said the pots were already clean. The day after Bill Clinton admitted to the Monica Lewinsky affair, the world got to see a photograph of Chelsea Clinton holding both her parents' hands as they walked, along with their dog, to a helicopter on the South Lawn. (Check out this Gawker story on what presidential family portraits say about them.)
Narendra Modi cannot use family portraits as an image softener. As a political candidate, he has routinely bragged in rallies about how his mother went to vote in a three-wheeler like an ordinary person. Modi wanted to demonstrate uprightness in a time of nepotism. But when the PM uses his mother to make a point, it's tough to cry foul when an opposition politician replies in kind.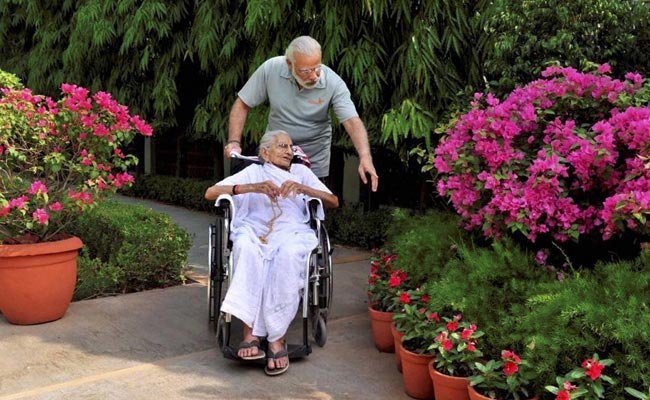 But the story is not just about the motivations of either Narendra Modi or his mother or his political foes. It's also about the media's eagerness to make it about the mother. Television journalists told The Telegraph that they had been alerted about Hiraben Modi's trip to the bank in advance by the state's information department. 
To be clear, that does not mean that the PMO was involved in orchestrating some kind of PR spectacle.
But it does mean that the media decided to make it news. They showed up en masse to cover it. This was not a random photo by a citizen who happened to be at the bank and recognised the PM's mother standing in line like an ordinary citizen. This was a bona fide media event and the media dialed M for Mother.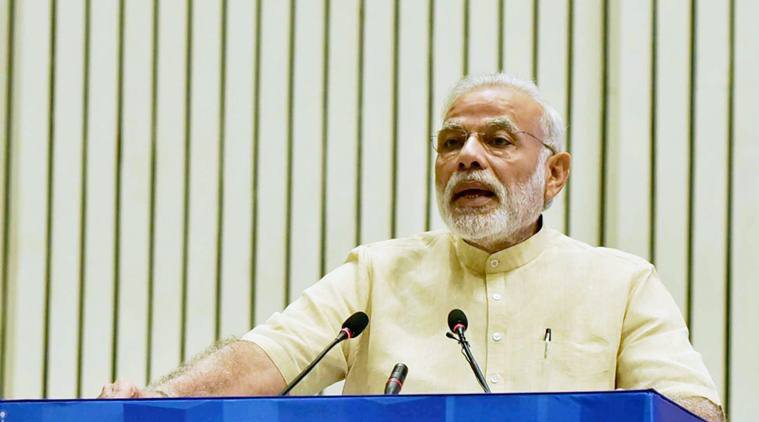 Narendra Modi has made it clear that his own family comes second when it comes to service to the nation. It's only fitting that the media take him at his word. In the debate over demonetisation and black money, let's focus on the paisa, bangla, gaari, bank balance and not worry about kiske paas Ma hain.
Feature Image Source: PTI