The first face-to-face meeting between U.S. President Donald Trump and German Chancellor Angela Merkel started awkwardly on Friday and ended even more oddly, with a quip by Trump about wiretapping that left the German leader visibly bewildered.
The two leaders share different views on trade, Russia and immigration, leading to some uncomfortable moments at a joint news conference on Friday in which they took pains to downplay differences that were hard to mask.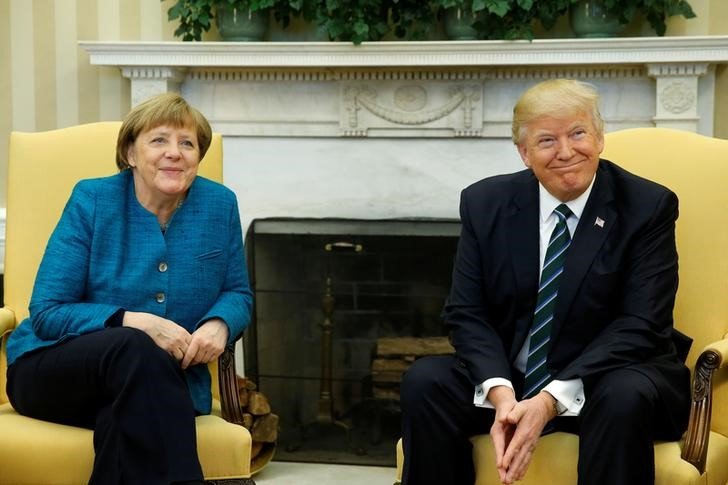 Though Merkel appeared relaxed, the body language between them was not especially warm.
Trump and Merkel shook hands when she arrived at the White House but did not do so in the Oval Office where she frequently leaned towards him while he stared straight ahead, sitting with his legs apart and hands together.
Here is the video:
And needless to say, Trump's bizarre way of ignoring to shake hands caught the attention of people on social media. The video is now going viral and here are some interesting reactions on Twitter:
Trump refuses a handshake and gives Merkel the silent treatment. Merkel gives him a look that says "what a baby".

This man is pathetic. pic.twitter.com/ydKgAi59hx— Mike Gibbs (@Mikeggibbs) March 17, 2017
Trump deliberately snubs Merkel, refusing handshake. Alienating allies, confirming that the US is now owned/controlled by Putin. #Russiagate

— Anne📎🌴 (@relevanne) March 17, 2017
If you are an outspoken, strong woman and/or in a leadership position, Trump's body language here will be familiar 😏https://t.co/ax631C2o2I

— …she persisted. 🗽 (@leahmcelrath) March 17, 2017
Watching trump ignore Angela Merkel's handshake offer gives me that sick mixed feeling of embarrassment and dread in my stomach.

— feminist next door (@emrazz) March 18, 2017
America is a disgrace. Donald Trump can't even give Angela Merkel a handshake during their first meeting because he's too much of a baby.

— Tim Hess (@realtimhess) March 17, 2017
Trump was worried a strong German woman like Angela Merkel might crush his tiny hands. #handshake

— Alt Fed Employee (@Alt_FedEmployee) March 17, 2017
(Feature image source: YouTube| ZN Vids)