This morning, I was greeted with a full page advertisement of our Prime Minister Narendra Modi in what appeared to be a brand endorsement of Reliance Industries' new telecom product – Jio.
I was incredulous and tweeted about it, asking if indeed our PM was the brand ambassador? And if Reliance had the mandatory written permission from the Prime Minister's Office (PMO). Because the rules are stringent and clear and reissued in a gazette form every six months. 
Sources have confirmed that you cannot use or reproduce the PM's image in any shape or form in any advertisement even for Government Of India schemes, unless you have the mandatory written permission and the matter/contents of the purported advertisement has been cleared for publication or telecast by the PMO and the Director General, Press Information Bureau.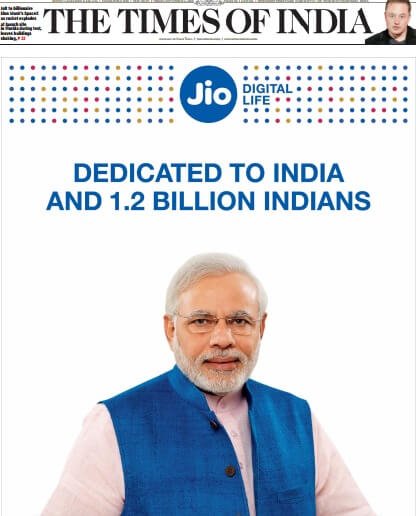 If the image does not have the mandatory permission, the GOI can act against the company for misusing the PM's image.
This advertisement raises several serious questions:
1. Can the GOI in the form of the Prime Minister of India, formally endorse a private company? That too in a highly contested space and where even a tweak in the spectrum rules can change the fortunes of billion dollar companies.
2. Telecom is a highly regulated business where players such as Airtel and Vodafone regularly lobby with the government for spectrum and pricing interests. What message does it send to regulators and officials, when the PM apparently endorses a new player who plans to play a disruptor role.
3. Has any other executive in a democracy such as United States of America, France, United Kingdom and Germany been part of a similar endorsement?
The answer to the last, after extensive research, is an unequivocal no. US President Barack Obama has endorsed no US company, despite being an avid Blackberry user. Nor has he appeared in an advertisement for Apple's new launch.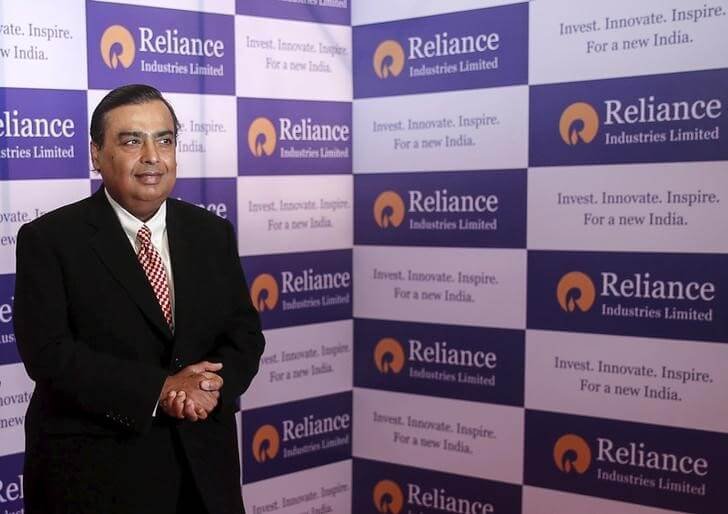 Yes, the US government supports US business and regularly lobbies foreign governments to take decisions to award contracts to US companies. But, no US President has till date appeared in an advert.
President George Bush lobbied hard with the Manmohan Singh government to award Boeing a huge Air India contract to buy aircraft which was also being bid for by Air Bus. He called Dr Singh and even the then Aviation Minister, Praful Patel. But, at no point did Manmohan Singh pose next to a Boeing aircraft. The contract was awarded to Boeing.
When Nicolas Sarkozy was President of France the most that was expected of his super model wife Carla Bruni was that she wear French haute couture, but not pitch for any particular brand, such as Hermès. Similarly, Michelle Obama promotes American designers by wearing American brands, but doesn't endorse any particular designer as that would be perceived as unfair to the industry as a whole.
Modi by officially plumping for Reliance is being unfair to the entire telecom industry. Almost justifying, Rahul Gandhi's famous "suit boot ki Sarkar". The best part is that in the advertisement, Modi like a good brand ambassador is wearing a waistcoat in the exact shade of the Jio brand colour of blue.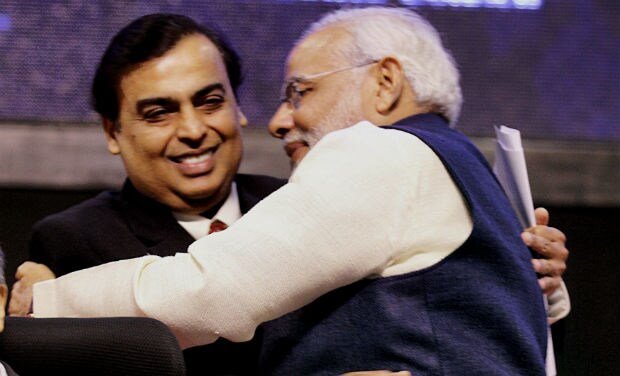 After predictable outrage, a Right to Information petition has been filed in regard to Modi being the chosen supermodel for Reliance. The RTI asks whether any permission was sought by Reliance Jio for using the photo of the PM in their advertisement? If permission was sought, could Reliance please share the request letter and permission letter? What are the existing guidelines for using the photo of the PM in commercial advertisements? And finally is Shri Narendra Modi the brand ambassador/endorser of Reliance Jio?
Modi has been known to be extremely close to the Ambani and Adani business families. Soon after assuming office he had flown to Mumbai and inaugurated the H N Reliance foundation hospital on 25 October, 2014. Modi had also digitally inaugurated the Reliance Foundation Youth Sports Initiative on July 22, this year.
I had earlier revealed that billionaire industrialist Gautam Adani was Modi's constant travel companion on his peripatetic trips abroad often staying on the same floor as him. The Gujarati businessman and head of the Rs 56,000 crore infrastructure group was at the PM's side constantly. Modi was also present at the same table at the G-20 summit in Australia when State Bank of India chairperson, Arundhati Bhattacharya inked an agreement for a Rs 6,200 crore loan for Adani's coal project – which has since then been embroiled in huge controversy. 
Adani was a fixture when Modi went to USA, France, Australia, Brazil and Japan. This is of course simply following the pattern established when Modi was Gujarat Chief Minister and Adani used to accompany him on his trips. Modi also used Adani's aircrafts in his whirlwind campaign for the general elections.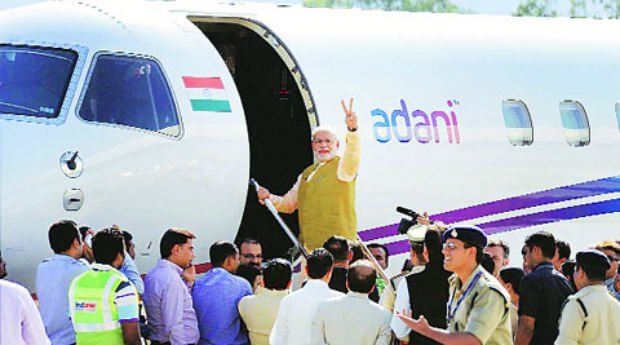 This Jio advertisement and a radio spot which uses actor Amitabh Bachchan and Modi's voice to connect Jio with the GOI initiative, Digital India, is worrying. Would it be kosher for a cement company to use the PM's image in the same way and claim it was supporting India's mission to improve infrastructure? What about a girls' school saying it was promoting Modi's initiative Beti Bacchao Beti Padhao.
Let's not forget that these front page ads have appeared in every mainline newspaper in Delhi. Other than poor Indian Express, who seems to have been ignored for having subscription numbers which seemingly don't impress Jio or the Centre.
The reason why all political executives stay away from endorsing any private business is to ensure that the same laws and regulations are applied to all and it's a level playing field.
Consider that candidate running for US President, Hillary Clinton's paid speeches which fetched her and her husband former president Bill Clinton a combined income of USD 153 million are being fiercely scrutinised in the USA with allegations flowing that "Clinton is funded by Wall Street". Her rivals claim that this closeness to big money compromises her to "special interests".
What are we then to make of this very special brand ambassador for Mukesh Ambani's dream project, Jio?
Disclaimer : The information, ideas or opinions appearing in this article are those of the author and do not reflect the views of ScoopWhoop. ScoopWhoop does not assume any responsibility or liability for the same.