Bihar Chief Minister Nitish Kumar unexpectedly resigned on Wednesday, but hours later joined hands with the Bharatiya Janata Party to reclaim the government in a political manoeuvre that relegated his alliance partner RJD to the opposition.
Barely minutes after Kumar announced that he had resigned as Bihar chief minister, Prime Minister Narendra Modi sent out a message of approval on Twitter. Soon after, Nitish responded, also on Twitter, thanking Prime Minister Modi for his message of support.
Even as Kumar is occupied parting ways with the Mahagathbandhan and stating that the move was in the interest of the state, the fact that BJP and JD(U) have been at loggerheads for a while cannot be overlooked.
Here's a timeline of how this stunning political manoeuvre came about: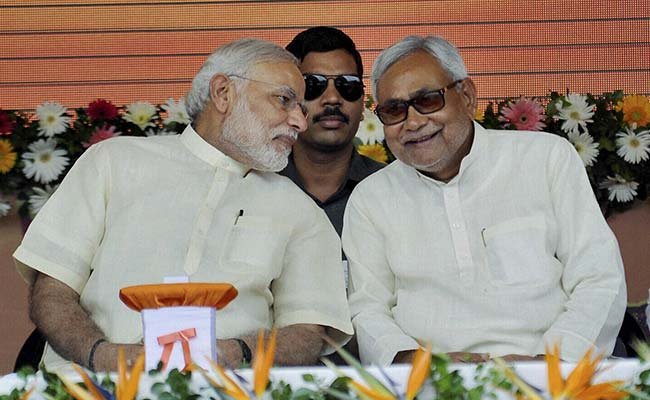 Nitish, who was had formed Samata Party in 1994 after breaking up with Lalu Prasad Yadav, which aligned with the BJP in 1996.
May 2009: Nitish began to distance himself from Modi post-2002 Gujarat riots. At an NDA rally in May 2009 in Ludhiana, Modi held Nitish's hand aloft, a gesture that the Bihar Chief Minister didn't seem too comfortable with.
June 2010: Nitish cancelled dinner for BJP ministers. Nitish Kumar cancelled dinner he was to host for the BJP ministers, including Modi, over posters in Patna featuring his hand-in-hand moment with Modi, as per reports. 
June 2013: Nitish breaks up with BJP. JD(U) broke a 17-year alliance with the BJP in June 2013 after the party appointed Modi as the chief of election campaign for BJP's 2014 Lok Sabha elections. After that, Kumar and Modi continued to hold grudge and often targeted each other at public rallies. On similar lines, JD(U)'s view pertaining to the BJP, and vice versa, also kept fluctuating after the end of alliance, reports The Times of India.
September 2013: Nitish lambasts Modi over Muzaffarnagar riots. Days after the BJP revealed Modi as its prime ministerial candidate, Kumar said, "To govern a country like India, you have to take everyone along; sometimes you will have to wear a topi and sometimes tilak (kabhi topi bhi pehenni padhegi, kabhi tilak bhi lagana padega)."  This was seen as a dig at Modi, who had, in 2011, refused to wear s skull cap offered by a Muslim cleric during his sadbhavna fast.
July 2015: Narendra Modi's attack on the JD (U). Slamming the JD(U)-RJD alliance, Narendra Modi had dubbed RJD as "Rozana Jungle Raj ka Darr" in July 2015. He had then also said that there was something wrong with Kumar's "political DNA", reports Indian Express.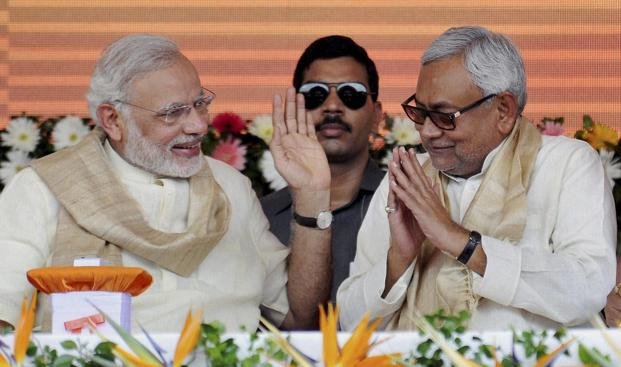 However, Nitish seemed to have begun to back Modi again in 2016. There were several instances where Nitish backed Modi.
In September 2016, Nitish backed surgical strikes by the Indian Army. He said, "When it comes to national security, we will stand united with Centre and army but we don't support the internal politics of issue. But we will not go on the track where they want to make it an internal politics."
In November 2016, Nitish Kumar backed Prime Minister's demonetisation drive, while Lalu called it a 'fraud'. Nitish said, "Nobody can carry away anything he hoards after death, yet people try to make money for the next seven generations. There is no pocket in the shroud for money, yet people take bribe. I don't know why they do it and how much money they want," reports Hindustan Times. That Nitish went on to question the "benefits" of demonetisation later is a different story.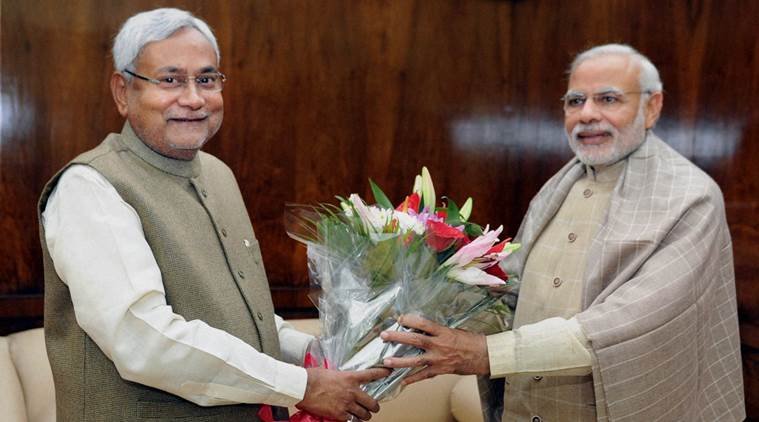 There were indications of budding bonhomie between Modi and Nitish at an official event. 
In January this year, Modi praised Nitish for implementing liquor ban in Bihar. He said, ""I want to congratulate Nitish Kumar for his strong move on prohibition despite objections from all quarters. It is a courageous step. It can save coming generations and act as an inspiration for other states… This (successfully implementing prohibition) is not just Nitish Kumar's work or the work of a political party. It is the duty of every person, and Bihar will benefit from it."
In June this year, Nitish skipped luncheon for Opposition parties hosted by Congress president Sonia Gandhi. He then refused to change his support for NDA presidential candidate Ram Nath Kovind in favour of Meira Kumar.
On July 26, 2017, Nitish walked out of the coalition government in Bihar with Congress and Lalu, joining the NDA a day later that is today. The two leaders, Modi and Nitish, also had a tweet exchange where Modi congratulated Nitish of fighting against "corruption" and Nitish thanking the PM for the tweet. 
(Feature Image Source: PTI)