It is a well known fact that political party workers in India take their sycophancy to extreme heights in order to please their bosses. And the Bahujan Party Workers recently did precisely that.
The party workers in the Sadabad village of Hathras district in Uttar Pradesh, took out an Ambedkar Shobha Yatra on Sunday evening to mark the Dalit icon's 125th birth anniversary. 
They used the poster below in the rally which shows Bahujan Samaj Party supremo Mayawati as Goddess Kali slaying Union Human Resource Development (HRD) minister Smriti Irani's head.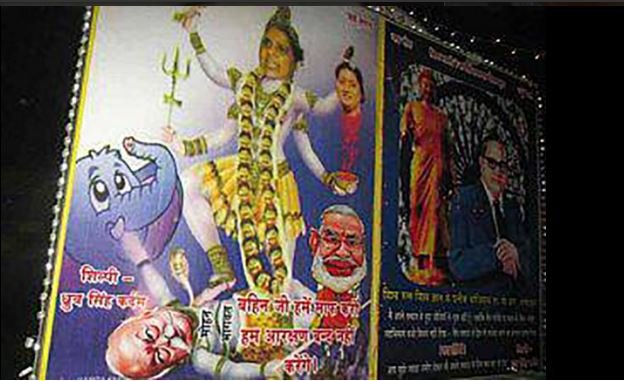 The poster also shows Mayawati stomping Rashtriya Swayamsevak Sangh (RSS) chief Mohan Bhagwat below her feet and a miniature of Prime Minister Narendra Modi apologising.
For all those who forgot the dramatic Smriti Irani-Mayawati Parliament spat in February, here is the reminder which seems to be the inspiration behind this poster:
Not surprisingly, the poster has invited the ire of Bharatiya Janata Party workers who filed a police complaint against those responsible. District party president Ramvir Singh met Superintendent of Police Ajaypal Sharma and submitted a memorandum demanding lodging of a case against those putting up the poster as well as the convener of the shobha yatra.
The poster has been pulled down since. Interestingly, BSP has denied any association with the controversial poster, despite two people, whose names are mentioned in the poster are block level leaders of the party.
But the hypocrisy…
One can't ignore the fact that BJP, which is raising such a hue and cry about the BSP poster, had very recently came up with a similar poster showing Uttar Pradesh BJP president Keshav Prasad Maurya as Krishna and opposition leaders as Kauravas in Varanasi. What's worse, the poster recreated the scene of Mahabharata where Kauravas are trying to disrobe Draupadi and Lord Krishna intervenes as the saviour. 
Here's the poster: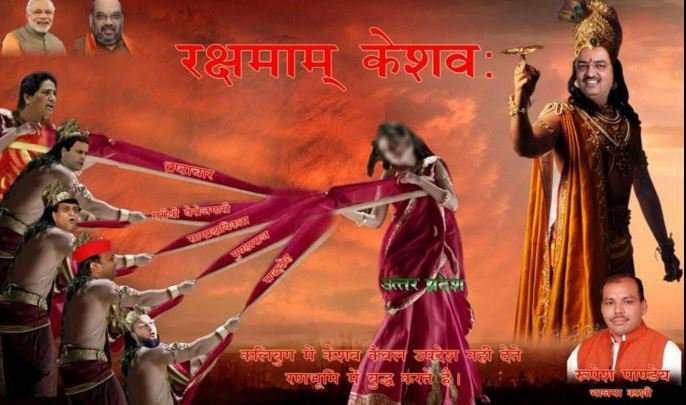 (With inputs from PTI)
(Feature image source: Twitter| India 24 hours Live)