The most common sight ever since Tamil Nadu Chief Minister Jayalalithaa was admitted to the Apollo Hospitals in Chennai more than two months ago is the wailing and praying women, and poor people. Since she passed away on Tuesday morning, the intensity of the public grief has seemingly increased.
All the live TV feeds from near the hospital on Chennai's Greams Road and various districts showed nothing else. It's not new though, because in the Dravidian politics of Tamil Nadu, such public display of love and grief is common. 
When former chief ministers such as CN Annadurai and MG Ramachandran went through medical crises, the people in the state were openly grief-stricken. Even when a less popular Murasoli Maran of the DMK (former union minister) was admitted at the same Apollo Hospitals, cadres and supporters had thronged it for days together.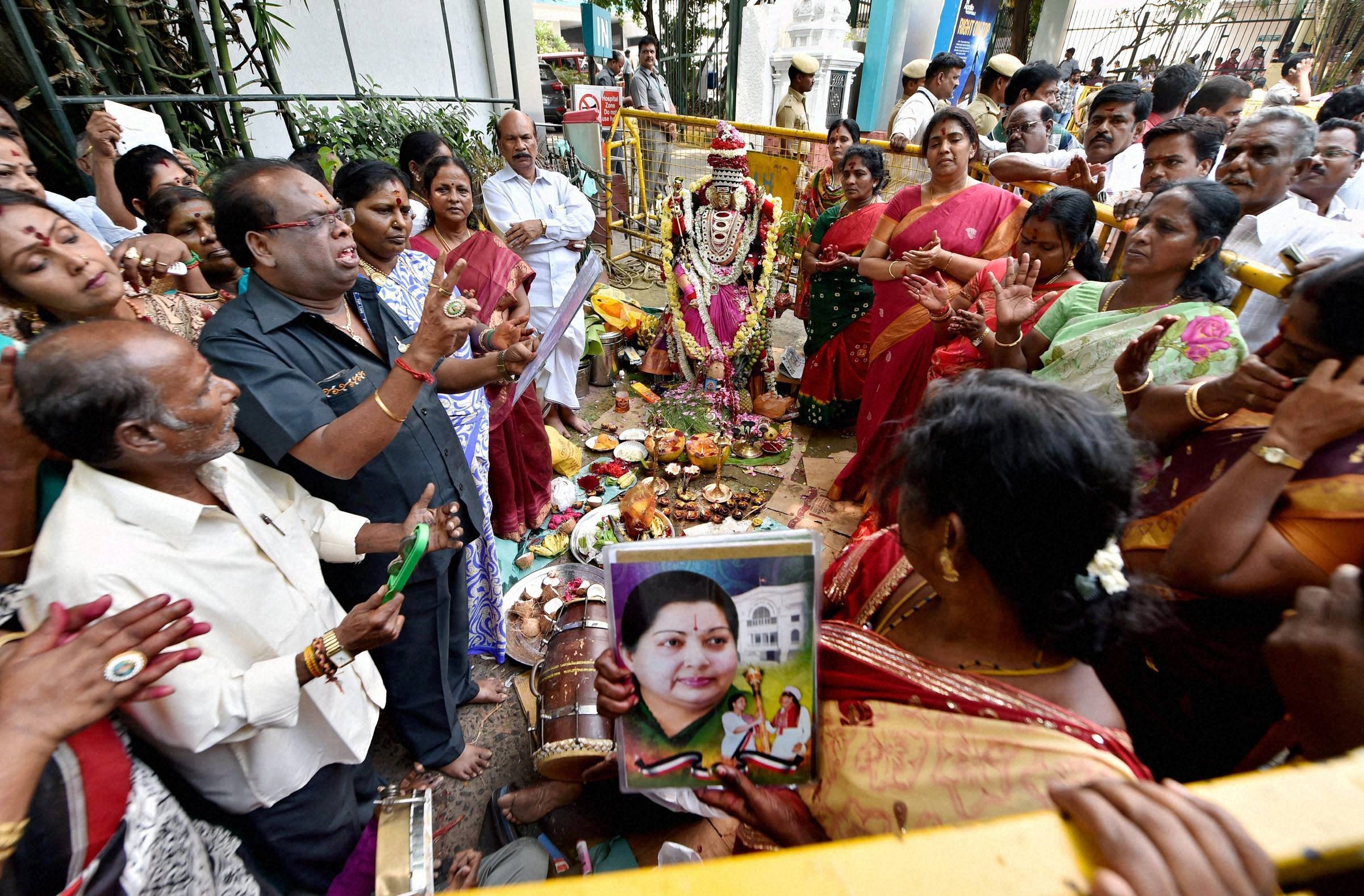 The public support to Jaya, during her ill health, seems to be equally or more phenomenal. It's not just a political cult, but an emotional connect that make women behave as if they are possessed. It's hard to decipher what exactly drives them to such frenzy. Probably, a combination of factors, and welfare is certainly one of them.
Jaya's politics, particularly after her last comeback in 2011, has been marked by an unmissable emphasis on welfare. Mainstream national media calls it populism and often associates it with Dravidian politics; but when disaggregated, it's indeed a combination of pro-poor policies and programmes. 
Some of it could have been avoided because the same money could have been invested in sustainable solutions, but some certainly amount to "social protection" that international development agencies in recent times advocate.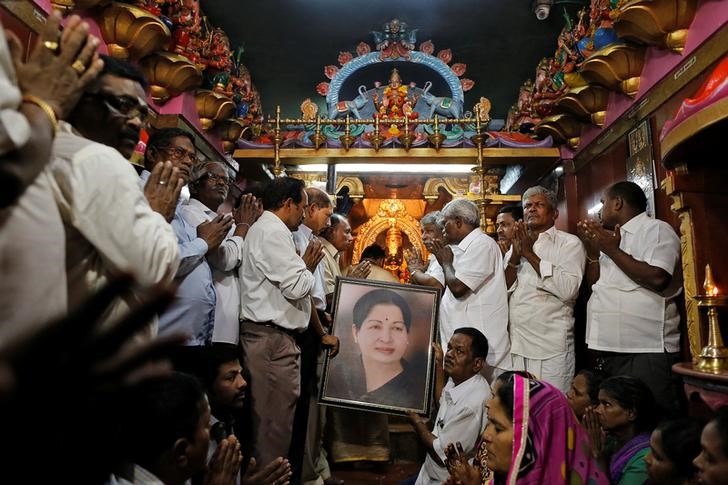 Not that what Jaya promised after her return as chief minister was just welfare. She also had a mega plan called "Vision 2023," which in her own words sought to make Tamil Nadu "the most prosperous and progressive state with no poverty and where its people enjoyed all the basic services of modern society."
But, during the reminder of her regime last time and after her re-election this time, people haven't heard as much about "Vision 2023" as they had about a lot of household appliances, free and subsidised supplies and several "Amma" labelled schemes, that included hot meals to packaged water and medicines.
Mixers, grinders and electric fans for women; milch cows, goats and sheep for the poor; free rice; four grams of gold and financial assistance for the marriage of women and; laptops for students: these were among the first things that Jayalalithaa announced as soon as she got to office in 2011. 
In 2016, it was reloaded as a brand and included new items such as cement. Today, other states and NGOs are seeking to study this "Amma" model as a welfare-best practice.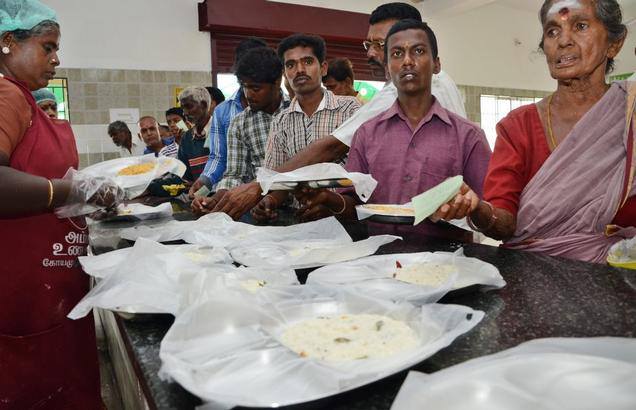 In fact, Jaya followed and augmented what her mentor – AIADMK-founder and former chief minister – MG Ramachandran (popularly called MGR) and his Andhra Pradesh counterpart NT Ramarao (NTR) pioneered in their heydays. 
MGR introduced the noon meal scheme, which was scoffed at by some during his time, but subsequently became a best practice for other governments, international development organisations and students of poverty in international universities.
The Chief Minister's Comprehensive Health Insurance Scheme that Jayalalithaa introduced has also received a lot of attention. She scrapped the previous health insurance scheme named after Karunanidhi and dropped the private company that handled it. Instead, she raised its scale and scope, and enrolled a public sector insurance company. 
The revised scheme aimed to strengthen government hospitals and made it mandatory to use them for several common ailments. However, her critics still said that instead of going the Public-Private Partnership and insurance way, she could have done better by investing in the state health infrastructure and its technical capacity, and universalised access to healthcare.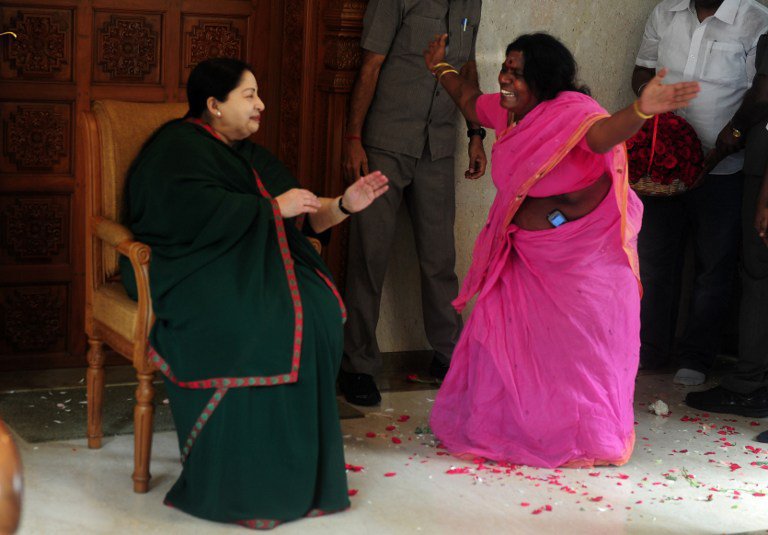 Women and children have always been Jayalalithaa's priority. During her previous regimes, she had paid special attention to maternal and infant mortality, reproductive health and women's empowerment. 
This time around, the highlights include providing milch cows or sheep and goats to poor women for their empowerment; free mixies and grinders, free ration and marriage assistance. She also had cash transfers to fisherfolk, relief for people affected by the Thane cyclone, monthly pensions and relief to the disabled.
There have been similar schemes in education as well – several new arts and science colleges, the upgradation of a few hundred schools, free supply of uniforms, footwear, bags and teaching aids etc.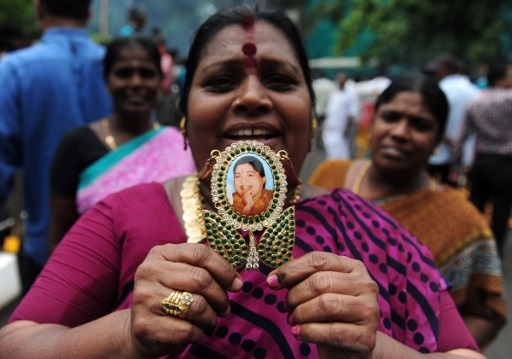 Even within the welfare spectrum, one of her thoughtful initiatives has been in market interventions – whenever prices of essential commodities went up in the market, she intervened by offloading them through special fair price shops. 
Such market interventions were effective when the prices of rice and vegetables went up. In fact, they were quick and efficient. Most of the "Amma" products reflect this interventionist philosophy to make essential things available to common people at fair prices.
It is now globally accepted that during the times of economic growth, shocks and liberalisation, the state needs to spend on the welfare of its people. In that context that's what Jaya did and the poor certainly benefited. And the public display of grief is a probable indicator of their gratitude than any party loyalty.