The chief of Congress in Kerala, V M Sudheeran, on Friday announced his decision to step down from the post, citing ill health. The 69-year-old leader, known for taking firm stand on several issues which led to differences between him and senior party colleagues, said he was sending his resignation letter to Congress President Sonia Gandhi on Friday itself.
"My personal difficulties should not affect party work in any manner," Sudheeran, who was the choice of Congress Vice-President Rahul Gandhi for the post, told reporters in Thiruvananthapuram, announcing his sudden decision which took everyone by surprise. He expressed hope that the AICC will make the necessary alternative arrangements.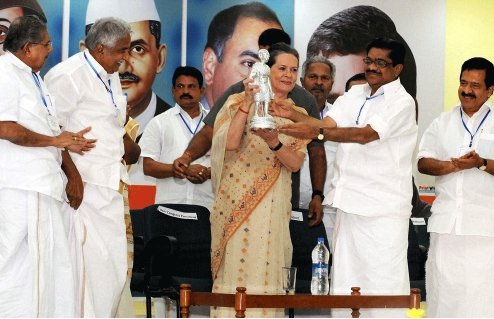 A former Assembly Speaker and Health Minister, Sudheeran was appointed Kerala Pradesh Congress Committee President in February 2014, replacing Ramesh Chennithala, who was inducted into the Oommen Chandy Cabinet. Sudheeran had been keeping away from public functions due to ill health after he was recently injured while attending a function in Kozhikode.
 "I am indebted to the party for having reposed faith in me," Sudheeran said, adding "there is nothing political" in his decision to quit. "The decision is purely due to personal inconvenience ant the party's interests are of paramount importance," he said. He thanked party workers for the cooperation they had extended to him.
Sudheeran had been instrumental in denying party tickets to several tainted persons in the 2016 assembly elections. A proponent of prohibition, he had taken a firm stand against reopening over 700 closed Indian Made Foreign Liquor bars during the Oommen Chandy regime. Chandy and Chennithala were reportedly miffed with Sudheeran over recent re-constitution of District Congress Committees in the state with Chandy even keeping away from various party functions.
(Feature image source: PTI)