The 20th Rashtriya Janata Dal Foundation celebrations went sour on Tuesday in Bihar, when chief Lalu Prasad Yadav's older son, Tej Pratap Yadav, yelled at a journalist for shooting a video of him, threatening to sue him for defamation.
And as on previous occasions, the senior Yadav jumped to his son's rescue, pacifying the rest of the journalists who took offence at Tej Pratap's behavior and had started to leave.
He also tried to silence his son, saying: "Ho gaya (Let it be)!"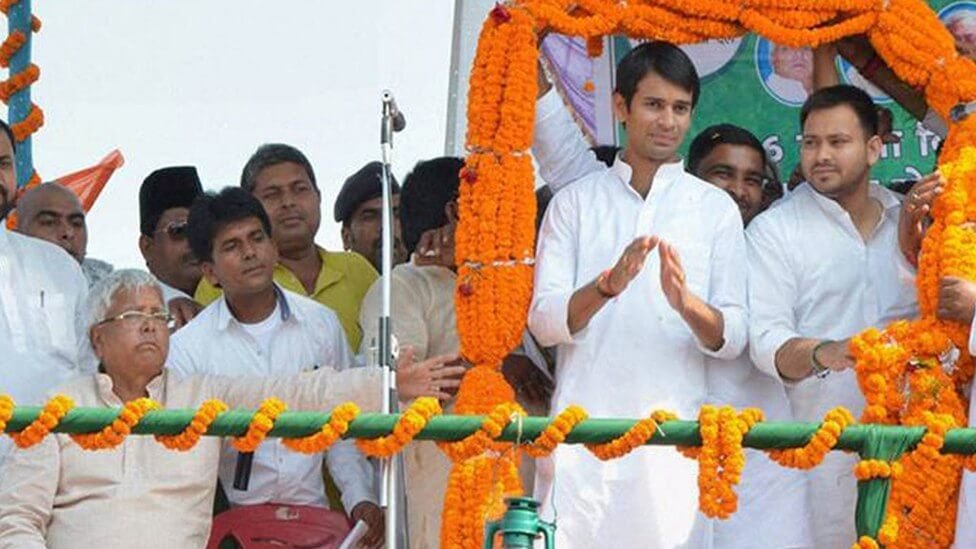 Yadav and his two sons, Health Minister Tej Pratap Yadav and Deputy CM Tejaswi Yadav were present at the celebratory event. 
While the event was in progress, Tej Pratap allegedly borrowed a journalist's camera and started clicking pictures with it. Then when another English News Channel reporter tried to shoot him taking pictures, he got furious and asked him to delete the video. 
When the the latter declined, Tej Pratap yelled at the journalist from the dais,
"I will lodge a case (against you). I respect you because you (journalist) are from 'press'. Delete the video otherwise I will file a defamation case against you" 
A video clip of the incident has been doing the rounds of the internet. 
#WATCH: Bihar Health Min Tej Pratap Yadav threatened to sue a journalist during an altercation with him yesterdayhttps://t.co/4JBoz4sWwS

— ANI (@ANI_news) July 6, 2016
Towards the event's end, Lalu made the reporter shake hands with Tej Pratap in order to bury the hatchet. 
(Feature Image Source: PTI | File Photo)