In a bid to ensure the safety of foreign tourists in India, Union Minister of Culture and Tourism Mahesh Sharma has advised them to not wear skirts and shorts dresses while visiting small towns.
Sharma, who was speaking at an event in Agra on Sunday said that the advisory is for the safety of foreigners because Indian culture is very different from western culture, reports The Times of India.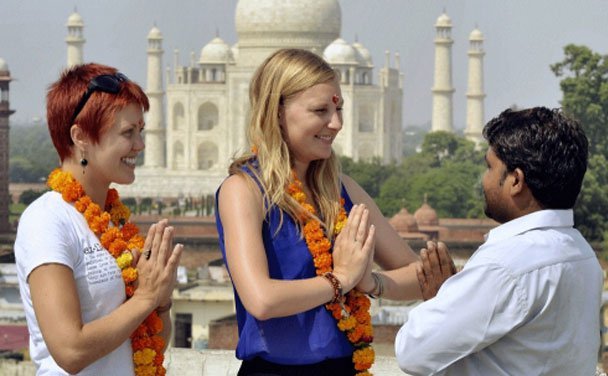 "When a foreign tourist reaches the airport, he or she is given a welcome kit wherein dos and don'ts are mentioned for them during their stay in India. These dos and don'ts include suggestions that if they are in small cities, they should not roam alone at night nor wear dresses like skirts," he said, according to a  Hindustan Times report.
He also added that they should click photographs of number plate of cabs which they are travelling in and must send it to their friends so that a record can be kept.
However, despite the minister maintaining that the government has no plans to impose any dress code, Twitterati were clearly unimpressed.
Here are some of the tweets which bashed the ministers' safety diktat: 
"Mahesh Sharma" Who are u to tell what to wear and what not to wear. dont be an embrassment to Modi Govt.

— Prasant (@PrashantKS1989) August 29, 2016
@narendramodi it is time culture Minister Mahesh Sharma brought to his senses while giving statements. If not he deserves to be thrown out.

— Mohandas Kudva (@MohandasKudva) August 29, 2016
Any step forward by @PMOIndia gets lost overwhelmingly by two backward steps by comrades e.g Mahesh Sharma , Vijay Goel ,Sangeet Som! #India

— Nitin Srivastava (@TweetNitinS) August 29, 2016
Seems Vijay Goel left some margin in shaming the nation? so now Mahesh Sharma has come to complete his work.

— दलित एकता (@invincisachin) August 29, 2016
Mahesh Sharma ji there are many others issues to b addressed for India,change ur mentality,other than advising Foreigners what to wear.

— Saira Anees (@Saira27Anees) August 29, 2016
@India_Policy Modi wants tourism to be the biggest job creator, but he can't do it with Mahesh Sharma around.

— Manjunath (@aryamanmanju) August 29, 2016
Tourists, dont wear skirts: advice by Minister Mahesh Sharma a Physician, Wife-Gynaecologist, Son-Daughter-Medical professionals! @BBCHindi

— Nitin Srivastava (@TweetNitinS) August 29, 2016