Sahendra was among the few hundred waiting for Rahul Gandhi near Jantar Mantar at the end of his Deoria to Delhi Kisan Yatra.
"He's not done anything as such. All the good work has been done by past generations," Sahendra said.
 Given his low estimate of the Congress leader, why was he here?
People arriving for #RahulGandhi's final rally in Delhi pic.twitter.com/t0HjRSkEKZ

— Arun G (@aarungeorge) October 6, 2016
"I've been in Delhi for 20 years and just wanted to see a prominent personality. Who knows, maybe he will do something great one day and then I can say I saw him," he said.
Sahendra was ushered away just as he began talking about how Narendra Modi was a strong political leader. The Congress flag-waving contingent from Okhla that Sahendra was part of, was needed elsewhere to show their support for the party's Vice President.
It would be another two hours before Gandhi actually turned up at the venue.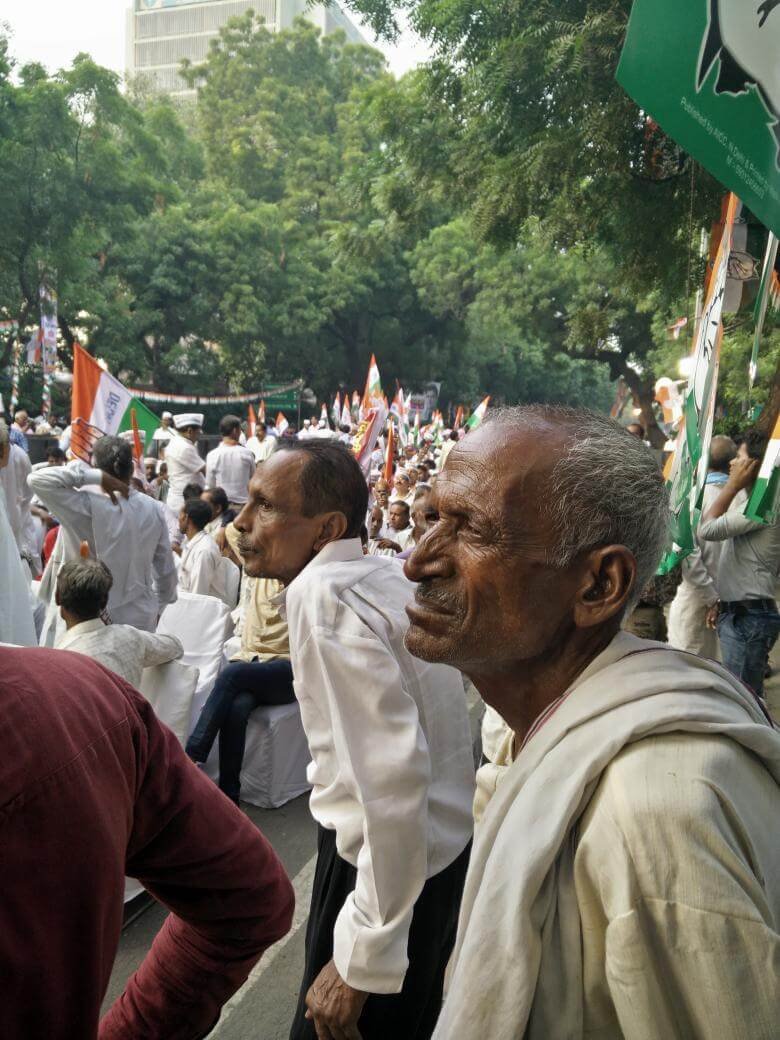 Gandhi's final stop on a month-long tiring political campaign was a crowd of a few hundred waiting to greet him in his hometown. Before he arrived, it was Congress veteran and in-charge of UP polls Ghulam Nabi Azad who spoke.
Azad spoke glowingly of the campaign and then gave a critical review of the Modi government's performance. But even as he spoke the crowd was still being arranged for the Congress VP. Women. flag wavers and local leaders in front, the seated crowds behind.
Azad cued to finish his speech just in time to announce the arrival of Gandhi on the stage. This was the moment he got the most cheers during his entire speech.
Gandhi started with a short apology for being late and got some applause. Then he told the audience that he'd tell them what he had learned during his journey.
"Batao," said someone in the rear section of the audience to titters. "Jhanda neeche kar do (Put the flags down)," shouted another person upset that he couldn't see Gandhi despite standing on his chair.
Vijender Singh, who had travelled to Delhi from Aligarh and had been at the venue since afternoon, tore a pamplet and started making a paper boat.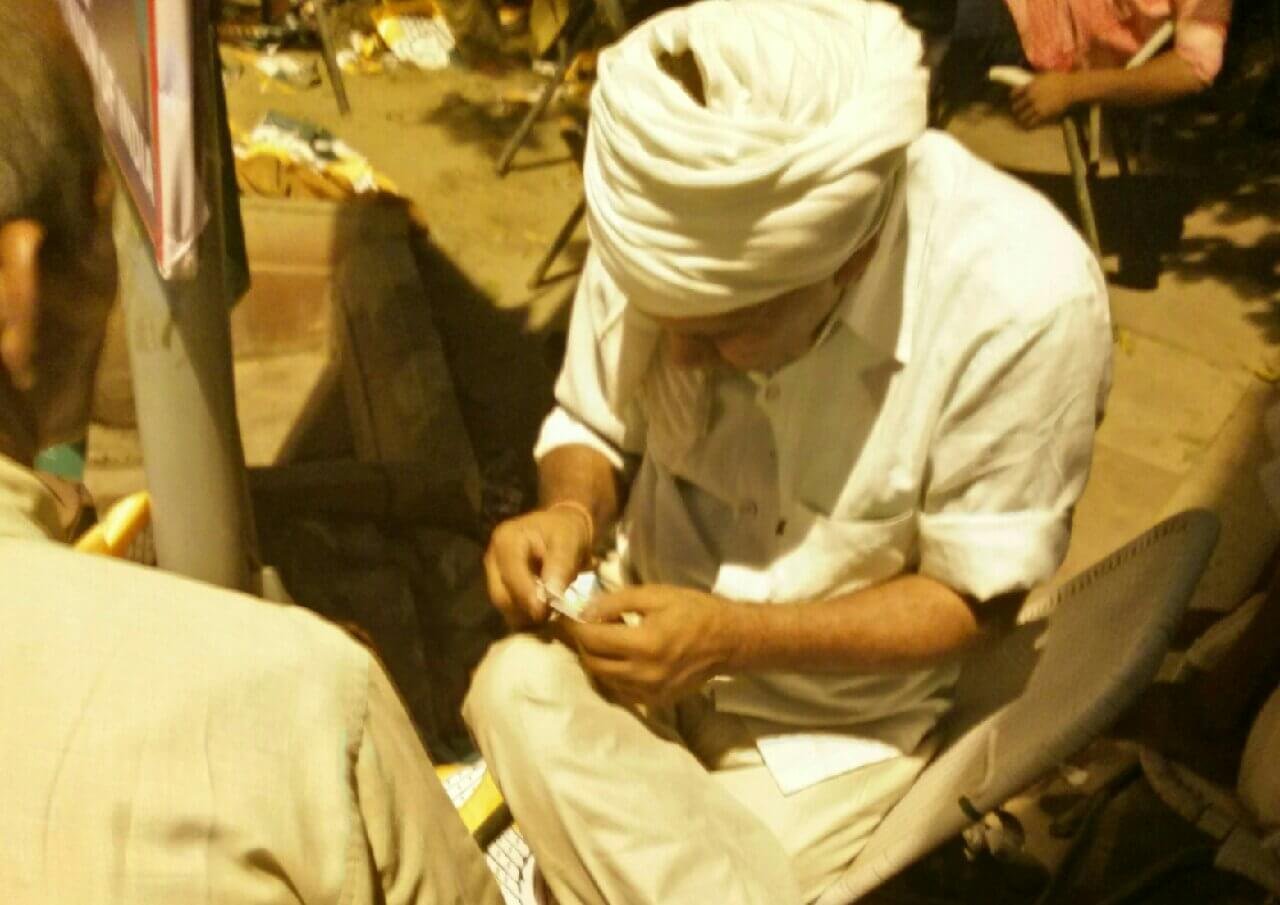 "Mein humility ke saath kehna chahta hoon ( I want to say with humility)," Gandhi began and went on to speak about how the poor of the nation had taught him about poverty and the condition of the poor in the country.
He spoke of his insights into the troubles faced by farmers. How he joked with them about not having received Rs 15 lakh in their accounts or jobs promised by the Modi government. And how these jokes stopped once he saw the condition of people.
Singh got done with his first paper boat, put it into the pocket of a man next to him and begun folding his second one. 
"Yeh acceptable nahin hai ki karodon naujawan berozgar hai (It's not acceptable that crores of youths are unemployed)," Gandhi continued.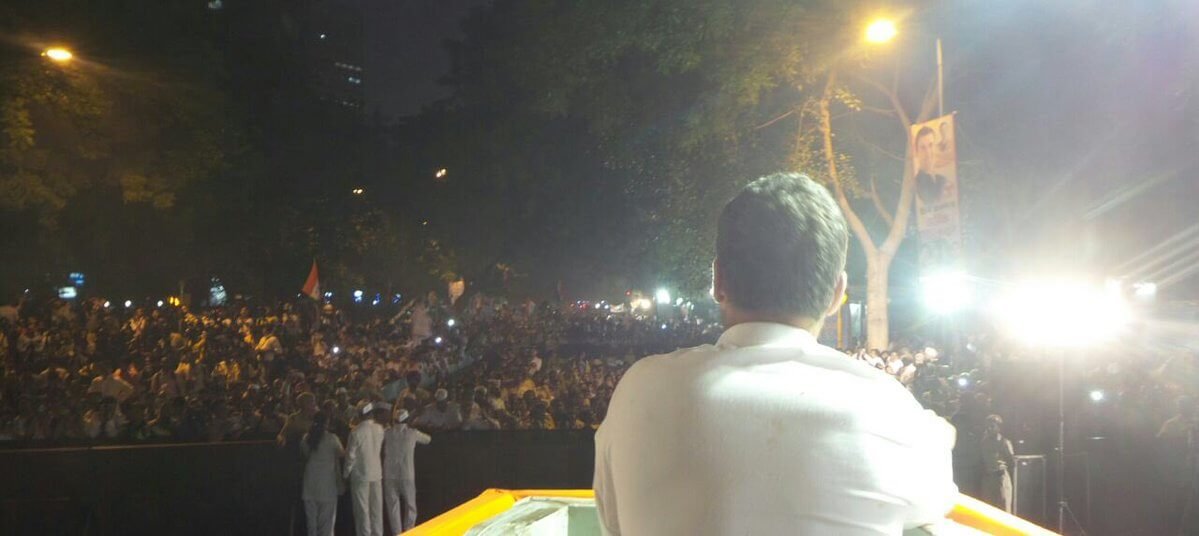 Gandhi recalled how while standing atop a vehicle during the campaign in Uttar Pradesh, he asked the recently appointed UP Congress chief Raj Babbar which his best film was because he wanted to watch it. Babbar, seated on the stage, smiled.
"He said 'Insaaf ka Tarazu' (the scales of justice)…Now don't be shy Babbarji," Gandhi said. The audience cheered at the mention of the film and perhaps his bashfulness. 
Gandhi moved on to PM Modi's question what the Congress had done for people. Rahul's answer is that his party had given people insaaf (justice) and respected the tarazu. When PM Modi gives money to certain people and not the poor, you have thrown the scales of justice aside, Gandhi said. 
He spoke of the various promises the BJP and Modi had made before coming to power and said that none had been delivered. 
"You have only divided India," he said, giving a list of states like Gujarat, Haryana, Assam and Uttar Pradesh that had been divided on the basis of caste and religion. 
And then came the coup de grace: 
The audience remained silent, unmoved.
"Just give people insaaf," Gandhi said, adding that the Prime Minister should only deliver on his promises. 
Rahul then thanked all those who had accompanied him and those present. He was done. 
Singh and his fellow Aligarh residents rose. So how was the speech? 
"Very nice, he said all the right things," Singh said. 
So does he think this campaign gives the Congress a chance? Not really, he said, as he joined the departing crowds, intent on catching the bus back home. 
Watch the edited excerpts of the speech here: