T R Zeliang on Friday won the trust vote in the Nagaland Assembly, two days after he was reappointed the chief minister amid high drama.
He secured 47 out of the 59 votes in the House which included 36 votes of the NPF, 4 of the BJP and 7 from the Independents.
Former chief minister Shurhozelie Liezietsu bagged 11 votes — 10 of the NPF and one Independent, the Speaker said. He was not present in the assembly as he is not a member.
What is the background of the political drama?
A former Rajya Sabha member, Zeilang was elected as the chief minister of the state in May 2014. However, in February 2017, he had to step down due to massive protest against his government after which put a hold on local body elections with 33 per cent reservation for women.
Liezietsu, 80, was then made to come out of retirement from electoral politics to take over as the chief minister following Zeliang's resignation, reports IANS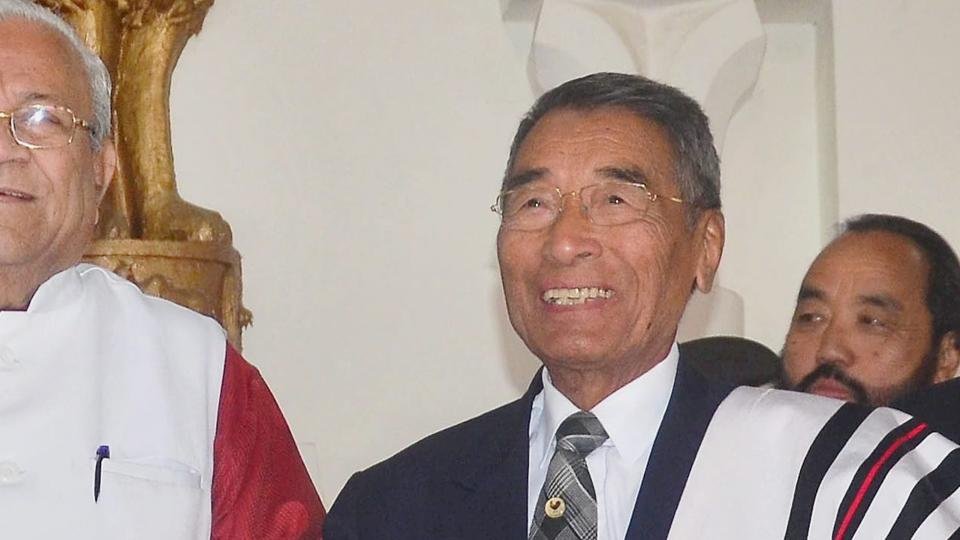 On July 8, Zeilang wrote to the Governor claiming that he has the support of 41 independent MLAs to stake claim to a new government. NPF then suspended 10 MLAs from the party's primary membership including 4 ministers, reports The Hindu.
The Governor then directed then chief minister Liezietsu take a floor test by July 17.  But Liezietsu moved the High Court, contending that it was an "ex facie unconstitutional, illegal, arbitrary" order that violated the basic features of the Constitution. 
The court had rejected his prayer for granting 'sufficient time' for the floor test. It left the matter to the wisdom of the Governor, reports Indian Express.
 Zeliang was sworn-in on Wednesday after he replaced former chief minister Shurhozelie Liezietsu who was sacked by Governor P B Acharya.
He was appointed chief minister shortly after Liezietsu and his supporters failed to turn up in the Assembly to face the floor test. The Governor had then Zeilang to prove his majority before July 22.
Meanwhile, Shurhozelie Liezietsu called the installation of T R Zeliang as chief minister 'illegal and unconstitutional'.
But what is unique about his appointment now?
On Wednesday, moments after he was appointed as the chief minister, Naga People's Front (NPF) expelled TR Zeliang for six years for "anti-party activities". "The expulsion however didn't  affect the membership inside the House as he still remains the leader.
After he proved his majority, Zeilang is now a chief minister without any party affiliation. 
(With inputs from PTI)
(Feature image source: PTI)