In November last year, former PM Manmohan Singh was perhaps the most critical voice against PM Narendra Modi when he spoke against demonetisation and criticised the government.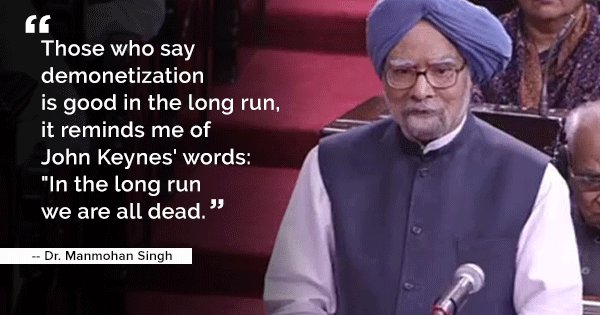 On Wednesday, Modi while addressing Rajya Sabha, finally retorted to Manmohan's "monumental mismanagement" speech, which clearly hurt more than it showed. The PM didn't answer with economic jargon or numbers to prove his case, but with a random barb. 
"For almost 35 years, Manmohan Singh ji had a lot of influence on country's economic policies. Politicians have a lot to learn from him. So much has happened (corruption scandals) during UPA rule, but there is not a single taint on him. Bathing in a bathroom with a raincoat on is an art only Dr Sahib can know of," Modi said. 
Ek bhi daagh nahi laga un par? Bathroom mein raincoat pehen kar nahaane ki kala sirf Dr. saab(MMS) hi jaante hain: PM Modi

— ANI (@ANI_news) February 8, 2017
The remark was a reference to the many corruption scandals during Singh's tenure through which the former Prime Minsiter emerged unscathed.
Immediately after the PM's remark, there was ruckus in the Upper House, with Congress MPs protesting against Modi. They then walked out of the Upper House of Parliament in protest. 
But the PM wasn't in a mood to apologise. Modi defended his words and said, "If they breach decorum, they should have the courage to listen to the response as well," 
Terming Modi's speech 'unacceptable', miffed Congress leaders criticised the PM: 
Meanwhile, Manmohan Singh refused to comment on the matter