A replica of a coffin with late chief minister Jayalalithaa's figurine was on Thursday deployed by AIADMK (Puratchi Thalaivi Amma) as part of campaign for the RK Nagar assembly bypoll, highlighting its demand for a probe into her death, but made a retreat after protests from rival faction. 
The AIADMK (Amma) faction strongly objected to it following which police prevailed on the Panneerselvam group to remove the coffin replica from the campaign, police said. Supporters of Amma faction staged a protest in front of the office of the Returning Officer seeking action against Panneerselvam faction for using the coffin model in the poll campaign.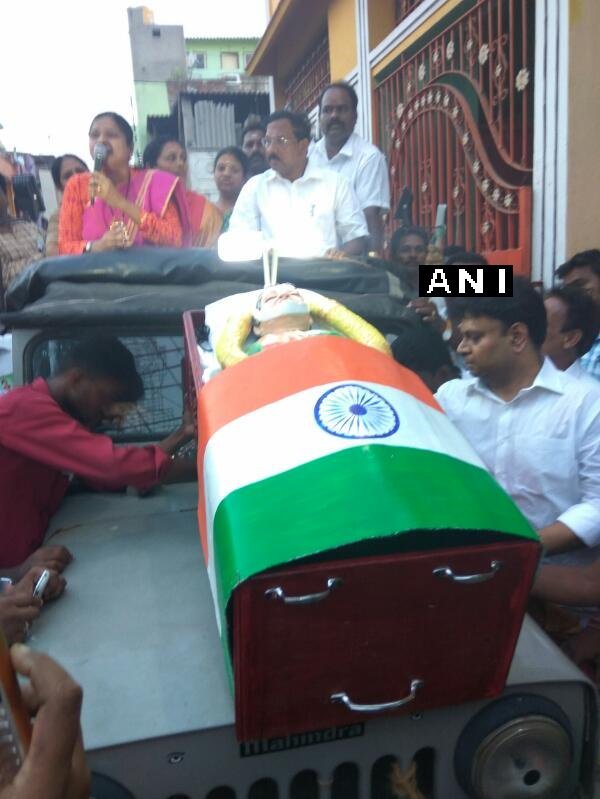 Stones were allegedly pelted on Panneerselvam faction members in Netaji Nagar by supporters of AIADMK (Amma) candidate T T V Dinakaran. A spokesperson for Panneerselvam faction claimed some of their supporters were injured in the attack. 
Earlier, placing the 'coffin' over the bonnet of an open top jeep, supporters of former chief minister O Panneerselvam sought votes for their candidate E Madhusudanan. Stressing on an independent judicial inquiry to go into the circumstances surrounding Jayalalithaa's death, campaigners urged the voters to cast their votes for 'electric pole' symbol to strengthen the demand. 
On Madhusudanan's victory, the demand for the probe will get strengthened, they told the voters. Former School Education Minister and a key loyalist of Panneerselvam, K Pandiarajan highlighted their demand for the judicial probe during the campaign. 
Moments before the 'coffin' was dramatically unwrapped in the middle of campaign, a woman speaker talked about Jayalalithaa's death at a private hospital here last December and the demand for a probe. Later, leaders of Panneerselvam faction, including Pandiarajan said some cadres had arranged the replica out of "excessive enthusiasm."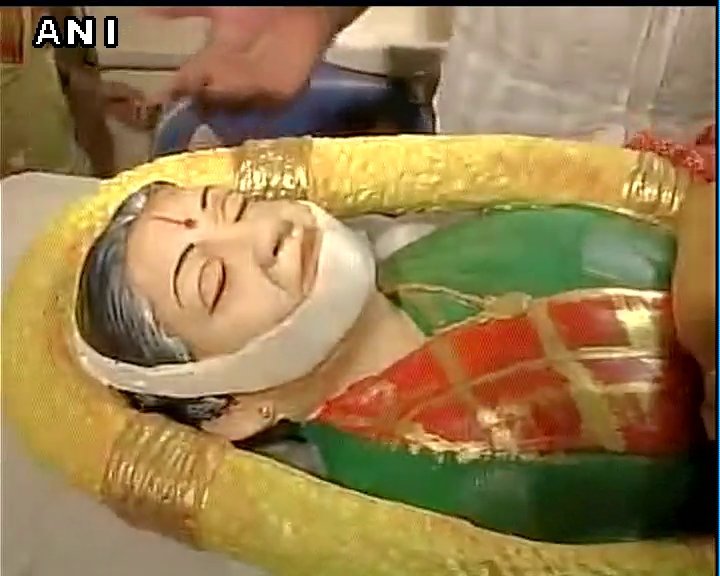 He said leaders including him did not favour the idea, adding the replica campaign was stopped quickly. The figurine of Jayalalithaa draped in National flag was a replica of the original and attracted the people's attention.
 Ever since Panneerselvam revolted against AIADMK chief VK Sasikala in February last, he has been raising the issue of a judicial inquiry into "Amma's" death.
(Feature image source: ANI)