On Monday, after the victim of the alleged Chandigarh stalking case, Varnika Kundu, revealed her identity to the public, Chandigarh BJP vice-president Ramveer Bhatti blamed her for venturing out alone at night. 
But what came after this was worse, as an old picture of her, along with two men, was circulated all over social media platforms. The victim-shamers claimed that the men in the photograph are accused Vikas Barala (son of Haryana BJP chief Subhash Barala) and Ashish Kumar, thus suggesting that she was friendly with them.
Joining the bandwagon was Bharatiya Janata Party (BJP) spokesperson Shaina NC, who shared the photograph on her Twitter handle and called Kundu a "so called victim beti".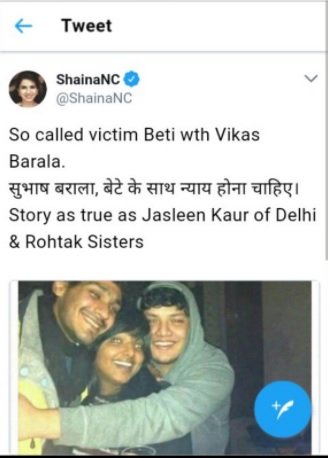 And here comes the most astonishing part: While it shouldn't matter whether Kundu was once friendly with the two men, the photo is question is not what it's being claimed to be. Kundu told a media house that the photo is a "very old picture" and the two men were not the accused.
Shaina received a lot of flak from Twitter users for not only sharing a fake photo but shifting the blame on Kundu. She then deleted her tweet. Here's the barrage of reactions that followed:
Shaina then reappeared on social media hours later, conveniently claiming that her account had been hacked.
Seriously, Shaina?
Of course, no one believer her:
.