The Akhil Bharatiya Vidyarthi Parishad (ABVP) is a right-wing students' party, that has, over the last few years spread its ideology in many university campuses in the country. There is nothing wrong with that, as students should be politically aware and when it comes to aligning with a students' body, I guess having options is not a bad thing.
Sometimes, campus politics can turn into a dissing contest between rival parties. And JNU is no stranger to such rivalries. While traditionally, the campus has been a bastion of left-wing politics, since the late '90s, right-wing ideologies have also found some level of support on campus.
The School of International Studies canteen is one of the places where the walls always have sort of politically charged poster or two on them. This time, one of the posters there has been put up by ABVP. Through it, I'm guessing they're trying to explain the concept of communism.
And it escalates quickly.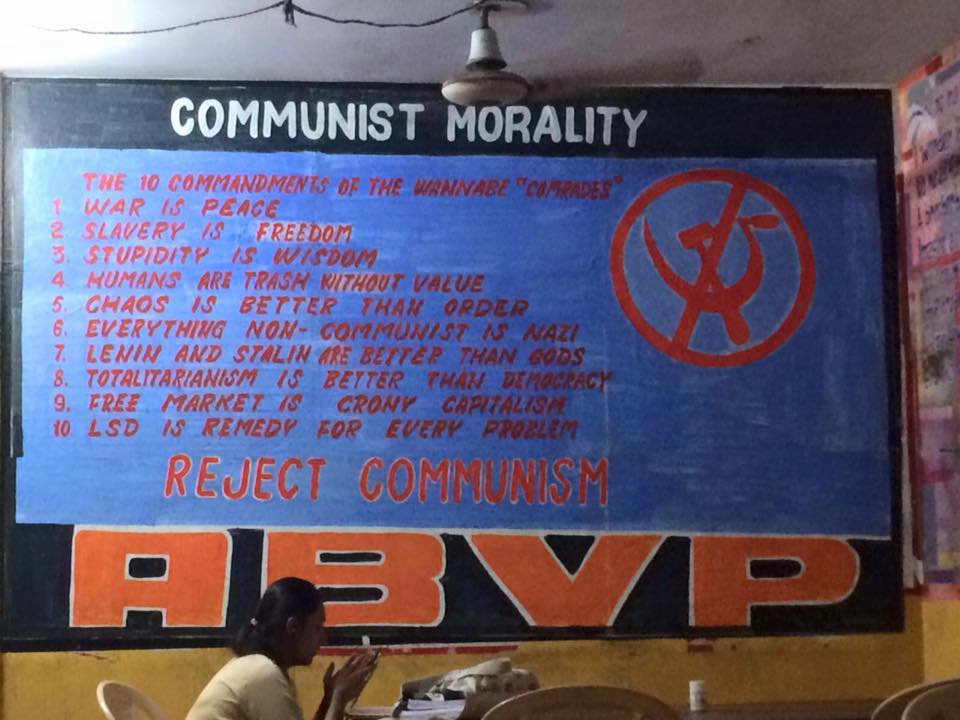 No, we're aren't sharing this to argue with right-wingers the pros and cons of communism. It's not even about that. What we're trying to say is – ACCORDING TO ABVP, THERE'S A WHOLE OF OF LSD IN JNU! WHAAAAAAAT!
Couldn't find 3000 condoms, so LSD it is then. Wah bhai ABVP!
No, but seriously, this is great. Not the poster, but its existence. We've been championing the right for universities to be free democratic spaces. We've even been called anti-nationals for doing so. But our point still stands. Even ABVP has the right to come up with ugly posters. That is what free speech is all about guys! You can say the absurdest of things as long as you don't hurt anyone – even if it is a skewed understanding of a political ideology.
PS – #6 on the poster doesn't make sense because communists don't believe in gods. Just saying.