Morphing and circulating images of political leaders on social media may be the current rage among netizens, but two youngsters from Madhya Pradesh had to pay a heavy cost for doing it.  Perhaps because of their choice of personality to mock. 
Two youths identified as Shaqir (22) and Wasim (20) from Madhya Pradesh's Khargone district were arrested for uploading morphed picture of RSS chief Mohan Bhagwat on a local social networking group in Bhikangaon town.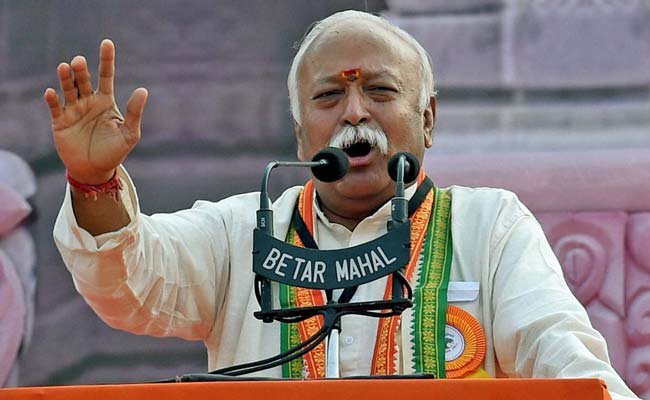 On Twitter there were theories over which image it was that landed them in jail. One Twitter user claimed this was the one: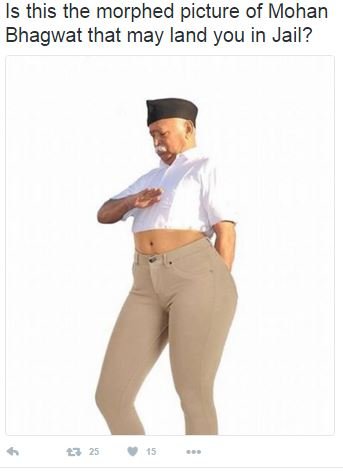 However, several right wing outfits registered protests against the image for 'hurting the religious sentiments of Hindus' and Rajnish Nimbalkar, a local RSS leader, filed a complaint with the police. 
The two young men was booked under Section 67 of the Information and Technology Act (for sending obscene material) and Section 505(2) of IPC (for promoting enmity). 
They have been sent to judicial custody till March 30.
According to Additional SP, Antar Singh Kanesh of Bhikangaon police station, the accused have claimed that they had received the photo from some other WhatsApp group and they just forwarded it.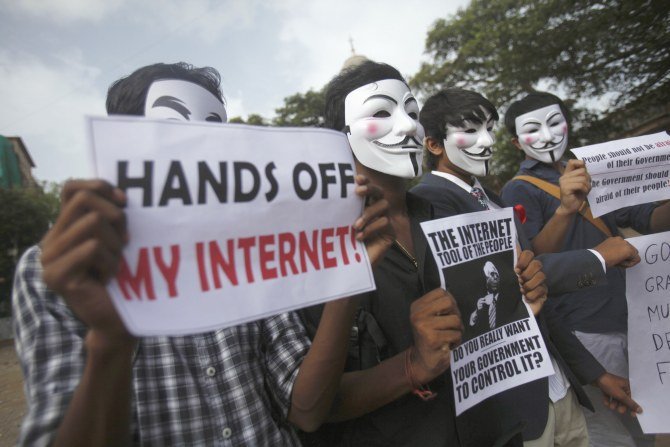 Several Congress leader protested against the arrest with one of its leaders, Parasram Dandir, and party activists gathering outside the Additional SP's office and questioning the arrests. 
Incidentally, in March 2015, Supreme Court had struck down Section 66A of the Information Technology Act in which police were authorised to arrest people on the basis of  social media posts construed 'offensive' or 'menacing'.
(Feature image source: PTI)