Amidst the fierce electoral battle in Kerala, a war of words on Thursday broke out between CM Oommen Chandy and External Affairs Minister Sushma Swaraj for taking credit for evacuation of 29 Indians from war-torn Libya.
The political fight errupted a day after Prime Minister Narendra Modi said his government has evacuated the families from Libya and that the Centre was committed to work for welfare of Indians living abroad. Kerala goes to polls on May 16.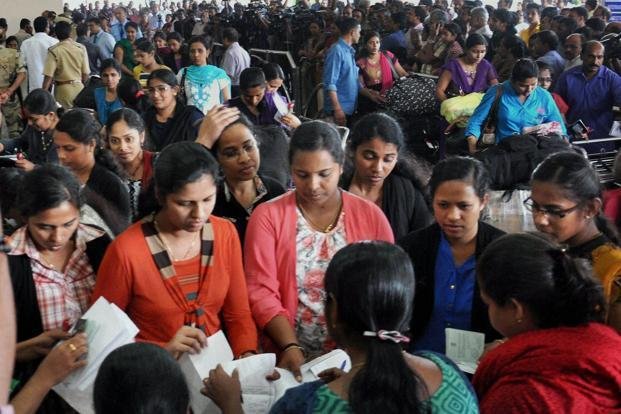 Modi is already under mounting attack from the Opposition parties for his controversial comment in an election rally comparing Kerala and Somalia while talking about the infant mortality rate among tribals in the state.
A total of 29 Indians have been evacuated from Libya out of which 16 are from Kerala and they reached Kochi this morning.
The External Affairs Minister, who is recuperating in AIIMS where she was admitted on April 25, blamed Chandy for triggering the debate.
Mr.Chandy – We evacuated thousands of Indians from Kerala from Iraq, Libya and Yemen. Who paid for them ?

— Sushma Swaraj (@SushmaSwaraj) May 12, 2016
Mr.Chandy – You said 'Kerala paid for 29 Indians evacuated from Libya.'

— Sushma Swaraj (@SushmaSwaraj) May 12, 2016
Mr.Chandy – You started this debate – as to Who paid ? Not me. We always did this because this is our pious duty towards our citizens.

— Sushma Swaraj (@SushmaSwaraj) May 12, 2016
Earlier, Chandy said the State government is bearing the travel expense of the families, indicating that the Centre had not extended the financial assistance for their travel. 
"Sushma Swaraj paid for the earlier evacuations. This time we are paying for their travel," Chandy said. 
In an election rally, Modi had on Wednesday said "Our government has saved six families and evacuated 29 people. The Indian government is committed to working for people who go abroad to work, we have always tried to help them. It gives me immense pleasure and happiness to tell you that they are coming back and will be united with their families soon."
(Feature image source: PTI)